Neuro-MEP-Micro
2-channel Ultraportable EMG and NCS System with a Built-in Keyboard
Main Features:
2 channels are optimized to perform quickly motor and sensory conduction tests, needle EMG;
portable, can operate with notebook;
all-in-one: stimulators, acquisition channels, controls, display;
high acquisition quality: sampling rate – up to 100 kHz;
electrical stimulator with ultra-fast switching between two outputs
US audience for product information please refer to brochure.
For North America USA customers please visit this page:
https://teleemg.com/
*Get a quote, online demo or more information
Write to sales department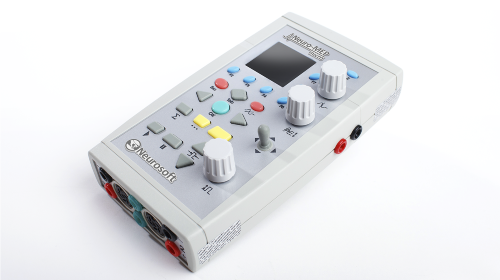 2 Channels are Optimized to Perform Quickly Motor and Sensory Conduction Tests, Needle EMG
97% of all EMG tests are done with the use of one channel. First device channel is set by default to connect electrodes for motor conduction measurement and second channel is used to plug in electrodes to measure sensory conduction. Such channel separation speeds up the exam performing. As soon as the motor conduction velocity is measured, run sensory conduction velocity test and program will start the response acquisition using the second channel.
Portable, Can Operate with Notebook
The device is connected to computer via USB cable. This cable allows to upload data and to power the device. EMG study room can be opened at any spot as far as the device can operate from notebook battery without using mains supply.
All-in-one: Stimulators, Acquisition Channels, Controls, Display
Thanks to built-in keyboard EMG study becomes simple and fast. In average an experienced specialist performs standard EMG study 1.5 times faster with such keyboard in comparison with use of standard computer keyboard and mouse.
The color display shows stimulation parameters and electrode placement quality. With Neuro-MEP-Micro these data are always at hand.
High Acquisition Quality: Sampling Rate – up to 100 kHz
High sampling rate and ADC capacity at signal digitization allow to obtain quality traces under any circumstances:
perform acquisition without special grounding, when computer is powered from common three-wire system;
obtain sensory responses after first stimulus evoking (without averaging)
Neuro-MEP-Micro channels are optimized to record needle EMG. Besides the noise immunity is considerably increased. It makes needle EMG study faster and improves the quality of needle EMG acquisition.
Electrical Stimulator with Ultra-fast Switching Between Two Outputs
Two outputs to plug in the electrical stimulator are software-controlled. They allow to place two stimulating electrodes on a patient and connect them to device. During the exam it is not required to switch the electrodes as the stimulating electrode is selected with the use of software.
To attach the stimulating electrode one can use either touch-proof or DIN connector.

The support of H7 interface allows integrating all diagnostic Neurosoft systems to information system of clinics.
In 2011, I purchased the first Evidence 3102* from Schreiber&Tholen**, Germany, for my research lab dealing with disease models of peripheral neuropathies, myasthenic syndromes, and of myelopathies in mice and rats. The run-in period was very short because the programs are user-friendly, dependable and adaptable to the special needs in small rodents, the youngest being 8 days old. No EMG machine I ever used before was as powerful as this one. On numerous trips to collaborating labs in the US, Germany and Switzerland I carried this equipment with me. Meanwhile 6 completely established sets are working in most of these collaborating labs. There was no failure ever of the Neurosoft hardware, and in case of minor software problems Schreiber&Tholen provided swift and concise help through the Internet around the globe if needed — again with no precedence in my career in clinical electrophysiology. Even in lab facilities without perfect electromagnetic shielding little if any problems occurred. I highly recommend this equipment to anyone interested in doing clinical neurophysiology in animal models of neurologic disorders
Attention! The delivery set below is recomended by Neurosoft. However, it can differ from country to country. Request the actual delivery set for your country from your local representative.
Neuro-MEP-Micro electronic unit – 1 pcs.
Technical Manual "Neuro-MEP-Micro (ver.2009)" – 1 pcs.
Guidelines "EMG Studies Performing on Digital EMG and EP Systems" – 1 pcs.
Transportation bag – 1 pcs.
License for the use of software "Neuro-MEP.NET" with additional software module "Neuro-MEP.NET/EMG" – 1 pcs.
License for the use of software "Neuro-MEP.NET" with additional software module "Neuro-MEP.NET/HW" – 1 pcs.