UROLOGY AND GYNECOLOGY
Neuro-MS/D
---
treatment of a wide range of urologic and gynecological disorders
advantageous technique
reliable solution for everyday intensive work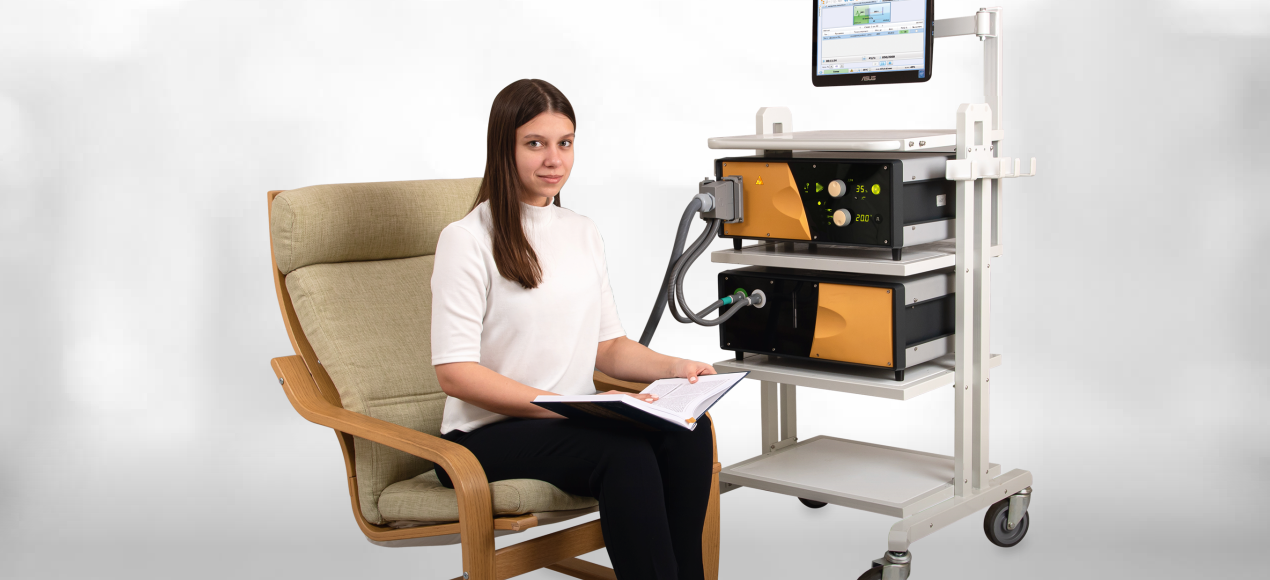 Description
Treatment of a wide range of urologic and gynecological disorders
A little under 5 years ago transcranial magnetic stimulation (TMS) was mainly used in neurology and psychiatry. However, the novel studies demonstrate a much wider application of this technique. TMS has proved effective for pelvic floor stimulation in treatment of various urologic and gynecological disorders.
Application in gynecology:
chronic pelvic pain syndrome
urinary incontinence
chronic pelvic inflammatory diseases
female sexual dysfunction, anorgasmia
reproduction issues (when preparing for in vitro fertilization)
congestion in the lesser pelvis
strengthening and rehabilitation of pelvic muscles
Application in urology:
chronic pelvic pain syndrome
urinary incontinence
rehabilitation after radical prostatectomy
male erectile dysfunction
male early ejaculation
stones of the lower third of the ureter
enuresis/encopresis in children
Advantageous technique
The below advantages contribute to a wide use of the pelvic floor magnetic stimulation:
non-stress, non-invasive, painless and highly effective procedure
minimal contraindications
high productivity – multiple treatment sessions per day possible.
High effectiveness, short-term duration of only 20 min and minimal contraindications allow using TMS in a wide range of patients.
Contraindications for TMS refer to pregnancy, benign and malignant tumors, fever.
Reliable solution for everyday intensive work
Neuro-MS/D magnetic stimulators ensure deep focused stimulation of the pelvic muscles without pain and side effects providing long-term therapeutic effect.
Neuro-MS/D is not only ultimate effectiveness but a carefully thought-out performance. Neurosoft magnetic stimulators are popular choice of healthcare professionals across the world — those who value reliability, safety and time.
The support of HL7 standard allows integrating all diagnostic Neurosoft systems into the information system of a healthcare facility.
Delivery Set
The delivery set can differ from country to country. Request the actual delivery set for your country from your local representative.
| | |
| --- | --- |
| K-8 coil holder (trolley/wall mounted) | 1 pcs. |
| T-4/А trolley | 1 pcs. |
| NS4D 42006 3/8" quick connect coupling | 1 pcs. |
| Technical Manual «Neuro-MS/D» | 1 pcs. |
| Warranty certificate | 1 pcs. |
| Technical Manual «Coils for Magnetic Stimulators» | 1 pcs. |
| User manual «Neuro-MS.NET » (ver.2) | 1 pcs. |
| Package | 2 pcs. |
| ''Transcranial Magnetic Stimulation'' handbook by Moacyr Alexandro Rosa and Marina Odebrecht Rosa | 1 pcs. |
| Screwdriver | 1 pcs. |
| License for Neuro-MS.NET software | 1 pcs. |