Poly-Spectrum-Rhythm
Heart Rate Variability Analysis Software
---
Vegetative tonus examination by HRV analysis (time-domain and frequency-domain) in accordance with the International Standard (1996)
cardiovascular reflex tests (standard battery of tests according to D. Ewing) analysis with automatic calculation of vegetative reactivity standardized indices
Diabetic and alcoholic autonomic neuropathy diagnostics with the use of cardiovascular reflex tests
Vegetative balance and psychoemotional strain examination by breath rhythm and heart rate variability cross-analysis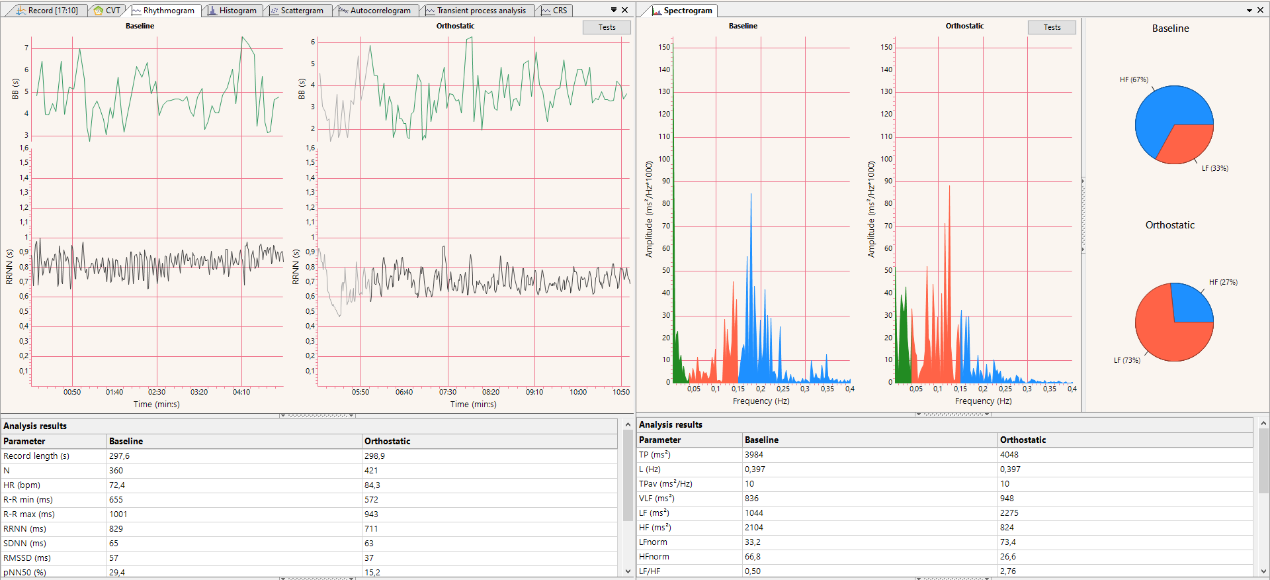 Description
The last two decades have witnessed the recognition of a significant relationship between the autonomic nervous system and cardiovascular mortality, including sudden cardiac death. Experimental evidence for an association between propensity for lethal arrhythmias and signs of either increased sympathetic or reduced vagal activity has spurred efforts for the development of quantitative markers of autonomic activity. HRV represents one of the most promising markers.
In 1996 the European Society of Cardiology and the North American Society of Pacing and Electrophysiology constituted a Task Force which developed and published "Heart Rate Variability Standards of Measurement, Physiological Interpretation, and Clinical Use".
There are three HRV measurement approaches: time-domain analysis, frequency-domain analysis and the responses to standardized stimuli — cardiovascular reflex tests (standard battery of tests according to D. Ewing). The first two of above listed approaches are described in the Standard 1996, and the last is given in details in D. Ewing's publications. Ewing proposed using the standard battery of cardiovascular reflex tests.
These simple noninvasive cardiovascular reflex tests have now become the gold standard by which an autonomic neuropathy is diagnosed objectively, and by which other tests are judged. Their use was pioneered in the assessment of diabetes, but they are being used increasingly in a number of other conditions in which autonomic damage is suspected.
A perfect implementation of the described methods is HRV analysis software Poly-Spectrum-Rhythm. Nowadays many cardiologists and medical specialists all over the world successfully use this software in their daily clinical work. You can also get such a splendid opportunity.
The Poly-Spectrum-Rhythm program allows you to analyze electrocardiograms recorded using various devices manufactured by Neurosoft:
Delivery Set
The delivery set can differ from country to country. Request the actual delivery set for your country from your local representative.
| | |
| --- | --- |
| Equipment for heart rate variability analysis ''Poly-Spectrum-Rhythm'' | 1 pcs. |
| Manometer with attachment for Valsalva maneuver | 1 pcs. |
| Mouthpiece | 20 pcs. |