ERGOSPIROMETRY
Digital System for Cardiopulmonary Exercise Testing (CPET) with ECG and BP Monitoring
---
ergospirometry testing with continuous 1- to 12-channel ECG recording, gas exchange measurement and determination of O2/CO2 concentration in inhaled/exhaled air
wireless ECG transfer – clear ECG traces
dual monitor mode for dynamic control of all test parameters
exercise device with automatic BP measurement option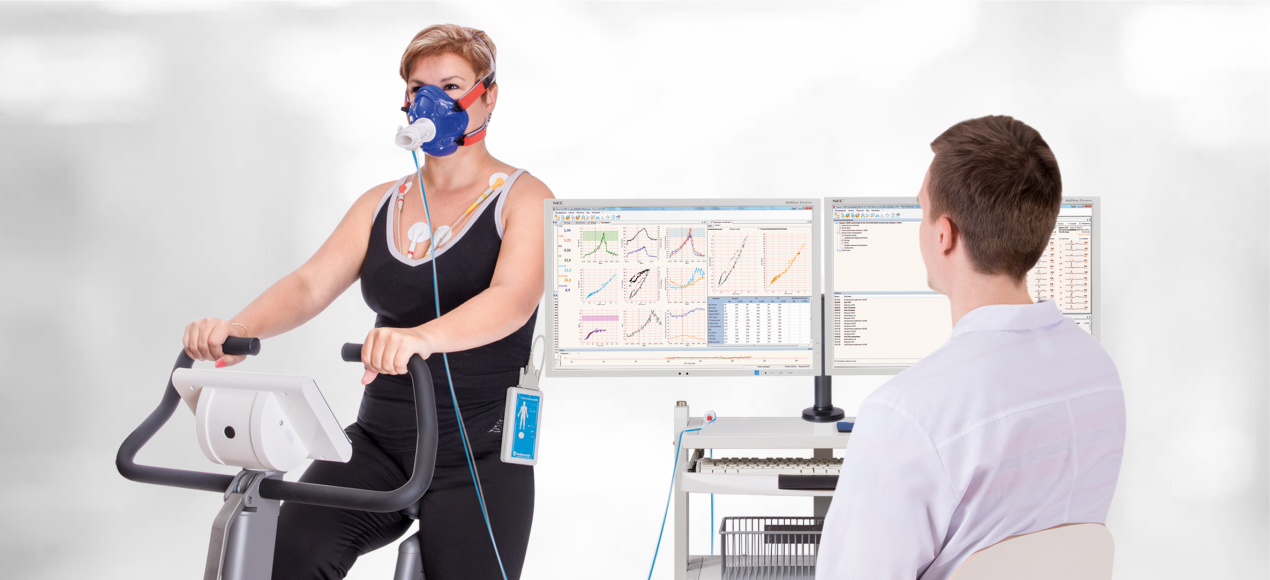 Description
Ergospirometry Testing with Continuous 1- to 12-Channel ECG Recording, Gas Exchange Measurement and Determination of O2/CO2 Concentration in Inhaled/Exhaled Air
Poly-Spectrum-8/EX allows performing both conventional exercise test and cardiopulmonary exercise test (CPET or ergospirometry) when various gas exchange parameters are additionally measured: vital capacity, tidal volume, O2/CO2 concentration in inhaled/exhaled air. This data helps to accurately determine aerobic and anaerobic threshold – the main value for calculation of exercise heart rate for sportsmen and safe heart rate range for cardiac rehabilitation activities.
Wireless ECG Transfer – Clear ECG Traces
Poly-Spectrum-8/EX implements the gold standard for data transfer during exercise testing as it can transfer ECG signal via Bluetooth for up to 7-meter distance being powered from just two AA batteries! Wireless data transmission is thus free from noise caused by cable vibrations of conventional ECG systems.
Dual Monitor Mode for Dynamic Control of All Test Parameters
The dual monitor mode ensures dynamic control of all test parameters on one monitor and display of gas exchange measurements on the other.
The first monitor shows:
averaged QRS complexes superimposed with displacement over the averaged resting ECG;
exercise data with ECG, load and blood pressure (BP) trends;
ST segment dynamics shown as a spatial map for all leads and a trend for the selected ECG lead.
The second monitor is intended for displaying CPET data only. It shows the nine-panel graph by K. Wasserman and the most important ergospirometry values: current O2 consumption, CO2 production, RER (Respiratory Exchange Ratio), ventilatory equivalents, minute ventilation and O2 pulse.
Exercise Device with Automatic BP Measurement Option
For exercise testing, we recommend using one of the world's most popular bicycle ergometers – the Corival (Lode) with a BP monitor and an adjustable load range of 7–1000 W.
There are certain tasks when a treadmill is required for exercise testing for example when you need to determine the safe heart rate range for cardio training. Here we recommend the Valiant treadmill by Lode. Its handrails ensure hand support for accurate BP measurement while exercising. The treadmill offers smooth acceleration from 0 km/h and is adjustable in the range of 0.5–20 km/h. The standard elevation is 0–25%. This allows achieving the desired load intensity at a low speed. The lowest possible step-through makes the treadmill perfectly suitable for rehabilitation activities.
RAMP Protocol with Automatic Calculation of Individual Workload
The RAMP protocol is a common protocol for cardiopulmonary exercise testing. It consists of short-duration load stages preceding continuously increasing load. The smooth way of workload increase ensures smooth changes of cardiorespiratory system performance and reduces sudden oxygen consumption and other values occurring on the record to minimum. The accuracy of results when using the RAMP protocol is achieved through maintaining the stability of functional systems by their adaptation to small load increments. As a result, the physician obtains objective data on the efforts spent.
When selecting the workload, the physical abilities, age and fitness level of the patient shall be considered as it is important that the patient reaches the required submaximal HR within the specified time. Submaximal HR is necessary for accurate aerobic and anaerobic threshold measurement. Poly-Spectrum.NET software uses anthropometric and patient data to accurately select the workload increment to obtain the correct results within the given time.
METALYZER 3B (Cortex) Gas Analyzer with the Set of Masks (including pediatric)
The METALYZER 3B is a portable high resolution spiroergometry system with Breath-by-Breath technology. The system allows a complete medical analysis of the functionality of a person's lung, heart and metabolism at rest and under stress in inpatient setting using bicycle ergometer and treadmill. The METALYZER 3B is supplied in a wide basic configuration which includes various accessories that allow starting the test within the shortest time.
SpO2 Recording
Since 2016 measurement of oxygen saturation has been recommended by EACPR/AHA* as a part of cardiopulmonary exercise testing. Using the pulse oximeter, you can accurately measure SpO2, while the software will control the test progress and notify of hypoxemia.
The support of HL7 standard allows integrating all diagnostic Neurosoft systems into the information system of a healthcare facility.
Delivery Set
The delivery set can differ from country to country. Request the actual delivery set for your country from your local representative.
Buy with this
Options
Свидетельство о регистрации ПО Поли-Спектр.NET

387,07 KB

Summary 510(k)130878_USA

110,72 KB

Поли-Спектр-8ЕХ_Регистрационное удостоверение_RF_08.10.2018

13,14 MB

Поли-Спектр-8ЕХ_Декларация о соответствии_EUU_07.02.2019

655,77 KB

Поли-Спектр_8Е, 8ЕХ_Регистрационное удостоверение_KG_17.04.2019

1,35 MB

Registration certificate_Indonesia

5,51 MB

EC certificate

700,66 KB

Поли-Спектр-8ЕХ_Регистрационное удостоверение_KZ_15.03.2022

2,03 MB

Сертификат об утверждении типа СИ_Поли-Спектр-8,8Е,8ЕХ_KZ_13.07.2020

924,47 KB