NEUROREHABILITATION SYSTEM
---
effective motor function recovery
noninvasive and painless stimulation
reliable performance for everyday practice
innovative liquid cooling technology
sophisticated software with automatic algorithms and pre-defined treatment protocols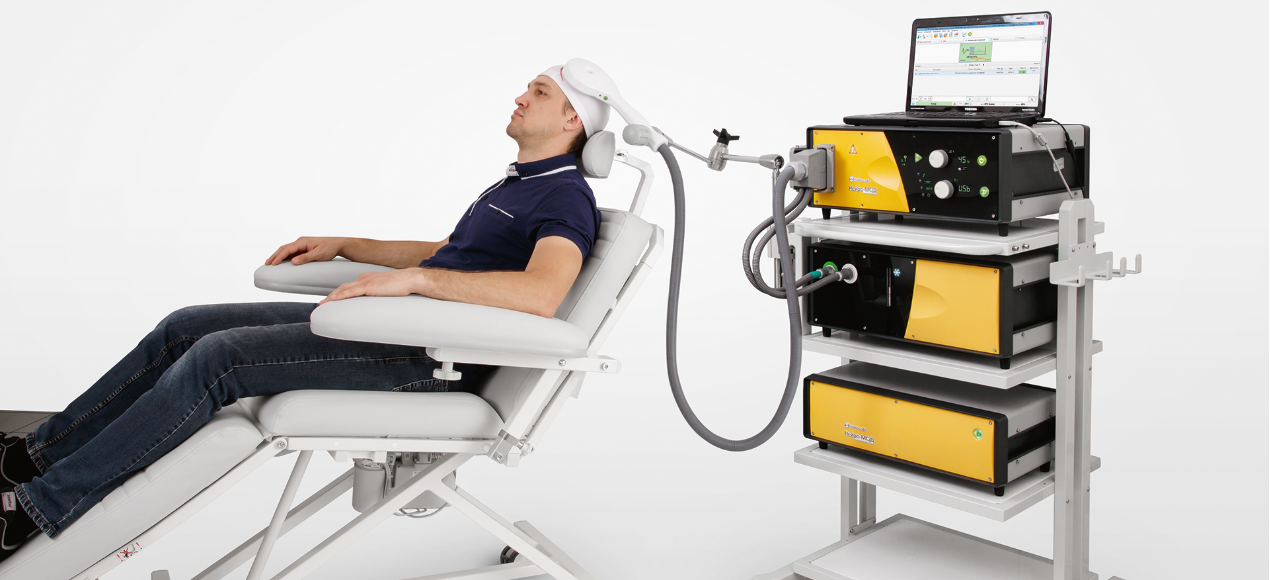 Description
Effective motor function recovery
Transcranial magnetic stimulation (TMS) is a valuable diagnostic and therapeutic technique that is encouraged for wide use in neurorehabilitation and electrodiagnostics in both adults and children.
TMS can be used for motor function recovery after spinal (spinal cord injury, myelitis) or brain (stroke, traumatic brain injury and other focal brain damage) conditions.
Application: post-stroke rehabilitation, spasticity, pain syndrome, migraine, Parkinson disease, tinnitus, dystonia, essential tremor, Tourette syndrome, amyotrophic lateral sclerosis, multiple sclerosis, epilepsy, Alzheimer disease.
Noninvasive and painless stimulation
TMS is a painless procedure which does not have absolute contraindications if compared, for example, to electrical stimulation. At the same time TMS therapy has been proven effective and is successfully applied all over the world.
Reliable performance for everyday practice
Our Neuro-MS/D magnetic stimulator allows for deep focused stimulation of the brain ensuring long-term therapeutic effect whereas implying minimum contraindications and side effects. A well-thought design concept of Neuro-MS/D magnetic stimulator facilitates its efficient use.
Neurosoft magnetic stimulators are a popular choice of healthcare professionals who look for quality, safety and robustness.
Innovative liquid cooling technology
Overheating is a common issue for magnetic stimulators as repetitive stimulation implies delivery of a large number of pulses during the treatment session. This may result in coil overheating which explains the need to use cooled coils. Neurosoft magnetic stimulators feature the breakthrough cooling system solution when the coolant does not fill the coil completely and just circulates inside the winding neutralizing heat right at the spot and at the same time contributes to less heavy coil design.
Sophisticated software with automatic algorithms and pre-defined treatment protocols
The supplied software features pre-defined protocols for treatment of psychiatric and neurological disorders according to IFCN (International Federation of Clinical Neurophysiology) recommendations. Smart software allows saving your precious time when performing TMS.
Delivery Set
The delivery set can differ from country to country. Request the actual delivery set for your country from your local representative.
Options
Свидетельство о регистрации ПО Нейро-МС.NET

384,41 KB

Нейро-МСД_Декларация о соответствии_EUU_20.11.2018

643,28 KB

Нейро-МСД_Регистрационное удостоверение_RF_23.08.2017

3,18 MB

Declaration of Conformity_Argentina

1,91 MB

Registration Сertificate _Costa Rica

63,98 KB

Registration Сertificate_Peru

3,3 MB

Registration Сertificate _Costa Rica

64,05 KB

Registration certificate _Japan

55,51 KB

Нейро-МСД_Регистрационное удостоверние_UZ_20.10.2020

3,05 MB

Neuro-MS, MS/D, MSX_Certificate of compliance_Brazil_22.10.2021

2,56 MB

Australia certificate TMS MSD_MSX 30Mar2020

145,4 KB

EC certificate

700,66 KB

Registration certificate_El Salvador

376,29 KB

Neuro-MS/D_Registration certificate_Colombia

1,35 MB

Выписка из реестра РЭП_Нейро-МС/Д_терапевтический расширенный

43,61 KB