aTymp
Tympanometer
---
4 frequencies of the probe tone (226, 678, 800, 1000 Hz)
ipsi- and contralateral acoustic reflexes
wide range of stimuli for acoustic reflex
broad-band noise to work with the pediatric patients
testing of the patients with perforated tympanic membrane (ETF-2)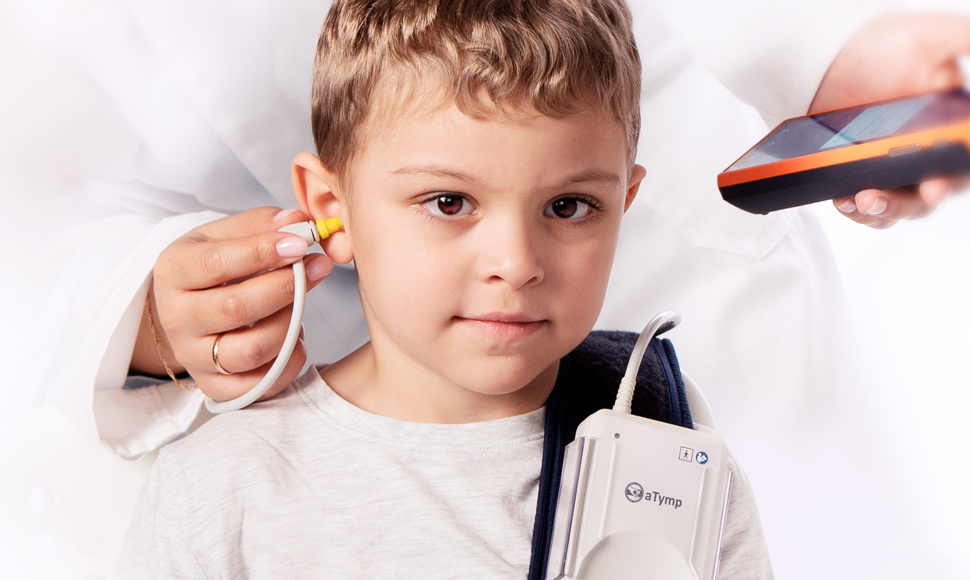 Description
Portable system for diagnostics of the middle ear and tympanic membrane diseases
The aTymp tympanometer is a portable audiometric device intended for diagnostics of the middle ear and tympanic membrane diseases. The system is compatible with Android-based devices and personal computer (PC) with installed software.
The system can operate in a stand-alone mode for a long time, that's why the aTymp is the best solution for on-site audiological examinations at high diagnostic level. A large memory capacity of the system is capable of storing almost unlimited number of audiological examinations.
Comprehensive examination of the middle ear
The aTymp system is intended to conduct acoustic impedance tests, namely, tympanometry, Eustachian tube function test (for intact and perforated tympanic membrane), acoustic reflex test, and acoustic reflex decay test. The system is also capable of patulous Eustachian tube testing. The aTymp can be used for examination of the auditory analyzer in patients of all ages.
High-frequency tympanometry
High-frequency tympanometry (1000 Hz probe tone) is recommended for hearing evaluation of newborns and infants. You can easily select the probe tone frequency and air pressure range without interrupting the examination. During one session up to 4 tympanograms with different settings can be obtained. The system can stop examination automatically when tympanogram peak pressure is detected. It helps to reduce testing time and protect ear from overpressure.
Modular design
The aTymp can be easily customized to fit your requirements. Start your work with a minimum set of techniques, if necessary, expand the tympanometer functionality to a clinical version; there is no need to buy a new device.
PC-based operation
Connect the aTymp to the PC and you will get a unified workspace for the audiologist. The system is connected to the PC with installed Neuro-Audio.NET software via USB.
Mobile terminal with built-in thermal printer
No additional equipment is required for aTymp to print out the results, since the system has a built-in thermal printer.
The mobile terminal has a touchscreen interface. The 5.5 inch touchscreen display presents intuitive and simple graphic interface. All required options are in one spot. You can enter patient's data, perform the tests, review and print the results with just a simple touch of your finger.
Android compatible
By default, the aTymp is supplied with a mobile terminal with a built-in printer, but it can also work with many Android-based smartphones and tablets with USB On-The-Go feature and USB-C connector. All you need is to choose a device with the screen size and battery capacity you are comfortable with.
Delivery Set
The delivery set can differ from country to country. Request the actual delivery set for your country from your local representative.
| | |
| --- | --- |
| aTymp electronic unit | 1 pcs. |
| SUNMI V1S terminal | 1 pcs. |
| Cable USB-С/Mini USB-B | 1 pcs. |
| Holder | 1 pcs. |
| Shoulder harness for impedance unit | 1 pcs. |
| OAE probe tip | 1 pcs. |
| Probe tip extractor | 1 pcs. |
| Superfloss Regular dental floss | 1 pcs. |
| Bluetooth adapter | 1 pcs. |
| Set of disposable eartips (universal) | 1 pcs. |
| TC-2 test cavity | 1 pcs. |
Buy with this
Options
aTymp_Registration certificate_RF_07.02.2023

10,52 MB

Свидетельство о регистрации ПО Нейро-Аудио.NET

1,23 MB