Device for&nbspEMG/STIM-guided Injections
Device for EMG/STIM-guided Injections
---
compact size and battery operated
electrical stimulator and EMG recorder in one unit
application in neurology, therapy and anesthesiology
touch-proof connectors to plug in electrodes and injection needles
operation indicators and built-in speaker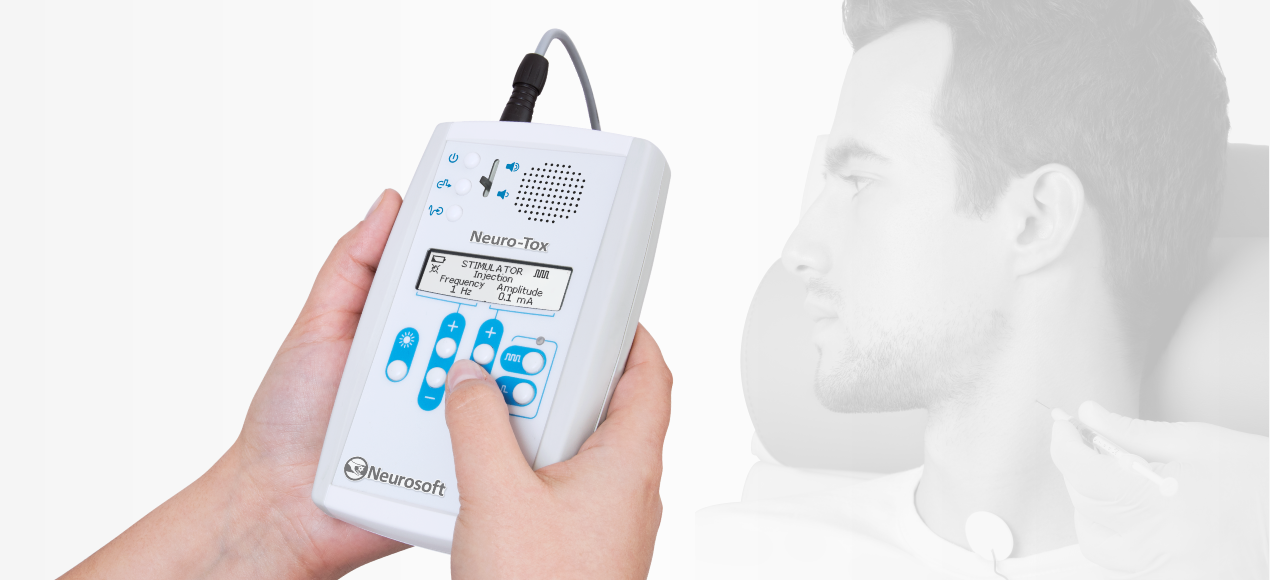 Description
Compact Size and Battery Operated
Compact device dimensions (160×98×30 mm) allow to place it in a pocket of doctor's coat and work with it using remote control. The running time from two AA type batteries starts from 24 hours.
Electrical Stimulator and EMG Recorder in One Unit
Detect the injection site using surface EMG and electrical stimulation. The electrical stimulation and surface EMG allow detecting the target muscle and its function.
Application in Neurology, Therapy and Anesthesiology
at hyperkinesias including tremor, dystonia, spasticity;
at focal forms of muscle dystonia including cervical dystonia, mogigraphia and other forms of professional spasms, blepharospasm, oro-mandibular dystonia, idiopathic torsion dystonia;
at rehabilitation of patients suffering from cerebral spastic infantile paralysis, multiple sclerosis, consequences of craniocerebral injuries, spinal cord traumas, strokes;
at myofascial and vertebrogenic pain syndromes, tension headache, primary local hyperhidrosis, hyperfunctional wrinkles and neurocosmetic defects;
stimulation is used together with ultrasound diagnostics (double navigation technique) to ensure effectiveness and safety of conduction anesthesia;
in combination therapy of detrusor sphincter dysynergia and overactive bladder syndrome.
Touch-proof Connectors to Plug in Electrodes and Injection Needles
To plug in electrodes and injection needles one may use touch-proof connectors complying with industry-specific standards. You can connect a wide range of electrodes and needles of different manufacturers.
Operation Indicators and Built-in Speaker
The stimulation frequency and amplitude during the operation is displayed on the front panel of the device. It also has integrated speaker for output of live EMG signals. Using audio data you can easily detect the muscle site with maximum tension.
Delivery Set
The delivery set can differ from country to country. Request the actual delivery set for your country from your local representative.