Neuron-Spectrum-1/V
Veterinary Digital EEG System
---
assessment of brain function
compact, easy-to-use system
advanced analysis tools
impedance indication on the front panel
operation in unshielded environment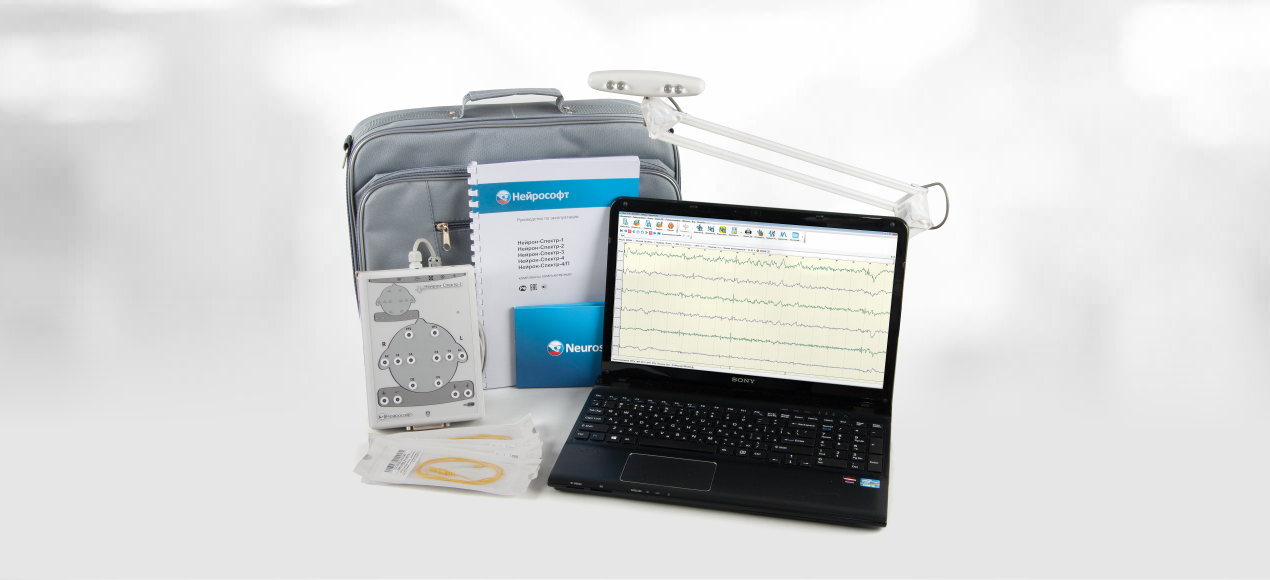 Description
Assessment of Brain Function
Electroencephalography (EEG) is the method of studying the brain by means of recording its bioelectrical activity. If there is any pathological process causing brain dysfunction, it will be reflected in different EEG abnormalities.
Clinical EEG analysis provides diagnostic information regarding 3 main issues: evidence for brain damage, disease prognosis, brain damage localization.
Indications for EEG:
seizures and syncopal events of different etiology (in this aspect, special attention should be paid to epilepsy because it implies significant neurophysiological problems specific to small pets);
cerebral circulation failure, subdural hematoma, traumatic brain injury: in this case, EEG allows determining the lesion size, predicting outcome and evaluating treatment efficacy;
brain tumor: this is when EEG along with MRI might serve as a diagnostic method to define tumor localization.
Compact, Easy-to-Use System
Neuron-Spectrum-1/V is a pocket-sized device that can be simply connected to a computer via a USB interface. The recorded EEG data is displayed on a computer screen and can be printed out using any printer.
Advanced Analysis Tools
The included software performs brain mapping as well as spectral, periodometric and coherent analyses of EEG. This data is rather informative and is usually enough to obtain data necessary for diagnosis, treatment decision making, and other related aspects.
Impedance Indication on the Front Panel
During the examination, the EEG system and a computer are often placed far from each other or in different rooms. This is not convenient for a specialist as it requires going to the device and then back to the patient when placing the electrodes and checking their placement quality. Neuron-Spectrum-1/V features impedance indication on its front panel allowing a specialist to assess electrode placement quality promptly. This streamlines the workflow and saves valuable time.
Operation in Unshielded Environment
Neuron-Spectrum-1/V is very cost-effective as it can be used in any unshielded environment and does not require additional expenses for the specialist's workplace. This provides comfort both for a specialist and patient and improves exam performance.
The support of HL7 standard allows integrating all diagnostic Neurosoft systems into the information system of a healthcare facility.
Delivery Set
The delivery set can differ from country to country. Request the actual delivery set for your country from your local representative.
| | |
| --- | --- |
| Package set | 1 pcs. |
| Technical manual «Neuron-Spectrum-1/V» | 1 pcs. |
| User manual «Neuron-Spectrum.NET» | 1 pcs. |
| Warranty certificate | 1 pcs. |
| Neuron-Spectrum.NET software license without additional modules | 1 pcs. |
Options
Нейрон-Спектр-1/В_Декларация о соответствии_EEU_12.08.2021

683,04 KB