Neuro-MS/D Diagnostic
Transcranial Magnetic Stimulator
---
study of central and peripheral motor pathways
7 coils at your choice
peak magnetic field — up to 4 T
delayed charging mode
connection to computer via USB port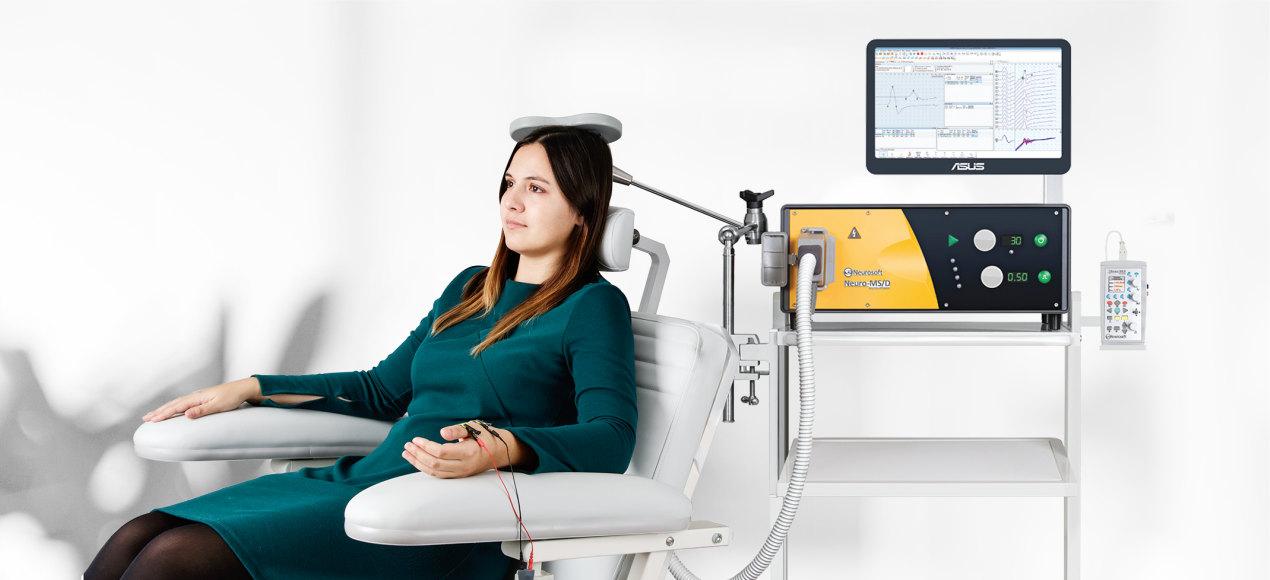 Description
Study of central and peripheral motor pathways
The magnetic field generated by Neuro-MS/D magnetic stimulator can easily penetrate through clothes, skin and bones. When pulsed magnetic field reaches the nerve structures, it induces electrical current and can excite nerve structures. If EMG is recorded at this moment, motor evoked potential (MEP) can be recorded.
Using this approach cerebral, spinal and peripheral nerve pathways can be studied. Such tests are especially important for studying patients with demyelinating diseases of nervous system, in particular, multiple sclerosis, tumorous and vascular lesions.
The magnetic stimulator can operate with EMG recorders of many manufacturers (through TTL/CMOS trig-in/out sockets). However, the maximum diagnostic capabilities can be achieved, if the device is used together with Neurosoft digital neurophysiological systems.
Neuro-MEP.NET software supplied with Neurosoft neurophysiological systems, for example, Skybox, ensures pre-defined templates for wide range of TMS tests:
Motor evoked potentials (MEP)
Central motor conduction time (CMCT)
Silent period (SP)
Interhemispheric inhibition (IHI or ipsilateral SP)
Triple stimulation test (TST)
Low- and high-frequency rTMS
Stimulation of phrenic nerve for study of diaphragm response
Thus, we encourage you to consider purchasing our Neuro-MS/D together with our EMG system.
7 coils at your choice
In diagnostic configuration 7 different coils can be delivered including ring coils, figure-of-eight coils, angulated figure-of-eight coils and placebo coils. All coils are equipped with "Pulse" button and "Ready" indicator. A waveform of magnetic field, its penetration depth, stimulus number till overheating, maximal intensity of magnetic induction depend on a type of coil. For example, the maximum induction area of the ring coils is at the inner edge, and the maximum induction area of the figure-of-eight coil is in the center. A suitable battery of coils meets all diagnostic needs: focal stimulation, stimulation of large areas, stimulation of deep and superficial structures.
Peak magnetic field — up to 4 T
The peak magnetic field of Neuro-MS/D reaches 4 T, one of the highest values in the industry. Such intensity helps to get reliable motor response even in the most complicated cases.
Delayed charging mode
While working together with digital EMG system a delay for the capacitor charge is set in the single pulse mode to avoid noise impact from the power supply unit during the acquisition. The range of the delay is 0–9.9 seconds.
Connection to computer via USB port
Neuro-MS/D can be used together with neurophysiological systems made by Neurosoft. Just connect the magnetic stimulator to the computer with installed EMG or EEG software via USB port. Neurosoft is the only company in the industry which produces both professional EMG/NCS and TMS machines. It means that integration between TMS and EMG can be done at very deep level. EMG software can completely control all parameters of magnetic stimulator.

The support of HL7 standard allows integrating all diagnostic Neurosoft systems into the information system of a healthcare facility.
00:00
Delivery Set
The delivery set can differ from country to country. Request the actual delivery set for your country from your local representative.
| | |
| --- | --- |
| К-5 coil holder | 1 pcs. |
| K-8 coil holder (trolley/wall mounted) | 1 pcs. |
| Technical Manual «Neuro-MS/D» | 1 pcs. |
| Warranty certificate | 1 pcs. |
| Technical Manual «Coils for Magnetic Stimulators» | 1 pcs. |
| Package | 1 pcs. |
| Screwdriver | 1 pcs. |
Options
Свидетельство о регистрации ПО Нейро-МС.NET

384,41 KB

Нейро-МСД_Декларация о соответствии_EUU_20.11.2018

643,28 KB

Нейро-МСД_Регистрационное удостоверение_RF_23.08.2017

3,18 MB

Declaration of Conformity_Argentina

1,91 MB

Registration Сertificate _Costa Rica

63,98 KB

Registration Сertificate_Peru

3,3 MB

Registration Сertificate _Costa Rica

64,05 KB

Registration certificate _Japan

55,51 KB

Нейро-МСД_Регистрационное удостоверние_UZ_20.10.2020

3,05 MB

Registration certificate_Taiwan

591,85 KB

Neuro-MS, MS/D, MSX_Certificate of compliance_Brazil_22.10.2021

2,56 MB

Australia certificate TMS MSD_MSX 30Mar2020

145,4 KB

Registration Сertificate _Indonesia

2,92 MB

EC certificate

700,66 KB

Registration certificate_El Salvador

376,29 KB

Neuro-MS/D_Registration certificate_Colombia

1,35 MB

Выписка из реестра РЭП_Нейро-МС/Д_диагностический

43,57 KB