Neuro-MS Paired Monophasic
Transcranial Magnetic Stimulator
---
for paired stimulation
super powerful monophasic stimulus
extremely low interference
big color screen and easy click wheel to control parameters
connection to computer via USB port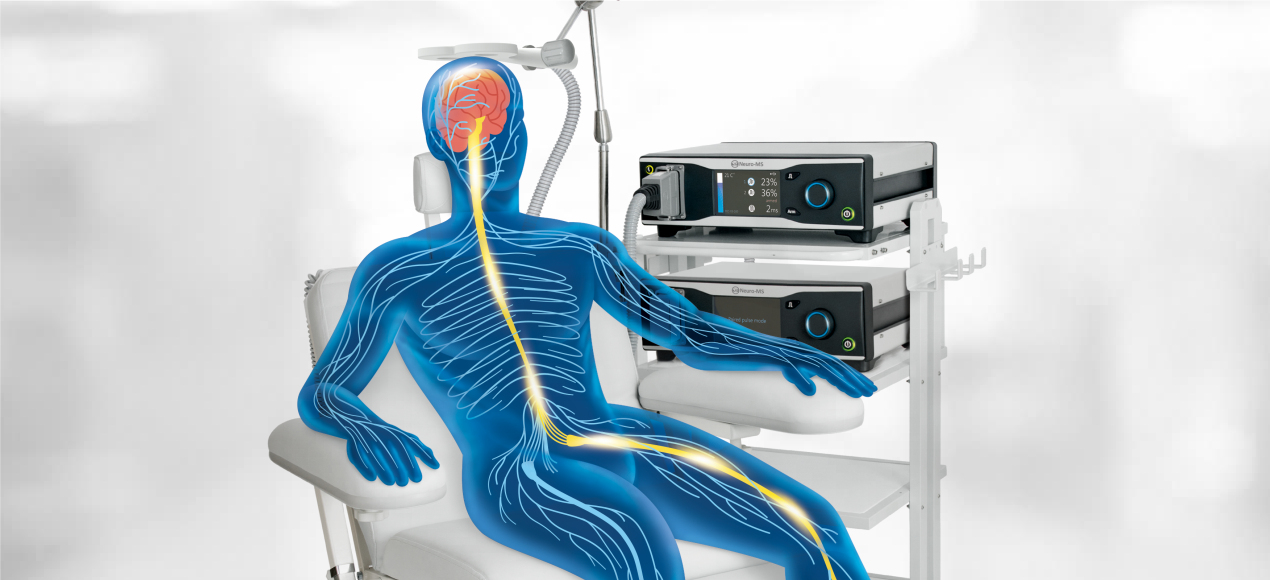 Description
For paired stimulation
Magnetic stimulator has modular construction. Paired-pulse transcranial magnetic stimulation (ppTMS) has been shown to be a useful tool to study the excitatory and inhibitory interactions in the human motor cortex. ppTMS can be performed with one or two coils.
Super powerful monophasic stimulus
Thanks to 2800 V capacitor, which is 60% more robust than our previous generation of capacitors, Neuro-MS fires more powerful monophasic stimulus. It allow obtaining good EMG response at low intensities.
Extremely low interference
Neuro-MS is used for diagnostics and research. While TMS can induce a strong electrical field, this device has a very low interference even during charge and discharge. Thus, you can use it during EEG or ERP recordings. The magnetic stimulator can operate with EMG recorders of many manufacturers (through TTL/CMOS trig-in/out sockets). However, the maximum diagnostic capabilities can be achieved, if the device is used together with Neurosoft digital neurophysiological systems.
Neuro-MEP.NET software supplied with Neurosoft neurophysiological systems, for example, Skybox, has integrated preset protocols for a wide range of TMS tests:
Motor evoked potentials (MEP)
Central motor conduction time (CMCT)
Silent period (SP)
Interhemispheric inhibition (IHI or ipsilateral SP)
Triple stimulation test (TST)
Stimulation of phrenic nerve to study the diaphragm response
Big color screen and easy click wheel to control parameters
All stimulation parameters are displayed at bright and sharp color built-in screen. Easy click wheel helps to set the intensity, frequency and other parameters in a matter of seconds. Neuro-MS comes with a new set of coils that have additional controls. Right on a coil you can increase of decrease the intensity of a stimulation and deliver a stimulus.
Connection to computer via USB port
Neuro-MS, as our other TMS systems, can be used together with Neurosoft neurophysiological systems. Just connect the magnetic stimulator to the computer with installed EMG or EEG software via USB port. No additional sync cables are needed. Neurosoft produces both professional EMG/NCS and TMS machines. It means that integration between TMS and EMG can be done at a very deep level. EMG software can completely control all parameters of magnetic stimulator.
The support of HL7 standard allows integrating all diagnostic Neurosoft systems into the information system of a healthcare facility.
Delivery Set
The delivery set can differ from country to country. Request the actual delivery set for your country from your local representative.
| | |
| --- | --- |
| USB cable (A-B) | 1 pcs. |
| T-4/A trolley | 1 pcs. |
| K-8 coil holder (trolley/wall mounted) | 1 pcs. |
| Screwdriver | 1 pcs. |
| Unit package | 2 pcs. |
| Technical Manual «Neuro-MS» | 1 pcs. |
| Technical Manual «Coils for Magnetic Stimulators» | 1 pcs. |
| Warranty certificate | 1 pcs. |
Options
Свидетельство о регистрации ПО Нейро-МС.NET

384,41 KB

Нейро-МС_Декларация о соответствии_RF_27.12.2016

983,63 KB

Нейро-МС_Регистрационное удостоверение_RF_16.12.2016

4,97 MB

Нейро-МС_Декларация о соответствии_EUU_16.11.2018

643,82 KB

Neuro-MS, MS/D, MSX_Certificate of compliance_Brazil_22.10.2021

2,56 MB

EC certificate

700,66 KB

Свидетельство на товарный знак Нейро-МС

789,49 KB