TMS-EEG
A unique system for simultaneous EEG and EP recording during TMS
---
iInnovative EEG recorder with outstanding technical specifications
non-interfering monophasic magnetic stimulator.
electrode system
software for recording, averaging, and analysis
wide application possibilities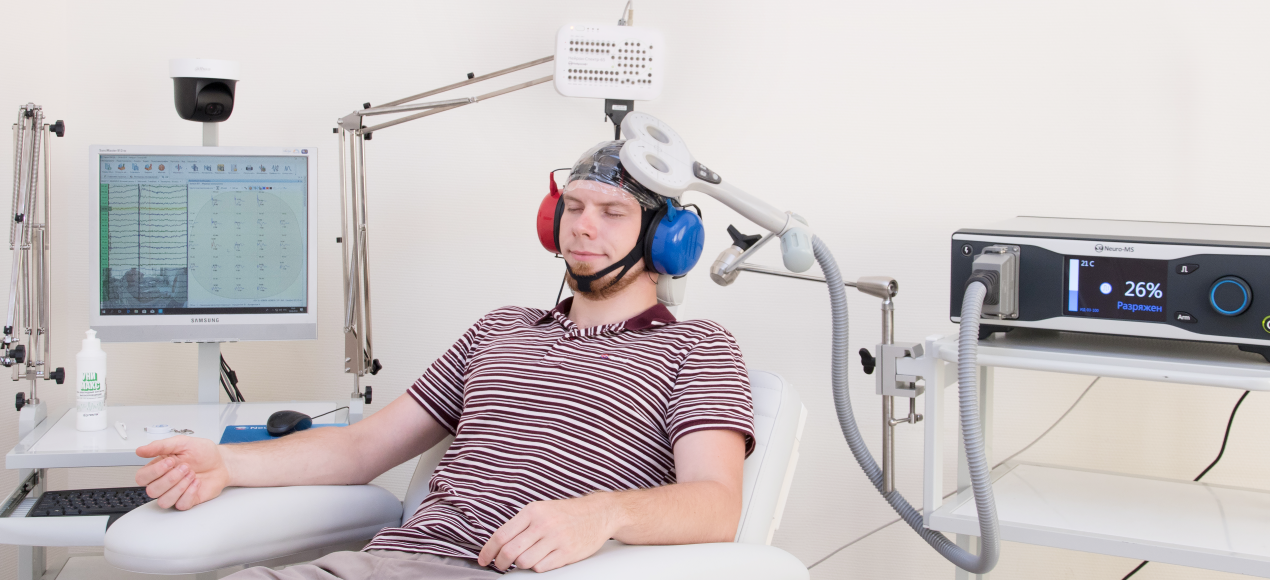 Description
Innovative EEG recorder with outstanding technical specifications
A new-generation EEG system, Neuron Spectrum-6G represents the 30-year experience of Neurosoft engineers and advanced technologies applied in the development of circuit solutions in medicine. The system outperforms most clinical EEG machines available today regarding such characteristics as input noise level, input frequency and amplitude range, and sampling frequency. Thanks to that and to the particularly developed software, it is possible to successfully use the system for TMS-EEG studies. The previous-generation EEG recorders usually went off-scale at the high-amplitude magnetic pulse and did not record an electroencephalogram. When designing this system, this disadvantage was fixed so that now the system allows recording of EEG and evoked potentials (EP) throughout a transcranial magnetic stimulation (TMS) session.
Non-interfering monophasic magnetic stimulator
For TMS-EEG sessions, we suggest using one of Neurosoft latest developments in magnetic stimulation. The monophasic stimulator ensures generation of high-amplitude pulses with high enough frequency. At the same time, its circuit is designed so that charging the capacitor does not cause additional interference in the EEG – the so-called "silent mode". A variety of coils to choose from allow you to solve a wide range of clinical tasks.
Electrode system
An important success factor of the TMS-EEG technique is the appropriate electrode system. This solution offers a special electrode cap with the pre-defined electrode positions according to the 10-20 system for 21 or 32 EEG channels. The flat design of the electrodes allows positioning the coil as close to the head as possible, while the minimum metal content of the electrode allows minimizing artifact from the magnetic pulse on the EEG.
Software for recording, averaging, and analysis
The Neuron-Spectrum.NET software implements the averaging of EPs induced by magnetic stimulation directly during recording. Automatic artifact removal from averaging allows obtaining pure responses for a minimum number of averagings. The latencies and amplitudes of EP components are calculated automatically and presented as tables and topographic maps. After the recording is completed, it is possible to change the filter parameters, perform averaging with different settings, for example, to remove pulse artifact from the averaged curves. The duration of a pulse artifact depends on the used electrodes, pulse intensity, and filter parameters. On average, artifact duration is 25 ms after pulse delivery, and immediately after that the system records pure EEG signal without interference.
Wide application possibilities
A few years ago when it became technically possible to record EEG during magnetic stimulation, TMS-EEG technique was only used in scientific research. Numerous works have now been published demonstrating the possibilities of this method in the treatment and diagnosis of various diseases. For example, TMS-EEG is widely used for evaluation of rehabilitation progress in stroke patients and helps in localization of the epileptic focus. The studies performed today using this technique allow suggesting that the scope of its application will expand even further in the future.
The support of HL7 standard allows integrating all diagnostic Neurosoft systems into the information system of a healthcare facility.
00:00
Delivery Set
The delivery set can differ from country to country. Request the actual delivery set for your country from your local representative.
| | |
| --- | --- |
| Neuro-MS electronic unit , package | 1 pcs. |
| Package set | 1 pcs. |
| Neuron-Spectrum.NET software license without additional modules | 1 pcs. |
| Neuron-Spectrum.NET software license with additional Neuron-Spectrum.NET/LEP software module | 1 pcs. |
| Neurosoft equipment cover | 1 pcs. |
| Technical Manual «Coils for Magnetic Stimulators» | 1 pcs. |
| Technical Manual «Neuro-MS» | 1 pcs. |
| H-4S.1 Holder | 1 pcs. |
| | 1 pcs. |
| Neuro-MEP.NET software license with Neuro-MEP.NET/EP module | 1 pcs. |
| License for Neuron-Spectrum.NET software with additional Neuron-Spectrum.NET/PSG software module | 1 pcs. |
| Neuro-MEP.NET software license with Neuro-MEP.NET/EMG module | 1 pcs. |
| Holder mount | 1 pcs. |
Options
Florinda Ferreri, David Ponzo, Taina Hukkanen. Human brain cortical correlates of short-latency afferent inhibition: a combined EEG–TMS study — 2012. — №108. — С. 314–323.

Ilmoniemi R. J., Kicic D. Methodology for Combined TMS and EEG // Brain Topogr. — 2010. — №22. — С. 233–248.

Koch G. The new era of TMS-EEG: Moving towards the clinical practice // Clinical neurophysiology: official journal of the International Federation of Clinical Neurophysiology. — 2019. — Т. 130. — №5. — С. 791.

Kimiskidis V. K. et al.TMS combined with EEG in genetic generalized epilepsy: A phase II diagnostic accuracy study. — 2017. – №128. – С. 367-381

Elisa Kallioniemi, JukkaSaari, et al.. TMS-EEG responses across the lifespan: Measurement, methods for characterisation and identified responses. Journal of Neuroscience Methods. — Vol. 366 — 15 January 2022.