Ergopoint (with treadmill)
Expert-class ECG stress test system with wireless ECG recorder and treadmill
---
exercise stress test with continuous 12-channel ECG acquisition
wireless ECG transfer — clear ECG traces
full battery of exercise test protocols including ramp protocol
real-time monitoring of all test parameters
Lode treadmill with side handrails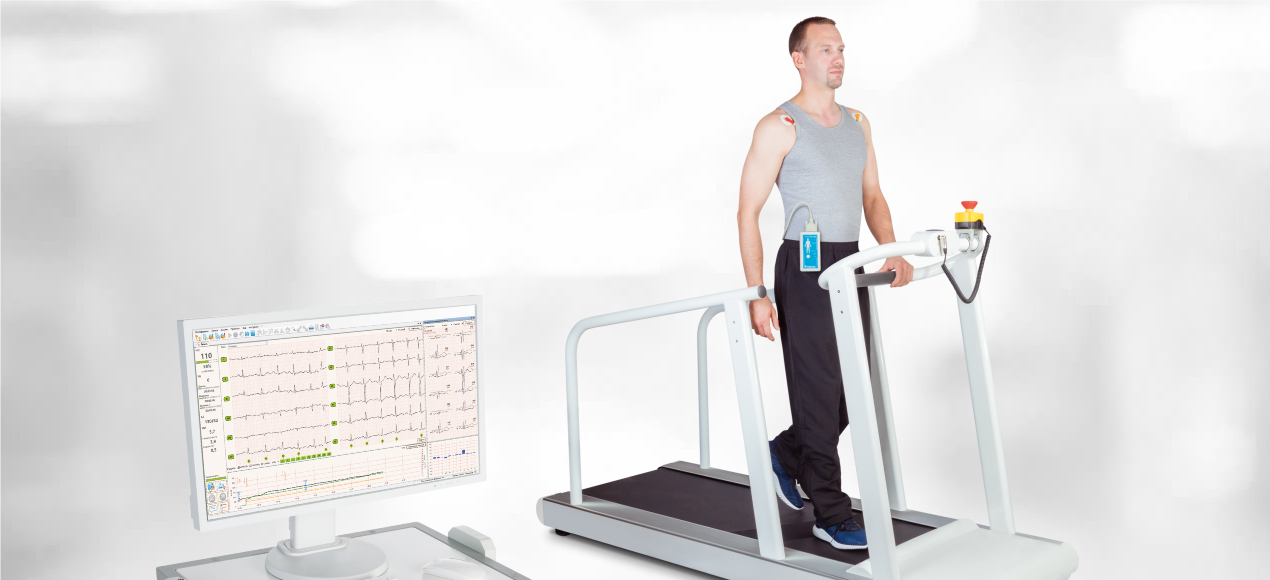 Description
Ergopoint is a high-performance system designed to solve multiple tasks such as diagnostics of coronary artery disease (CAD), assessment of exercise tolerance, study of rhythm disturbances under workload, diagnostics of heart and respiratory failures, evaluation of exercise tolerance and exercise capacity in apparently healthy individuals (in sports medicine).
Exercise stress test with continuous 12-channel ECG acquisition
The supplied scalable Poly-Spectrum.NET software features a simple, user-friendly interface. The software allows recording high-quality 12-channel ECG with clear ECG traces. This was achieved thanks to wireless ECG transfer and positioning of a recorder on a patient with an easy-to-use belt which significantly reduced noises and artifacts.
Wireless ECG transfer — clear ECG traces
Wireless ECG recorder is powered from two rechargeable AA batteries and can transfer ECG via Bluetooth for up to 7-meter distance. This allows reducing low noise interference caused by cable vibrations common for conventional ECG systems.
Full battery of stress test protocols including ramp protocol
The software features the battery of pre-defined protocols for a treadmill stress test: ramp, Bruce, Cornell, Naughton, Kattus, and Balke. The number of possible tests is not limited as you can create your own ones!
Real-time monitoring of all test parameters
Smart software displays informative data for more effective work:
averaged QRS complexes as superimposed with displacement over the averaged resting ECG;
heart rate (HR), load, blood pressure (BP), and ST amplitude trends.
The color-coded indication and sound notification provided in the software inform a clinician if the monitored values are outside the specified limits, as well as if frequent extrasystoles, ST depression or arrhythmia occur.
Manual and automatic load control
Poly-Spectrum.NET software ensures automatic elevation and speed therefor controlling the workload up to the tenth of a watt. The workload is changed according to the selected protocol. It may increase gradually like the ramp protocol or increase by stages. The specialist can change the load any time using the keyboard and switch to manual mode.
Biofeedback mode
Poly-Spectrum.NET features biofeedback mode when the load can be adapted according to the patient's physiological measurements. Thereby, the software allows maintaining HR on the specified level for example.
Lode treadmill with side handrails
The Valiant offers a smooth acceleration from 0 km/h. The speed is continuously adjustable in a range of 0.5 – 20 km/h. The standard elevation is 0 – 25%. This allows achieving the desired load intensity at a small speed. The low step-up height makes the treadmill perfectly suitable for rehabilitation activities. The blood pressure module enables accurate and reliable automatic blood pressure measurement during a treadmill stress test, not disturbed by motion.
The support of H7 interface allows integrating all diagnostic Neurosoft systems to information system of clinics.
Options
Регистрационное удостоверение Мультитренер и Эргопойнт

1,27 MB

Декларация о соответствии Мультитренер и Эргопойнт

91,68 KB