Neuron-Spectrum-65/PSG
Clinical PSG system (type I sleep monitor)
ready-made solution for your PSG lab
full range of PSG channels in compliance with AASM recommendations
connection to a portable patient unit
synchronous video monitoring
sleep staging and detection of sleep related disorders
special tools to speed up the encryption of PSG recordings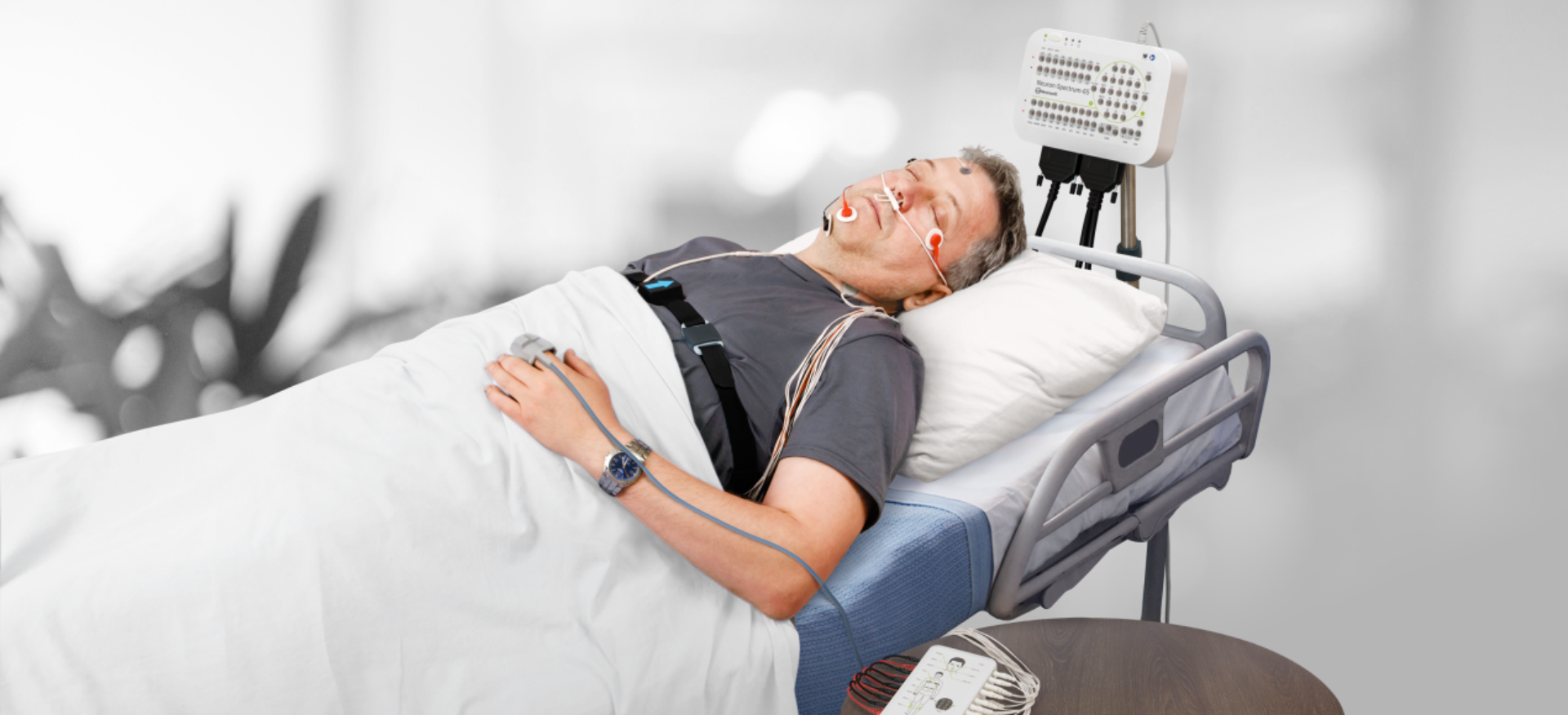 Description
Ready-made Solution for Your PSG Lab
Neurosoft has been developing and manufacturing medical equipment for functional diagnostics and neurophysiology for over 25 years. Our devices are time-tested, flexible and reliable systems with high signal quality.
Neuron-Spectrum-65/PSG is a ready-made solution for your sleep lab. The system ensures all you need for high-quality PSG study: continuous PSG, synchronous video and audio recording, analysis of sleep stages and PSG events.
Full Range of PSG Channels in Compliance with AASM Recommendations
There is a full range of PSG channels to work with the system with maximum efficiency:
up to 32 EEG channels;
1 ECG channel.
Channels for:
thermistor airflow sensor;
pressure airflow sensor (cannula);
thorax respiratory effort sensor;
abdominal respiratory effort sensor;
snoring sensor;
body position sensor;
SpO2 and PPG (photoplethysmography) channels;
2 EMG channels for limb movements recording;
2 EOG channels;
3 EMG channels.
Connection to a Portable Patient Unit
When PSG study is performed in a medical facility, the sensors can be connected to a portable patient unit that allows quick disconnection from the PSG recorder and connection to it (for example, in case of bathroom needs).
Synchronous Video Monitoring
Neuron-Spectrum-65/PSG is synchronized with one, two or three video cameras simultaneously to perform the synchronous PSG video monitoring during the examination. The network IP cameras with a microphone, IR light, and 4X optical zoom are supplied with the system. The cameras can be controlled directly by the software. The synchronous video monitoring ensures more accurate identification of sleep disorder type.
Sleep Staging and Detection of Sleep-related Disorders
The Neuron-Spectrum.NET software supplied with Neuron-Spectrum-65/PSG system performs automatic sleep staging with the duration of each stage, ensures the calculation of indices for apnea and hypopnea, desaturation, snore, heart rate and also determines the body position, both separately and taking into account the analysis of sleep stages. The exact identification of the sleep disorder type allows a specialist to choose the successful treatment strategy and prevent further disease progression. When working with Neuron-Spectrum-65/PSG, the multichannel EEG recording can also be performed during the PSG study. It is especially important to detect epileptic seizures that occur frequently during NREM sleep.
Special Tools to Speed up the Encryption of PSG Recordings
As a rule, it takes 7-8 hours to perform PSG study. Therefore, some difficulties can arise when the obtained information is reviewed and analyzed manually.
In the software for Neuron-Spectrum-65/PSG the special tools are implemented to speed up the encryption of PSG records:
automatic and manual sleep staging, construction of hypnogram, automatic calculation of hypnogram parameters, construction of histograms depending on sleep stage;
automatic detection and analysis of respiratory events (apnea and hypopnea), desaturation, snore, hypoventilation, limb movements, and periodic limb movements, the construction of trends of the following recorded parameters: heart rate, body position, SpO2, ETCO2, PPT;
automatic generation of PSG report, including graphical data.
| | |
| --- | --- |
| Neuron-Spectrum-65 electronic unit | 1 pcs. |
| Equipment for polysomnography studies "Neuron-Spectrum-PSG" | 1 pcs. |
| Cup electrode with cable, white, 1.5 m | 14 pcs. |
| Cable for disposable electrode with button connector, touch-proof, red, 1.5 m | 2 pcs. |
| Cable for disposable electrode with button connector, touch-proof, black, 1.5 m | 2 pcs. |
| Cable for disposable electrode with button connector, touch-proof, red, 2.5 m | 2 pcs. |
| Cable for disposable electrode with button connector, touch-proof, black, 2.5 m | 2 pcs. |
| Disposable ECG electrode pediatric PG10S | 30 pcs. |
| Airflow sensor AS-8/A-20 | 1 pcs. |
| Airflow sensor AS-8/P-20 , pediatric | 1 pcs. |
| Snoring sensor SS-1 , 2 m | 1 pcs. |
| Inductive thorax and abdominal effort sensor "IES-1-22" , for Neuron-Spectrum-5,5/S, 4/EPM, 4/P, 2 m | 1 pcs. |
| PS-2-22 body position sensor | 1 pcs. |
| Light sensor | 1 pcs. |
| External unit for SpO2 recording , Nonin | 1 pcs. |
| Finger sensor for SpO2 recording , Purelight, small | 1 pcs. |
| Finger sensor for SpO2 recording , PureLight, medium | 1 pcs. |
| Finger sensor for SpO2 recording , PureLight, large | 1 pcs. |
| | |
| --- | --- |
| IP Videocamera | 1 pcs. |
| Video camera tripod | 1 pcs. |
| Patch cord UTP | 3 pcs. |
| Wireless router | 1 pcs. |
| USB-hub USB-LAN «КМ-52Е» | 1 pcs. |
| Neuron-Spectrum-PU/PSG patient unit | 1 pcs. |
| Cable PU/PSG "C-65" | 1 pcs. |
| Neck lanyard | 1 pcs. |
| Technical Manual "Neuron-Spectrum-PU/PSG" | 1 pcs. |
| Electrode adhesive paste TEN20 , 114 g. | 1 pcs. |
| Medical tape Transpore , 5 sm х 9.1 m | 1 pcs. |
| Guidelines "Dahua DH-SD29204T-GN Video Camera" | 1 pcs. |
| Technical manual "Airflow Sensors AS-7, AS-8, AS-9, AS-10" | 1 pcs. |
| Technical Manual "Electrodes for EMG and EP Studies" | 1 pcs. |
| Package | 1 pcs. |
| License for the use of software "Neuron-Spectrum.NET" with additional software module "Neuron-Spectrum.NET/PSG" | 1 pcs. |
| License for the use of software "Neuron-Spectrum.NET" with additional software module "Neuron-Spectrum.NET/Video" | 1 pcs. |
Свидетельство о регистрации ПО Нейрон-Спектр.NET

1,03 MB