Attended Polysomnography
Neuron-Spectrum-65/PSG (Type I sleep monitor)
---
ready-made solution for your PSG lab
full range of PSG channels in compliance with AASM recommendations
connection to a portable patient unit
synchronous video monitoring
PAP titration under PSG control
advanced analysis tools to speed up PSG data interpretation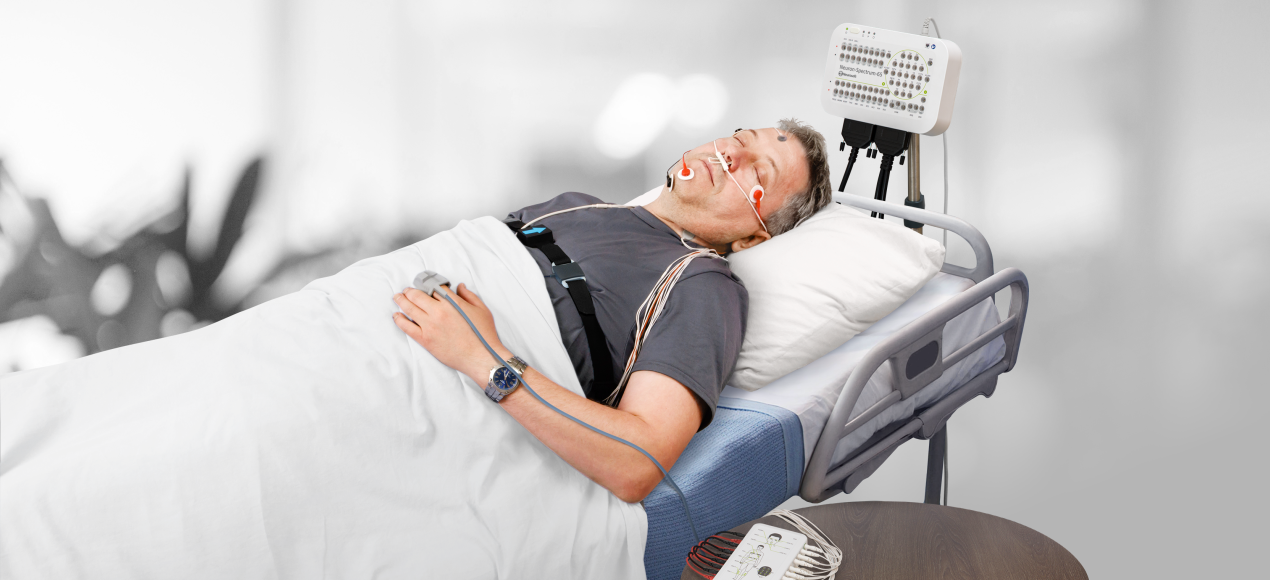 Description
Ready-made solution for your PSG lab
For more than a quarter of a century, Neurosoft has been designing and producing various equipment for electrodiagnostics and neurophysiology. Advanced noise reduction technologies implemented in our systems ensure high-quality of the recorded signal making our products a popular choice among healthcare professionals worldwide.
Today, we offer our Neuron-Spectrum-65/PSG system — a ready-made solution for your PSG lab. The system is intended for long-term synchronous PSG, video and audio data recording as well as for analysis of sleep, cardiorispiratory events and limb movements.
Full-featured PSG recorder of expert class, Neuron-Spectrum-65/PSG allows performing any PSG study according to the latest international requirements. Routine PSG, multiple latency sleep test, maintenance of wakefulness test are possible with that multitask device and simple thanks to the automatic calculation of the parameters necessary for diagnosis.
Full range of PSG channels in compliance with AASM* recommendations
The system is provided with the full range of channels required to perform PSG studies.
Channels for sleep staging
up to 32 EEG channels
2 EOG channels
3 EMG channels
Channels for analysis of sleep-related respiratory events
Channels to connect:
oronasal thermal airflow sensor
nasal pressure airflow sensor (cannula)
thorax respiratory effort sensor
abdominal respiratory effort sensor
snoring sensor
body position sensor
Built-in channels:
SpO2 and PPG (photoplethysmography)
ECG
8 DC channels for the most demanding PSG studies
Channels for limb movement recording
Connection to patient unit
During the in-lab PSG study, the sensors can be connected to the recorder through the portable patient unit. This allows a patient to disconnect quickly from the recorder (for example in case of bathroom needs) and then connect the sensors back to resume the recording.
Synchronous video monitoring
According to AASM, video monitoring synchronized with PSG data recording is recommended during the routine PSG testing. The video image helps accurately determine sleep-related disorders and obtain a more complete clinical picture. Neuron-Spectrum-65/PSG supports synchronous video recording from up to 3 cameras simultaneously. HD network cameras with IR illumination, day/night mode, built-in microphone, and remote control using the software ensure maximum convenience for the medical personnel.
Sleep staging and analysis of respiratory events
Neuron-Spectrum-65/PSG is supplied with advanced software that ensures automatic sleep staging, arranges sleep stage duration markers, calculates apnea/hypopnea, snoring, desaturation, and heart rate variability indices as well as determines body position independently or considering sleep stage analysis data.
Identifying the exact causes of sleep disturbances helps to select an effective treatment and prevent disease progression. Ensured by Neuron-Spectrum-65/PSG, multichannel EEG monitoring performed simultaneously with PSG study facilitates detecting epileptiform activity which often occurs in patients during sleep.
Advanced analysis tools to speed up PSG data interpretation
PSG studies last for 7-8 hours that is why it is difficult to view and analyze the whole record manually. The advanced tools implemented in Neuron-Spectrum.NET/PSG module are particularly designed to speed up PSG data interpretation:
automatic and manual sleep staging, hypnogram creation, automatic calculation of hypnogram parameters, creation of stage distribution histograms;
automatic search and classification of apnea/hypopnea, desaturation, snoring, hypoventilation, limb movement and periodic limb movement events, creation of HR, body position, SpO2, ETCO2, and PPT trends.
automatic generation of the detailed report including graphical data.
PAP titration under PSG control
Today PAP therapy is the main treatment for patients with moderate and severe obstructive sleep apnea (OSA). According to the international recommendations, CPAP/BiPAP therapy titration should be done under medical personnel supervision and within PSG study when treating OSA patients with significant comorbid medical conditions (chronic heart insufficiency, chronic obstructive pulmonary disease, central sleep apnea, or hypoventilation) or when PAP therapy effect is poor.
To transfer PAP titration data, an additional unit (PSG module) should be connected to DC channel inputs of the system. PAP pressure, airflow, leakage, and some other parameters depending on the unit type will be displayed on the screen during PSG testing. The software will automatically detect respiratory events, desaturation, and calculate PSG indices (including apnea-hypopnea index) in accordance with PAP pressure.
PSG sensors and units of third party manufacturers (for example, ETCO2 monitors) can be connected to the system.
*American Academy of Sleep Medicine (https://aasm.org/)
The support of HL7 standard allows integrating all diagnostic Neurosoft systems into the information system of a healthcare facility.
Delivery Set
The delivery set can differ from country to country. Request the actual delivery set for your country from your local representative.
| | |
| --- | --- |
| Neuron-Spectrum-65 electronic unit | 1 pcs. |
| Equipment for polysomnography studies "Neuron-Spectrum-PSG" | 1 pcs. |
| Cup EP electrode with cable (white, 1.5 m) | 14 pcs. |
| Cable for disposable electrode: button clip – touch-proof (red, 1.5 m) | 2 pcs. |
| Cable for disposable electrode: button clip – touch-proof (black, 1.5 m) | 2 pcs. |
| Cable for disposable electrode: button clip – touch-proof (red, 2.5 m) | 2 pcs. |
| Cable for disposable electrode: button clip – touch-proof (black, 2.5 m) | 2 pcs. |
| Disposable ECG electrode PG10S, PG10S/RU26 | 30 pcs. |
| AS-8/A-20 airflow sensor (adult) | 1 pcs. |
| AS-8/P-20 airflow sensor (pediatric) | 1 pcs. |
| SS-1 snoring sensor | 1 pcs. |
| IES-1-22 inductive thoracic and abdominal respiratory effort sensor (for stationary polysomnographs, 2.2 m) | 1 pcs. |
| PS-2-22 body position sensor | 1 pcs. |
| LS-1 light sensor | 1 pcs. |
| 3017LP Xpod oximeter | 1 pcs. |
| 8000SS-3 soft sensor, reusable, small | 1 pcs. |
| 8000SM-3 soft sensor, reusable, medium | 1 pcs. |
| 8000SL-3 soft sensor, reusable, large | 1 pcs. |
| Motorized video camera on a bracket | 1 pcs. |
| | |
| --- | --- |
| Camera tripod with clamp plate | 1 pcs. |
| Patch cord UTP | 3 pcs. |
| Wireless router | 1 pcs. |
| USB-LAN hub КМ-52Е | 1 pcs. |
| KM-52Е USB/LAN hub | 1 pcs. |
| SCZ-1 mains supply cable | 1 pcs. |
| Technical manual «KМ-52Е USB-LAN Hub» | 1 pcs. |
| Neuron-Spectrum-PU/PSG patient unit | 1 pcs. |
| Cable PU/PSG "C-65" | 1 pcs. |
| Shoulder strap | 1 pcs. |
| Technical manual "Electrodes for EMG and EP Studies" | 1 pcs. |
| Ten20 сonductive paste | 1 pcs. |
| Transpore medical tape | 1 pcs. |
| Guidelines "Dahua DH-SD29204T-GN Video Camera" | 1 pcs. |
| Technical manual «AS-7, AS-8, AS-9, AS-10 Airflow Sensors» | 1 pcs. |
| Technical manual "Electrodes for EMG and EP Studies" | 1 pcs. |
| Package set | 1 pcs. |
| License for Neuron-Spectrum.NET software with additional Neuron-Spectrum.NET/PSG software module | 1 pcs. |
| Neuron-Spectrum.NET software license with additional Neuron-Spectrum.NET/Video software module | 1 pcs. |
Options
Нейрон-Спектр-61,62,63,64,65, Нейромонитор_Декларация о соответствии_RF_05.03.2019

928,41 KB

Нейрон-Спектр-61,62,63,64,65, Нейромонитор_Регистрационное удостоверение_RF_12.02.2019

5,42 MB

Registration certificate_Argentina

136,13 KB

Registration certificate_Australia_class IIb

142,33 KB

Registration certificate_Indonesia

6,06 MB

Нейрон-Спектр-61,62,63,64,65_Регистрационное удостоверение_KZ_21.05.2021

640,18 KB

Registration certificate_Serbia

2,01 MB

Нейрон-Спектр-61,62,63,64,65_Сертификат утверждения типа СИ_KZ_25.02.2022

607,96 KB

EC certificate

700,66 KB

Neuron-Spectrum_Brazil

2,51 MB

Нейрон-Спектр-65_Декларация соответствия_EAC_05.08.2024

128,75 KB

Neuron-Spectrum-63-65_Registration certificate_Korea

928,5 KB