Skybox
5-channel NCS, EMG and Multi-modality EP System with a Built-in Keyboard
---
compact
instant EMG acquisition
multi-modality EP in base delivery set
EMG according to International standards
portable, can be powered by notebook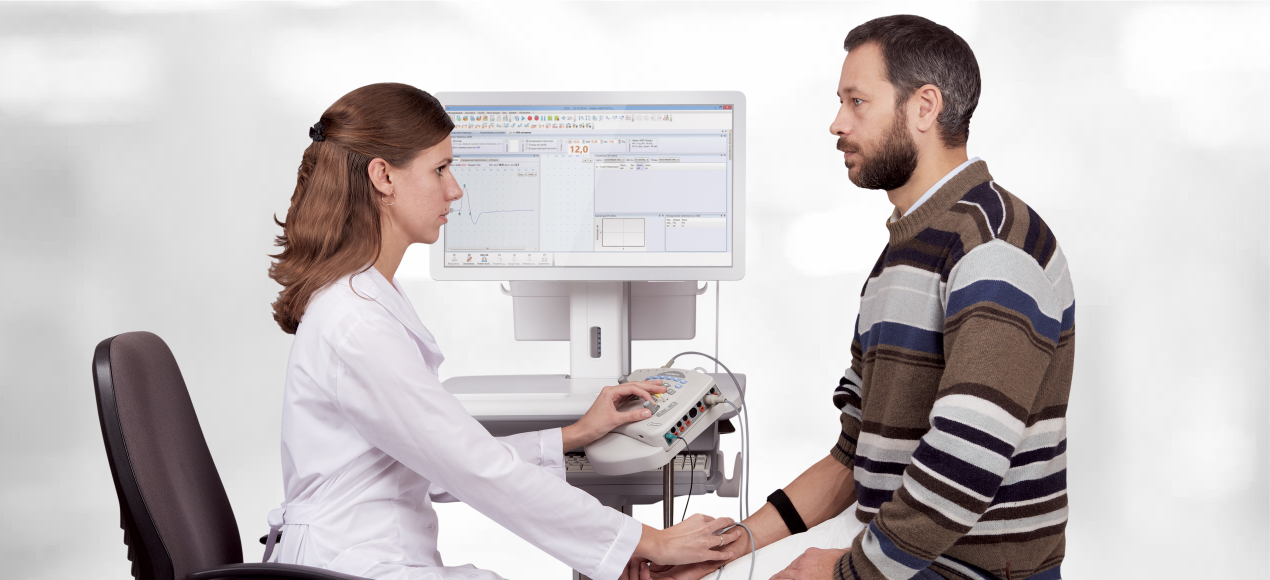 Description
Compact
Skybox integrates:
• 5 acquisition channels
• 2 independent electrical stimulators with four outputs
• auditory stimulator
• visual stimulator
• pattern-stimulator
• keyboard
into a single compact box.
Instant EMG Acquisition
With Skybox EMG and EP studies are extraordinary simple as it ensures familiar clinical workflow. The dedicated keyboard, the footswitch and full-featured Neuro-MEP.NET software allow to record EMG as quick as it was never done before.
Multi-modality EP (Evoked Potentials) in Base Delivery Set
Sometimes the myography can not answer all diagnostic questions. Often a neurophysiologist should study also the evoked potentials. Skybox has built-in stimulators to record EP of all modalities. Besides, the full-featured software makes this process fast and easy.
EMG According to International Standards
Using Skybox you can perform almost all known EMG and EP techniques. In recent decades the technique standards are accepted and established. These are special algorithms to study different pathologies, calculations intended for each test, reference values, etc. It is very important for a professional to be equipped with all the techniques even if some of them are used not very often. The list of tests made with Skybox meets the International standards of EMG and EP study.
Portable, Can Be Powered by Notebook
The device is connected to computer via USB cable. This connection ensures the data transfer and powers the device. Put device together with a notebook in a small bag and take it with you.
The list of articles on research using Skybox at Google Scholar.
The support of HL7 standard allows integrating all diagnostic Neurosoft systems into the information system of a healthcare facility.
00:00
Delivery Set
The delivery set can differ from country to country. Request the actual delivery set for your country from your local representative.
Options
Скайбокс_Регистрационное удостоверение_RF_21.12.2017

9,31 MB

Registration Сertificate _Costa Rica

64,05 KB

Свидетельство о регистрации ПО Нейро-МВП.NET

1,99 MB

Registration certificate_Argentina

136,13 KB

Certificate of Compliance for Neuro-MEP family

2,68 MB

UK Registration Confirmation Letter - 2021092801217159

686,14 KB

EC certificate

700,66 KB

Registration certificate_El Salvador

712,79 KB

Скайбокс_Регистрационное удостоверение_KZ_14.02.2023

726,84 KB

Registration certificate_Colombia

3,86 MB

Скайбокс_декларация о соответствии_EEU_05.08.2019

103,92 KB

Registration certificate

8,13 MB