Neuro-MEP-8
Full-featured 8-channel NCS, EMG and Multi-modality EP System
---
8 high-quality acquisition channels
easy-to-use EMG system of expert class
multi-modality EP in base delivery set
EMG according to international standards
modular architecture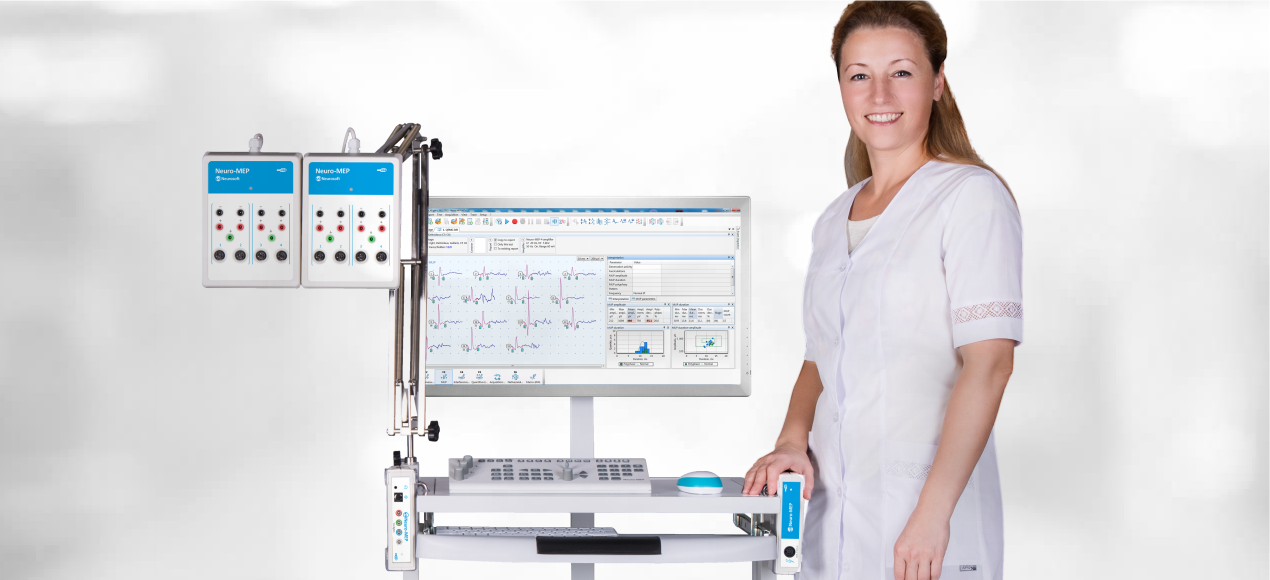 Description
8 High-quality Acquisition Channels
The device contains 8 high-quality channels with both touch-proof and DIN outputs. Noise-free EMG signals allow using device both for routine EMG studies and during the intraoperative neurophysiological monitoring.
Easy-to-use EMG System of Expert Class
Neuro-MEP-8 takes the convenience and ergonomics of EMG systems to the next level.
Using the dedicated keyboard you can easily start and stop the stimulation, change the stimulus intensity and duration, arrange marker positions, run new tests, start signal monitoring, enter the measured distance, etc. The adjustable electro stimulating probe is equipped with buttons to run single and repetitive stimulation, separate button to change the stimulus polarity and scroller to increase/decrease the stimulus intensity. This probe is convenient to use for right-handed and left-handed specialists. The footswitch with software-controlled buttons to run and stop stimulation frees your hands and lets you focus on complex nerve searching. In case of an infant you can pay more attention to a patient.
Multi-modality EP in Base Delivery Set
Sometimes the myography can not answer all diagnostic questions. Often a neurophysiologist should study also the evoked potentials. Neuro-MEP-8 has built-in stimulators to record EP of all modalities. Besides, the unique software makes this process quick and easy.
EMG According to International Standards
Using Neuro-MEP-8 you can perform almost all known EMG, NCS and EP techniques. In recent decades the technique standards are accepted and established. These are special algorithms to study different pathologies, calculations intended for each test, reference values, etc. It is very important for a professional to be equipped with all the techniques even if some of them are used rare. The list of tests made with Neuro-MEP-8 meets the international standards of EMG and EP study.
Modular Architecture
Neuro-MEP-8 consists of the following units:
two 4-channel amplifiers
auditory-visual stimulator
electrical stimulator
keyboard to quickly execute the most often used commands.
footswitch
All electronic units are connected to computer via USB. It allows combining them flexibly to arrange a configuration corresponding to your own requirements. For example, to solve intraoperative neurophysiological monitoring tasks, you can use four 4-channel amplifiers instead of two ones and plug in direct nerve stimulator instead of electrical stimulator. To study the sensory conduction collision, plug in the second electrical stimulator into available USB port.
It is possible to connect up to 10 different USB units in different configurations.
The list of articles on research using Neuro-MEP-8 at Google Scholar.
The support of HL7 standard allows integrating all diagnostic Neurosoft systems into the information system of a healthcare facility.
00:00
Delivery Set
The delivery set can differ from country to country. Request the actual delivery set for your country from your local representative.
Options
Свидетельство о регистрации ПО Нейро-МВП.NET

1,99 MB

Registration Сertificate _Indonesia

5,83 MB

Registration certificate_Argentina

136,13 KB

Нейро_МВП_Нейро_ЭРГ_Регистрационное удостоверение_UZ_21.01.2020

12,65 MB

Registration certificate_Taiwan

260,32 KB

Регистрационное удостоверение Нейро-МВП, Нейро-ЭРГ_RF_12.04.2021

3,39 MB

Декларация о соответствии Нейро-МВП_Нейро-ЭРГ_RF_19.04.2021

406,78 KB

Сертификат о признании утверждения типа СИ в Республике Казахстан

522,52 KB

Нейро-МВП, Нейро-ЭРГ, Нейро-Аудио_Регистрационное удостоверение_KZ_25.02.2021

627,92 KB

Certificate of Compliance for Neuro-MEP family

2,68 MB

Neuro-MEP_Registration certificate_Serbia

2,06 MB

UK Registration Confirmation Letter - 2021092801217159

686,14 KB

EC certificate

700,66 KB

Registration certificate_El Salvador

712,79 KB