Litebox
3-channel NCS, EMG and EP system
3 acquisition channels for quickest examination ever
NCS and needle EMG according to international standards
All-in-one: stimulators, amplifier, keyboard in single compact and lightweight box
Electrical stimulator with unipolar and bipolar pulse waveforms
Premium signal quality due to innovative circuits for sophisticated filtering, noise suppression and stimulus artifact reduction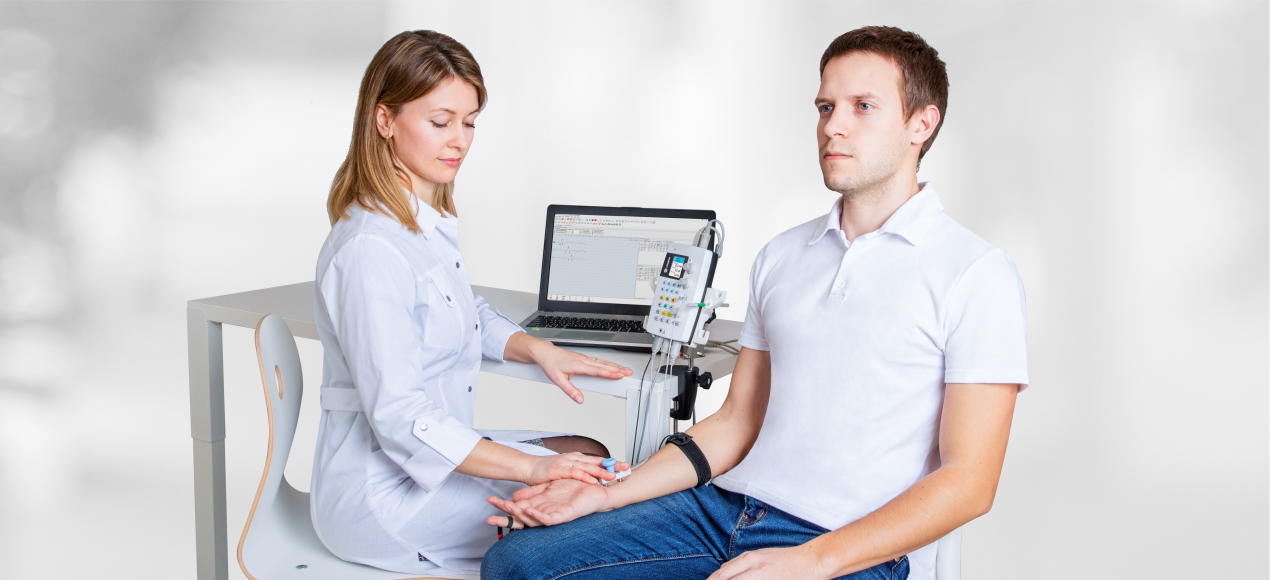 Description
For more than a quarter of a century, Neurosoft has been designing and developing medical devices for neurophysiology and electrodiagnostics. And all this time we have been committed to improve our products for making your routine work not only effective but as quick and comfortable. Today we offer not just another EMG and EP system, but a comprehensive device to meet the needs of the most demanding users. If high performance, effectiveness, ergonomics, usability and time-saving is what you strive for, Litebox is the superb solution for you!
3 acquisition channels for quickest examination ever
Smooth, quick and simple as one, two, three: record motor response using the first channel, sensory response using the second channel and needle EMG using the third channel. No more cable reconnection, let them serve much longer!
NCS and needle EMG according to international standards
Using Litebox you can perform almost all known EMG and EP techniques. In recent decades the technique standards are accepted and established. These are special algorithms to study different pathologies, calculations intended for each test, reference values, etc. It is very important for a professional to be equipped with all the techniques even if some of them are used not very often. The list of tests made with Litebox meets the International standards of EMG and EP study.
All-in-one: stimulators, amplifier, keyboard in single compact and lightweight box
All what you need for evoked potential acquisition: built-in auditory-visual stimulators with outputs to connect pattern monitor, LED goggles for VEP and headphones for AEP. Auditory stimulator features click and tone pulse waveforms.

Dedicated keyboard is designed for easy control over the examination through the quick access to the main actions without computer keyboard and mouse assistance.
The keys for stimulus amplitude adjustment, stimulation start, single pulse delivery, impedance measurement, etc. are always at your fingertips.
Electrical stimulator with unipolar and bipolar pulse waveforms
Litebox has built in electrical stimulator, which can produce unipolar and bipolar waveforms. Bipolar stimulus waveform is the next level of artifact reduction!
The support of HL7 standard allows integrating all diagnostic Neurosoft systems into the information system of a healthcare facility.
00:00
| | |
| --- | --- |
| Litebox electronic unit | 1 pcs. |
| USB cable AA-B | 1 pcs. |
| USB cable , type C − B (2.0) | 1 pcs. |
| SH-1S small holder | 1 pcs. |
| Holder electronic unit | 1 pcs. |
| Stimulating bar electrode SBE-2, adult | 1 pcs. |
| Ring electrode with cable RE-2, wide | 1 pcs. |
| Cup EP electrode with cable EEP , 8 pcs., 1 m | 1 pcs. |
| Ground electrode with cable GE-1, pediatric, 250 mm | 1 pcs. |
| Ground electrode with cable GE-2, adult, 400 mm | 1 pcs. |
| Bar electrode BE-2, adult | 1 pcs. |
| Bar electrode BE-1, pediatric | 1 pcs. |
| Surface electrode with cable SE-1 | 2 pcs. |
| Adapter for needle electrode connection D60451 | 2 pcs. |
| Disposable concentric EMG needle electrode B50600, l=37 mm, d=0,45 mm | 25 pcs. |
| Disposable ECG electrode F9049 22x34 mm, Fiab, Italy | 100 pcs. |
| Cable for disposable electrode with Alligator clip and touch-proof connector , black, 0.2 m | 1 pcs. |
The delivery set can differ from country to country. Request the actual delivery set for your country from your local representative.
Registration certificate_Australia

145,42 KB

Registration certificate_Argentina

136,13 KB

EC Certificate

410,62 KB

Лайтбокс_Регистрационное удостоверение_RF_27.01.2021

14,28 MB

Litebox_EAC Declaration of conformity_EEU_28.12.2020

739,13 KB

Declaration of Сonformity

263,9 KB

Certificate of Compliance for Neuro-MEP family

245,5 KB
Standards for quantification of EMG and neurography // Journal of Clinical Neurophysiology, 2019, pp. 1688-1729.

6,42 MB