Neuron-Spectrum-62
19-channel Digital EEG System
---
EEG channels + differential channels for any physiological signal type acquisition (ECG, EOG, EMG, etc.)
Perfect for EEG studies in children and adolescents
Unmatched performance
Continuous impedance monitoring during acquisition
Advanced tools for mathematical analysis of EEG
Standard electrode cap connector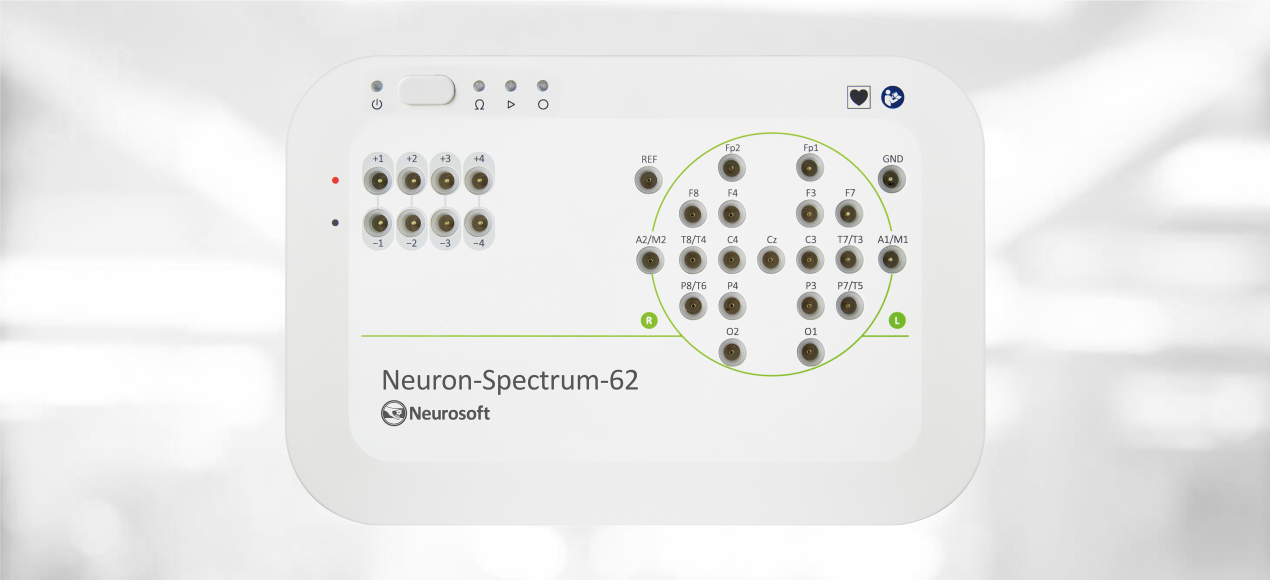 Description
For more than a quarter of a century, Neurosoft has been designing and producing various equipment for neurophysiology. Many years of experience and the meticulous work done by our software and hardware engineers have gone into the creation of the highest quality equipment, which is being successfully used at medical facilities all over the world.
Neuron-Spectrum-62 will become a true mate in your daily practice!
EEG channels + differential channels for any physiological signal type acquisition
Neuron-Spectrum-62 electronic unit features 19 EEG channels and 4 polygraphic channels for ECG, EOG and other signal type acquisition. The channels can work both in AC and DC modes.
Perfect for EEG studies in children and adolescents
The provided channels of Neuron-Spectrum-62 make it an easy-to-use and effective tool for routine EEG and long-term video EEG monitoring in healthcare facilities, especially for children. The systems allows recording of long-latency and cognitive evoked potentials as well as performing BFB training.
Unmatched performance
The unrivaled technical specifications of the system bring EEG recording to a new level. High sampling rate (up to 16 kHz for a channel) ensures recording of high-frequency components without "swallowing" spikes or sharp waves and without sudden amplitude decrease. Low noise level (<1.4 µV peak-to-peak) allows using minimum EEG filtering or using no filtering at all, thus, storing the essential data for further reference.
Continuous impedance monitoring during acquisition
The color-coded impedance indication on the lead inputs and continuous impedance measurement during acquisition assist the specialist in signal quality monitoring and, if necessary, with timely adjustment of the electrode position, thus, ensuring superb recording quality. The operating mode can be switched at a push of a button on the front panel of the device whereas the LED indicator next to button will always show the current operating mode.
Advanced tools for mathematical analysis of EEG
During EEG analysis the software automatically detects spikes and sharp waves indicative of abnormal EEG pattern. The excellent trace display quality is achieved by applying the cutting-edge smoothing technologies. The user-friendly solution for quick navigation throughout the entire EEG record streamlines the visual analysis.
The advanced tools for mathematical analysis of EEG are provided as well: amplitude, spectral and bispectral analysis, correlation and coherent analysis, wavelet-analysis, periodometric analysis, independent component analysis (ICA) are always available in all software configurations.
Standard electrode cap connector
Even if you use the electrode cap of various manufactures, it can be easily connected via the standard socket of an EEG amplifier. You no longer need any adapters or other accessories, which is time- and cost-effective.
The support of HL7 standard allows integrating all diagnostic Neurosoft systems into the information system of a healthcare facility.
00:00
Delivery Set
The delivery set can differ from country to country. Request the actual delivery set for your country from your local representative.
| | |
| --- | --- |
| Cable for bridge or ear EEG electrode, white, 1 m (white, 1 m) | 18 pcs. |
| Cable for bridge or ear EEG electrode, red 1 m (red, 1 m) | 2 pcs. |
| Cable for bridge or ear EEG electrode, black, 1 m (black, 1 m) | 1 pcs. |
| Technical manual «Neuron-Spectrum 61, 62, 63, 64, 65, Neuromonitor» | 1 pcs. |
| Warranty certificate | 1 pcs. |
| User manual «Neuron-Spectrum.NET» | 1 pcs. |
| Annex to user manual «Exam Manager» | 1 pcs. |
| Package set | 1 pcs. |
| Neuron-Spectrum.NET software license without additional modules | 1 pcs. |
Options
Нейрон-Спектр-61,62,63,64,65, Нейромонитор_Декларация о соответствии_RF_05.03.2019

928,41 KB

Нейрон-Спектр-61,62,63,64,65, Нейромонитор_Регистрационное удостоверение_RF_12.02.2019

5,42 MB

Registration certificate_Argentina

136,13 KB

Registration certificate_Australia_class IIb

142,33 KB

Нейрон-Спектр-61,62,63,64,65_Регистрационное удостоверение_KZ_21.05.2021

640,18 KB

Registration certificate_Serbia

2,01 MB

Нейрон-Спектр-61,62,63,64,65_Сертификат утверждения типа СИ_KZ_25.02.2022

607,96 KB

EC certificate

700,66 KB

Neuron-Spectrum_Brazil

2,51 MB

Нейрон-Спектр-65_Декларация соответствия_EAC_05.08.2024

128,75 KB