Neuron-Spectrum-1...4/P
8- to 21-channel Digital EEG Systems
EEG workstation and mobile system
high signal quality and low noise during acquisition
EEG, EP and PSG
impedance indication on EEG unit
standard electrode cap connector
Description
Neuron-Spectrum-1…4/P systems are reliable and time-tested. More than 27 years of production experience and high-quality equipment and service have received the well-deserved recognition from customers not only in Russia, but also from many countries of the world - USA, Brazil, France, China, Turkey, Japan, etc. Neuron-Spectrum-1…4/P systems combine ease-of-use with excellent signal quality, and it is undoubtedly one of the main advantages of this line.
The indisputable advantages of the systems include the following expanded functionality:
- video EEG monitoring
- EP recording
- PSG studies (only for Neuron-Spectrum-4/P)
- 3D localization of pathological activity areas in the brain
- HRV acquisition
- external SpO2 unit
In each Neuron-Spectrum-1…4/P electronic unit, there are EEG and differential channels for acquisition of any physiological signals (ECG, EOG, EMG, etc.). Depending on specifics of your work, choose your ideal EEG system with desired number of channels.
EEG workstation and mobile system
Neuron-Spectrum-1...4/P systems can be used in any suitable room, which is convenient for staff and comfortable for patients. The costs for preparing a specialist's workplace are also reduced significantly. Due to their small size, the devices are portable and don't require large shipping costs. Neuron-Spectrum-1...4/P systems are perfect for examinations outside a healthcare facility. The devices are powered via USB cable and transfer data to the PC via USB as well. You can establish your EEG lab anywhere - the EEG system will run on a laptop battery even in the absence of power supply. Also it can be used as a mobile trolley-based system (for example, in intensive care units).
High signal quality and low noise during acquisition
High sampling rate allows recording of high-frequency signal without typical swallowing of EEG spikes and sharp waves or sudden drops in amplitude. With the low noise during acquisition, no or minimum EEG filtering is applied to save useful information in the original signal to the maximum extent.
EEG, EP and PSG
Neuron-Spectrum-1...4/P systems are more than simple EEG machines. You can record long-latency evoked potentials with all EEG channels and also you can use 1-4 EP channels for short-latency evoked potentials. Moreover, if the system is equipped with accessories for PSG studies, you can also use the system as type I sleep monitor according to AASM classification. Combining several types of examinations at once, Neuron-Spectrum-1...4/P systems are the perfect choice for private medical centers and family doctors.
Impedance indication on EEG unit
The location of impedance indication on EEG unit significantly reduces the time of patient preparation for examination and the acquisition quality remains high.
Standard electrode cap connector
Neuron-Spectrum-1-4/P is equipped with standard electrode cap connector. Thus, the adapters or other facilities to attach the cap are not required.
Can't make a choice?
• Neuron-Spectrum-1 (8 EEG channels) is intended for pediatric EEG, cerebral function monitoring, screening EEG studies, biofeedback trainings;
• Neuron-Spectrum-2 (16 EEG channels) is well suited for functional diagnostics in private centers not specialized in epilepsy;
• Neuron-Spectrum-3, Neuron-Spectrum-4 (19 and 21 EEG-channels) is better used for functional diagnostics in hospitals, specialized private centers, intensive care units;
• Neuron-Spectrum-4/P (21 EEG channels + additional channels) is intended for functional diagnostics departments of large medical centers and multispecialty hospitals, private centers specializing in epilepsy and EEG video monitoring, and sleep centers.
The support of HL7 standard allows integrating all diagnostic Neurosoft systems into the information system of a healthcare facility.
Neuron-Spectrum-1
Neuron-Spectrum-2
Neuron-Spectrum-3
Neuron-Spectrum-4
Neuron-Spectrum-4/P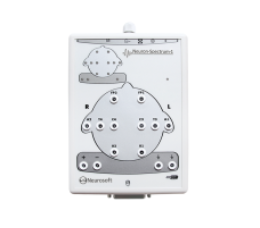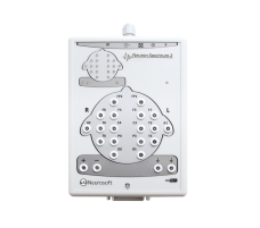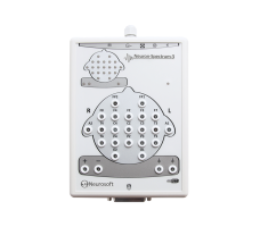 Applications
EEG, EP, BFB, CFM
EEG, EP, BFB, CFM
EEG, Video EEG, EP, BFB, CFM
EEG, Video EEG, EP, BFB, CFM
EEG, Video EEG, EP, PSG, BFB, CFM
External SpO2, CO2 channels
Interface
USB, LAN
USB, LAN
USB, LAN
USB, LAN
USB, LAN
Photic, auditory, pattern stimulation
00:00
Delivery Set
| | |
| --- | --- |
| Cable for bridge or ear EEG electrode, white, 1m | 22 pcs. |
| Cable for bridge or ear EEG electrode, red, 1 m | 2 pcs. |
| Cable for bridge or ear EEG electrode, black, 1 m | 1 pcs. |
| Reusable limb clamp ECG electrode F9024SSC , adult | 4 pcs. |
| 3-lead ECG cable , 3 m | 1 pcs. |
| Technical Manual "Neuron-Spectrum-1, 2, 3, 4, 4/Р" | 1 pcs. |
| Package set | 1 pcs. |
| User manual "Neuron-Spectrum.NET" | 1 pcs. |
| Annex to User Manual "Exams Manager" | 1 pcs. |
| License for Neuron-Spectrum.NET software with additional Neuron-Spectrum.NET/EEG software module | 1 pcs. |