Neuron-Spectrum-4/P
21-channel Clinical Diagnostic EEG System
---
21 EEG channels + 7 channels to record any physiological signals from EOG to short-latency EP
state-of-the-art techniques of mathematical analysis
11 options to expand the device functions starting from PSG to long-term monitoring
impedance indication on EEG unit
standard electrode cap connector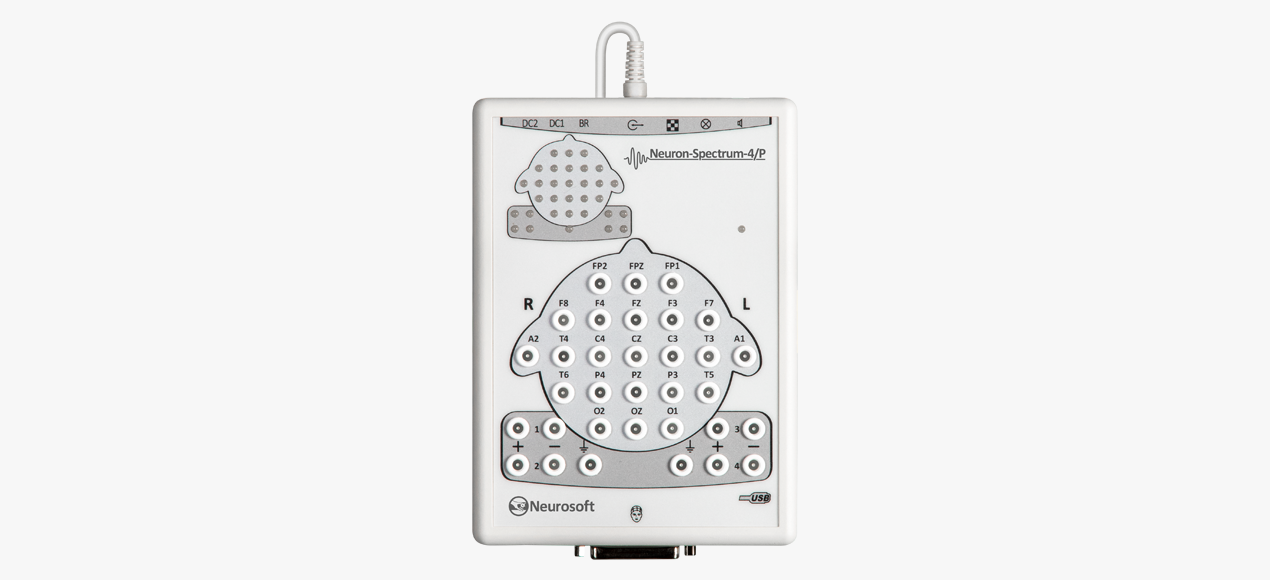 Description
21 EEG Channels + 7 Channels to Record any Physiological Signals from EOG to Short-latency EP
The device is equipped with:
— 21 EEG channels
— 4 polygraphic channels to record any signals from EOG to short-latency EP
— 2 direct current channels (in most cases are used to record data from body position sensors)
— 1 breath channel
— visual, auditory and pattern stimulators
— SpO2 (optional)
State-of-the-art Techniques of Mathematical Analysis
It is possible to analyze any recorded EEG fragment or the whole record (divide into analysis epochs).
Neuron-Spectrum-4/P can record EEG not only within standard 35 Hz range but in wider bandwidth. Hence you can analyze both standard ranges (alpha, beta, delta and theta) and any other user-specified ranges.
The software allows to create 2D and 3D brain maps of the following parameters: EEG amplitude and spectrum power in the whole frequency range or specified frequency ranges, rhythm index, asymmetry, etc. You can perform amplitude, spectral, periodometrical, comparative, correlation and coherent EEG analysis, generate coherence maps. To solve the special scientific tasks, you can use wavelet analysis and independent component analysis.
11 Options to Expand the Device Functions Starting from PSG to Long-term Monitoring
It is possible to expand system functionality by 9 different options which add ERG, PSG, CFM, long-latency EP capabilities.
Impedance Indication on EEG Unit
The EEG device and computer are often placed in different rooms or even at quite long distance from each other. Neuron-Spectrum-4/P has LED indicators that allow to observe the signal quality during the electrode placement at the spot.
Standard Electrode Cap Connector
Neuron-Spectrum-4/P is equipped with standard electrode cap connector. Thus the use of adapters or other facilities to attach the cap is not required.
The support of H7 interface allows integrating all diagnostic Neurosoft systems to information system of clinics.
The list of articles on research using Neuron-Spectrum-4/P at Google Scholar.
The support of HL7 standard allows integrating all diagnostic Neurosoft systems into the information system of a healthcare facility.
00:00
Delivery Set
The delivery set can differ from country to country. Request the actual delivery set for your country from your local representative.
| | |
| --- | --- |
| Neuron-Spectrum-4/P electronic unit | 1 pcs. |
| SU-3 stand for electronic unit | 1 pcs. |
| Stand mount | 1 pcs. |
| PhS-1 LED photic stimulator | 1 pcs. |
| SU-14 stand for LED photic stimulator | 1 pcs. |
| Set of EEG electrodes (25 bridge electrodes, 3 ear electrodes) | 1 pcs. |
| EEG helmet, yellow (yellow, size 42–48) | 1 pcs. |
| EEG helmet, green (green, size 48–54) | 1 pcs. |
| EEG helmet, blue (blue, size 54–62) | 1 pcs. |
| Cable for bridge or ear EEG electrode, white, 1 m (white, 1 m) | 22 pcs. |
Options
Нейрон-Спектр-1,2,3,4,4П, Нейро-ЭМГ-Микро_Регистрационное удостоверение_KZ_19.05.2021

5,01 MB

Registration certificate

122,85 KB

Summary 510(k)133995_USA

207,84 KB

Нейрон-Спектр-1,2,3,4,4П, Нейро-ЭМГ-Микро_Декларация о соответствии_EUU_15.11.2018

724,66 KB

Нейрон-Спектр-1,2,3,4_Регистрационное удостоверение_RF_13.02.2018

9,97 MB

Нейрон-Спектр-1,2,3,4,4П, Нейро-ЭМГ-Микро_Регистрационное удостоверение Республики Киргизстан_KG_17.04.2019

1,37 MB

Сертификат об утверждении типа СИ в Казахстане

244,82 KB

Registration Сertificate _Costa Rica

64,41 KB

Свидетельство о регистрации ПО Нейрон-Спектр.NET

1,03 MB

Registration certificate_Serbia

2,03 MB

Registration certificate_Australia_class IIa

143,64 KB

Нейрон-Спектр-1,2,3,4,4П_Регистрационное удостоверение_UZ_29.12.2020

2,12 MB

EC certificate

700,66 KB

Neuron-Spectrum_Brazil

2,51 MB

Registration certificate_El Salvador

712,79 KB