Neuron-Spectrum-1
8-channel Routine EEG System for Newborns EEG Study, Cerebral Function Monitoring, Brain Death Diagnosis Test
---
impedance indication on the front panel
standard electrode cap connector
operates in unshielded room
convenient and quality EEG acquisition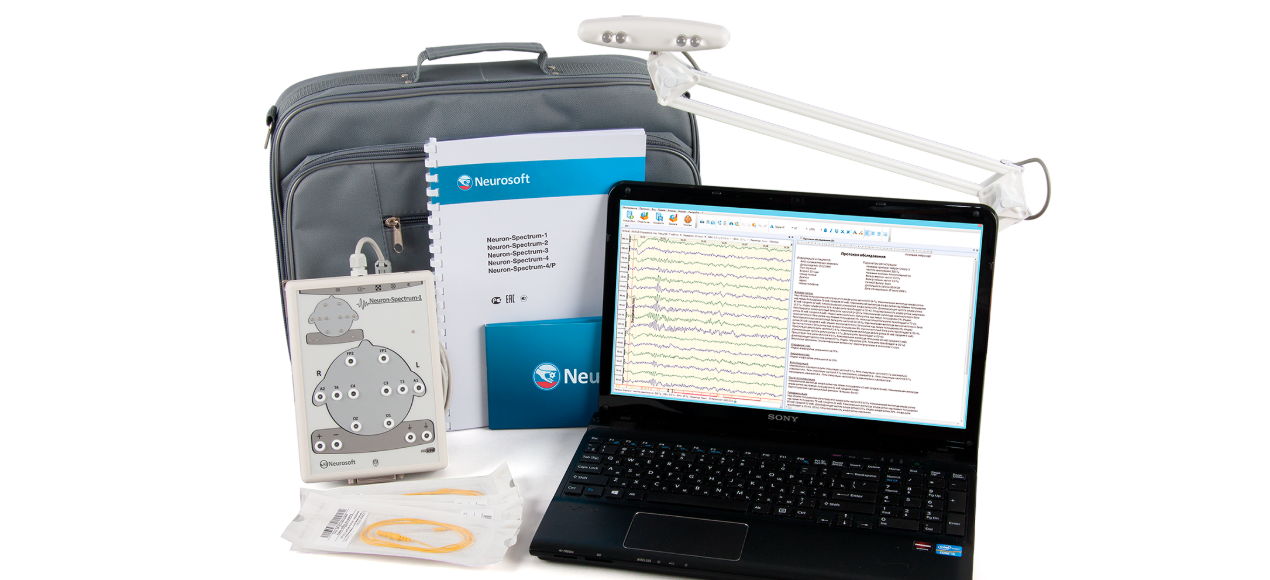 Description
Best Solution for Newborns EEG Study, Cerebral Function Monitoring, Brain Death Diagnosis Test
8-channel device can complete the following tasks:
EEG screening studies in case the neoplasm or cerebrovascular pathology is suspected
cerebral function monitoring (aEEG)
brain death diagnosis test. The device meets completely the requirements of mobile medical team. It is powered via USB cable that is used also to transfer data to computer. Thus it can operate from notebook battery without mains supply.
Impedance Indication on the Front Panel
The digital EEG and EP system and computer are often placed in different rooms or even at quite long distance from each other. Neuron-Spectrum-1 has LED indicators that allow to observe the signal quality during the electrode placement at the spot.
Standard Electrode Cap Connector
The digital EEG and EP system is equipped with the standard electrode cap connector. Thus the use of adapters or other facilities to attach the cap is not required.
Operates in Unshielded Room
Neuron-Spectrum-1 can be used in any unshielded room. This increases the personnel convenience and patient's comfort while decreasing the expenses for system installation.
Convenient and Quality EEG Acquisition
During the recording monopolar, bipolar or mixed montages ("10-20" and "10-10" systems) can be used. You can change the montage at any moment: before the acquisition, during the acquisition, at EEG review or analysis.
You can specify any channel parameters. For example, if you can not remove the EEG baseline trend in frontal derivations, you can set higher values for high pass filter for these derivations. Thus you can change the parameters of any channel during the acquisition process.


The support of HL7 standard allows integrating all diagnostic Neurosoft systems into the information system of a healthcare facility.
Delivery Set
The delivery set can differ from country to country. Request the actual delivery set for your country from your local representative.
| | |
| --- | --- |
| Neuron-Spectrum-1 electronic unit | 1 pcs. |
| H-1S assembled holder | 1 pcs. |
| Holder mount | 1 pcs. |
| PhS-1 LED photic stimulator | 1 pcs. |
| Holder | 1 pcs. |
| Set of EEG electrodes , 12 bridge electrodes NS015106.007, 3 ear electrodes NS015106.015 | 1 pcs. |
| EEG helmet, yellow , yellow, size 42-48 | 1 pcs. |
| EEG helmet, green , green, size 48-54 | 1 pcs. |
| EEG helmet, blue , blue, size 54-62 | 1 pcs. |
| Cable for bridge or ear EEG electrode, white, 1 m | 9 pcs. |
Options
Нейрон-Спектр-1,2,3,4,4П, Нейро-ЭМГ-Микро_Регистрационное удостоверение_KZ_19.05.2021

5,01 MB

Summary 510(k)133995_USA

207,84 KB

Нейрон-Спектр-1,2,3,4,4П, Нейро-ЭМГ-Микро_Декларация о соответствии_EUU_15.11.2018

724,66 KB

Нейрон-Спектр-1,2,3,4_Регистрационное удостоверение_RF_13.02.2018

9,97 MB

Нейрон-Спектр-1,2,3,4,4П, Нейро-ЭМГ-Микро_Регистрационное удостоверение Республики Киргизстан_KG_17.04.2019

1,37 MB

Сертификат об утверждении типа СИ в Казахстане

244,82 KB

Свидетельство о регистрации ПО Нейрон-Спектр.NET

1,03 MB

Registration certificate_Serbia

2,03 MB

Registration certificate_Argentina

136,13 KB

Registration certificate_Australia_class IIa

143,64 KB

Нейрон-Спектр-1,2,3,4,4П_Регистрационное удостоверение_UZ_29.12.2020

2,12 MB

EC certificate

700,66 KB

Registration certificate_El Salvador

712,79 KB