64-Channel System for Long-Term Video EEG Monitoring
Digital System for Multichannel Video EEG Monitoring
---
any type of electrodes can be used
more than 64 EEG channels
high-quality acquisition
high-resolution video recording
special tools to detect and analyze paroxysmal EEG activity
high-resolution EEG recording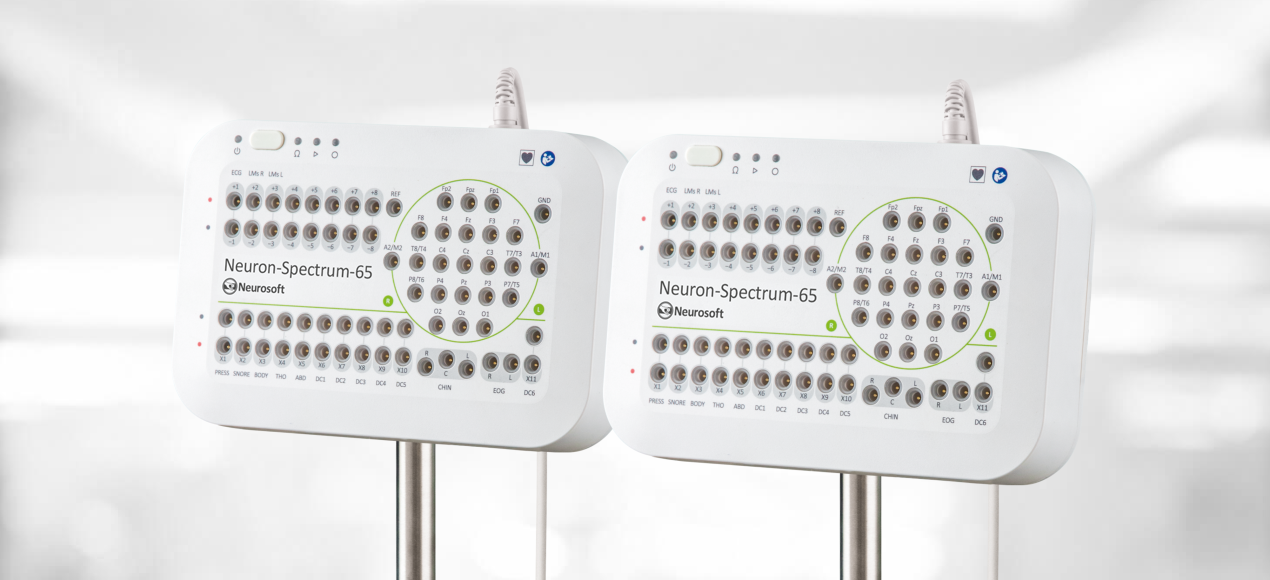 Description
Any type of electrodes can be used
For multichannel video EEG monitoring, various electrode systems can be used, i.e. electrode caps with pre-positioned electrodes, cup electrodes, or invasive electrodes. Using any of these types of electrodes, you can be sure that the Neuron-Spectrum-65 system will provide the highest quality of signal acquisition in any conditions. Invasive electrodes allow recording on a wide-frequency band, thereby detecting the high-frequency oscillations, which play important roles in the definition of epileptogenic zones according to the current studies.
More than 64 EEG channels
EEG system consists of two Neuron-Spectrum-65 electronic units and ensures high-quality EEG acquisition by 79 referential channels. Moreover, you can use up to 16 bipolar ECG, EOG, EMG channels and record any other physiological signals. The respiratory and SpO2 channels are also available in the system (optional). So, the pre-operative assessment of a patient before the surgical treatment can be performed to a full extent.
High-quality acquisition
Neuron-Spectrum-6G, a new-generation EEG system, provides the perfect quality of EEG acquisition even in the most difficult conditions. The up-to-date hardware design, low intrinsic noise and high common-mode rejection ensure to obtain EEG signals of very high quality. The function of online impedance measurement promptly informs about poor electrode contact so that the recording remains stable throughout the examination.
High-resolution video recording
The system can be delivered with one, two or even three high-resolution video cameras with a motorized tilting mechanism and optical zoom controlled from the recording station. Video recording helps to exclude obvious recording artifacts, and compare clinical findings with the electrical activity of the brain. Video‐EEG monitoring allows making a diagnosis of epilepsy versus nonepileptic events; correctly define the seizure type and if the seizures are focal, localize the area of seizure onset.
Special tools to detect and analyze paroxysmal EEG activity
EEG system operates under the control of Neuron-Spectrum.NET, special software that allows users to review the obtained records quickly and conveniently. The software includes many tools for mathematical processing of long-term recordings: trends, algorithms for automatic detection of epileptiform discharges, topographic mapping. It also contains special tools for 3D localization of sources of pathological electric brain activity (optional). Working with the Neuron-Spectrum.NET software greatly simplifies the analysis of EEG recordings during acquisition and saves your time.
High-resolution EEG recording
In addition to pre-surgical EEG video monitoring, the system can be successfully used for various scientific research where high-resolution EEG recording is required. Export of obtained EEG data during the acquisition (online) and after examination allows users to analyze the records in third-party mathematical software systems.
The support of HL7 standard allows integrating all diagnostic Neurosoft systems into the information system of a healthcare facility.
Delivery Set
The delivery set can differ from country to country. Request the actual delivery set for your country from your local representative.
Options
Нейрон-Спектр-61,62,63,64,65, Нейромонитор_Декларация о соответствии_RF_05.03.2019

928,41 KB

Нейрон-Спектр-61,62,63,64,65, Нейромонитор_Регистрационное удостоверение_RF_12.02.2019

5,42 MB

Registration certificate_Argentina

136,13 KB

Registration certificate_Australia_class IIb

142,33 KB

Registration certificate_Indonesia

6,06 MB

Нейрон-Спектр-61,62,63,64,65_Регистрационное удостоверение_KZ_21.05.2021

640,18 KB

Registration certificate_Serbia

2,01 MB

Нейрон-Спектр-61,62,63,64,65_Сертификат утверждения типа СИ_KZ_25.02.2022

607,96 KB

EC certificate

700,66 KB

Neuron-Spectrum_Brazil

2,51 MB

Нейрон-Спектр-65_Декларация соответствия_EAC_05.08.2024

128,75 KB

Neuron-Spectrum-63-65_Registration certificate_Korea

928,5 KB