Poly-Spectrum-12/E
15-channel Digital ECG System with Transesophageal ECG Lead Recording and Pacemaker Pulse Detection
12 standard ECG leads, 2 transesophageal ECG leads, 1 respiratory channel
high-quality recording among this class of devices
pacemaker pulse detection
ECG automatic measurement and interpretation
automatic report generation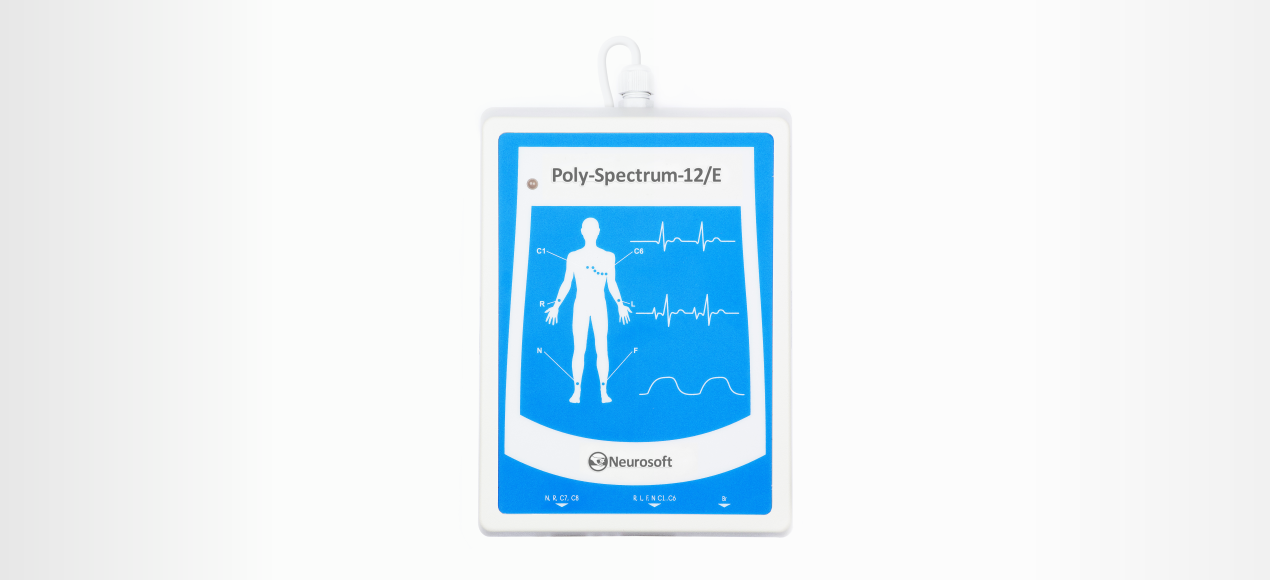 Description
12 Standard ECG Leads, 2 Transesophageal ECG Leads, 1 Respiratory Channel
If you use Poly-Spectrum-12/E, the transesophageal ECG lead recording may be performed simultaneously with 12-lead ECG. The additional channels are developed so that transesophageal electrode polarization in the process of stimulation does not block ECG recording.
The additional channels can also be used to record V7 and V8 chest leads.
High-quality Recording Among This Class of Devices
The sampling rate increased up to 10000 Hz allows receiving clear and detailed ECG recordings under any conditions. Thanks to high-quality hardware and software filters as well as advantages of 24 bits A/D converters, there is no baseline displacement of ECG leads both during the cardiac stimulation and exercise testing.
Pacemaker Pulse Detection
The software detects pacemaker (implanted or transesophageal) pulses automatically. It allows specifying the QRS complexes precisely by excluding the pacemaker pulses from the analysis. During the recording review, the pacemaker pulses are represented by the special markers.
ECG Automatic Measurement and Interpretation
In ECG measurement mode a physician can see the selected QRS complex or the one averaged by all the entire record. The software sets the markers automatically in the reference points of QRS complex. If the physician clicks the QRS complex in any lead with the mouse, it can be zoomed in, measured with the software ruler and markers can be corrected manually if it is necessary.
Automatic Report Generation
After the test completion, the report is generated automatically. It includes QRS complex images for all leads, measurement tables, and automatic interpretation. A physician can make any changes to the report. It is possible to generate and print the report automatically.
The support of HL7 and DICOM standard allows integrating all diagnostic Neurosoft systems into the information system of a healthcare facility.
Nowadays all large medical centers and a range of small clinics are equipped with information systems intended to store and process their medical data. To make their workflow reliable and effective the software shall interface with such systems.
HL7 (Health Level 7) is the most commonly used interface engine for exchange, integration, sharing and retrieval of electronic health information. Neurosoft software supports data exchange via HL7. Nevertheless HL7 defines just a message format and general principles of data transfer while each specific information system can use its own messaging standards. The specialists of our company can easily setup the software to fit the needs of any clinic and thus to provide the most effective integration via HL7.
The Neurosoft software also supports DICOM network protocol. Using DICOM modality worklist the diagnostic software can interchange data with healthcare information system of clinics: obtain data regarding the required studies and transfer the results of performed studies to the information system of clinics.
The support of HL7 standard allows integrating all diagnostic Neurosoft systems into the information system of a healthcare facility.
The delivery set can differ from country to country. Request the actual delivery set for your country from your local representative.
Свидетельство о регистрации ПО Поли-Спектр.NET

387,07 KB

Декларация о соответствии

1,81 MB

Регистрационное удостоверение

5,83 MB