EXERCISE STRESS TESTING
ECG Stress Test System with Heart Rate and Blood Pressure Monitoring
---
exercise stress test with continuous 12-channel ECG acquisition
wireless ECG transfer – no interference
full battery of exercise test protocols including ramp protocol
manual and automatic load control
biofeedback mode
Lode bicycle ergometer with blood pressure module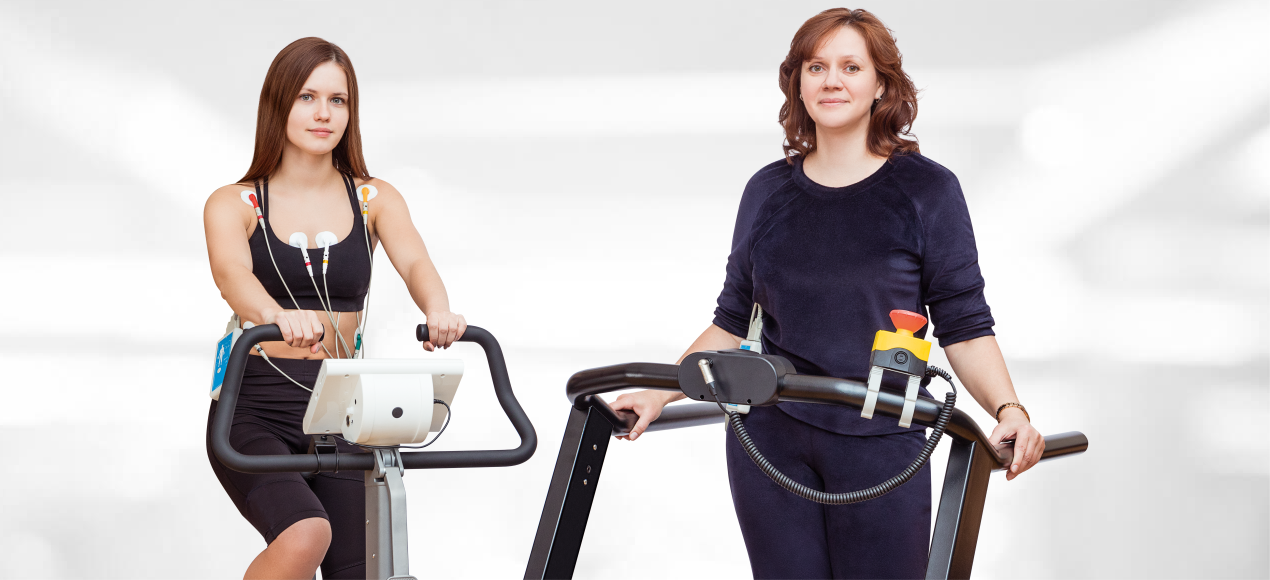 Description
A high-performance system designed to solve multiple tasks, Ergopoint is our solution for exercise stress testing. The system is designed for diagnostics of coronary artery disease (CAD), study of rhythm disturbances under workload, assessment of exercise tolerance, diagnostics of heart and respiratory failures and evaluation of exercise performance in apparently healthy individuals (in sports medicine).
Exercise Stress Test with Continuous 12-Channel ECG Acquisition
The supplied scalable Poly-Spectrum.NET software features a simple, user-friendly interface. The software allows recording high-quality 12-channel ECG with clear traces.
Wireless ECG Transfer – Less Interference
Powered by just two rechargeable AA batteries, the wireless ECG recorder can transfer ECG via Bluetooth for up to a 7-meter distance. This allows reducing low noise interference caused by cable vibrations common for conventional ECG systems. Moreover, this facilitates the arrangement of physician workplace and patient area. The testing is now easier and more time-saving.
Full Battery of Exercise Test Protocols Including Ramp Protocol
Poly-Spectrum.NET software includes the battery of pre-defined exercise protocols for the treadmill (ramp, Bruce, Cornell, Naughton, Kattus, Balke) and bicycle ergometer (ramp, multistage, PWC170, Astrand). The number of possible tests is not limited as you can create your own!
Real-Time Monitoring of All Test Parameters
Smart software displays comprehensive data for effective work:
averaged QRS complexes superimposed with displacement over the averaged resting ECG;
heart rate (HR), load and blood pressure (BP) trends;
ST segment dynamics shown as a spatial map for all leads and a trend for the selected ECG lead.
The color-coded indication and sound notification provided in the software inform a physician if the monitored values are outside the specified limits, as well as if frequent extrasystoles, ST depression or arrhythmia occur.
Manual and Automatic Load Control
Poly-Spectrum.NET software ensures automatic load control of bicycle ergometer and elevation and speed control of a treadmill up to the tenth of a watt. The load is changed according to the selected protocol. It may increase gradually like during ramp protocol or increase by stages. The specialist can change the load manually at any time as well.
Biofeedback Mode
The supplied software features biofeedback mode when the load can be adapted according to the patient's physiological measurements. Thereby, the software allows maintaining HR on the specified level and switch to the recovery stage or terminate the test if some of the values are outside the set limits.
Lode Bicycle Ergometer with Blood Pressure Module
Ergopoint is supplied in two configurations:
with the Corival ergometer (Lode) that has an extended load range of 7 to 1000 W and automatic BP measurement option, or
with the Valiant treadmill (Lode) that features smooth acceleration from 0 km/h and handrails for additional patient safety.
Ergopoint is compatible with most exercise devices of the world-known manufacturers such as Lode, GE Healthcare, h/p/cosmos, etc. If you already have an exercise device, we will check its compatibility with our system and offer you a tailor-made set of the necessary equipment.
The support of HL7 standard allows integrating all diagnostic Neurosoft systems into the information system of a healthcare facility.
Delivery Set
The delivery set can differ from country to country. Request the actual delivery set for your country from your local representative.
Buy with this
Options
Свидетельство о регистрации ПО Поли-Спектр.NET

387,07 KB

Summary 510(k)130878_USA

110,72 KB

Поли-Спектр-8ЕХ_Регистрационное удостоверение_RF_08.10.2018

13,14 MB

Поли-Спектр-8ЕХ_Декларация о соответствии_EUU_07.02.2019

655,77 KB

Поли-Спектр_8Е, 8ЕХ_Регистрационное удостоверение_KG_17.04.2019

1,35 MB

Поли-Спектр-8ЕХ_Декларация_о_соответствии_RF_26.10.2018

865,14 KB

Registration certificate_Indonesia

5,51 MB

Регистрационное удостоверение Аккордикс

12,44 MB

Декларация о соответствии Аккордикс

639,48 KB

EC certificate

700,66 KB

Поли-Спектр-8ЕХ_Регистрационное удостоверение_KZ_15.03.2022

2,03 MB