Acoustic Immittance Testing
Audio-SMART
really portable middle ear analyzer
high-frequency tympanometry
simple and user-friendly touchscreen interface
all techniques in one powerful device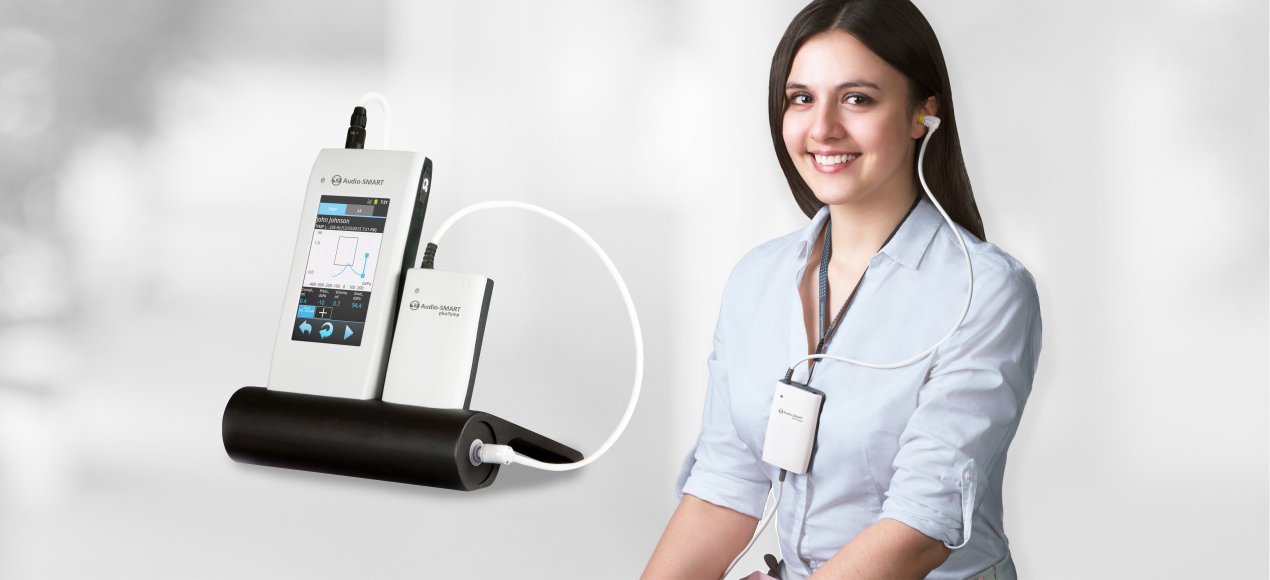 Description
Really Portable Middle Ear Analyzer
Audio-SMART is the best solution for on-site mobile hearing testing with high diagnostic level. The system can operate in a stand-alone mode for a long time and due to its large memory nearly unlimited number of exams can be saved. Audio-SMART system is delivered in a lightweight bag, comfortable to carry and store the device and its accessories.
High-frequency Tympanometry
High-frequency tympanometry (1000 Hz probe tone) is recommended for hearing evaluation of newborns and infants. You can easily select the probe tone and air pressure range. During one session up to 4 tympanograms with different settings can be obtained. The system can stop examination automatically when tympanogram peak pressure is detected. It helps to reduce testing time and protect ear from overpressure.
Simple and User-friendly Touchscreen Interface
Audio-SMART has a large touchscreen display with intuitive graphical interface. Whatever function is required, it is always at hand. Enter patient's data, start testing, review and print the results with just the touch of your finger.
All Techniques in One Powerful Device
Audio-SMART is a state-of-art system that combines our experience and the best modern technologies. Developed for future needs, it meets all present-day requirements for hearing screening and diagnostics. You can perform both quick hearing screening (TEOAE, DPOAE, AABR, ABR) and complete examination of middle ear using the following tests: tympanometry, Eustachian tube function, acoustic reflex and acoustic reflex decay.
Audio-SMART is a multi-function handheld device with large color touchscreen, built-in memory card and modular Android software that can be easily customized to fit your requirements. Do not spend money on a new device, you can start with one module and then add functionality, if necessary.
The support of HL7 standard allows integrating all diagnostic Neurosoft systems into the information system of a healthcare facility.
| | |
| --- | --- |
| Audio-SMART electronic unit | 1 pcs. |
| Audio-SMART impedance unit | 1 pcs. |
| Micro SD memory card | 1 pcs. |
| Power supply BPM-9 | 1 pcs. |
| Bluetooth adapter | 1 pcs. |
| Mains supply cable, connector , 2 х 0,75 sq. mm,1.5 m, copper, 8 | 1 pcs. |
| OAE probe tip | 3 pcs. |
| Set of eartips , adult, 3-14 mm diameter | 1 pcs. |
| Probe tip extractor | 1 pcs. |
| TC-2 test cavity | 1 pcs. |
| Dental floss | 1 pcs. |
| Neck lanyard | 1 pcs. |
| Technical Manual "Audio-SMART" | 1 pcs. |
The delivery set can differ from country to country. Request the actual delivery set for your country from your local representative.
Свидетельство о регистрации ПО Аудио-СМАРТ

3,48 MB

Регистрационное удостоверение

5,78 MB

Декларация о соответствии

1,32 MB

Сертификат об утверждении типа СИ в Республике Казахстан

243,81 KB

Registration Сertificate _Costa Rica

64,06 KB

Регистрационное удостоверение

696,34 KB

Декларация о соответствии ТР ТС

466,5 KB

Registration Сertificate _Indonesia

3,52 MB

Registration certificate _Taiwan

733,03 KB

Declaration of Сonformity

224,17 KB

EC Certificate

410,62 KB