Neuro-Audio/PTA
Digital System for Screening PTA
---
complete solution for pure tone audiometry
compact size and low weight
configurable masking noise
ultimate set of transducers
new standard in clinical routine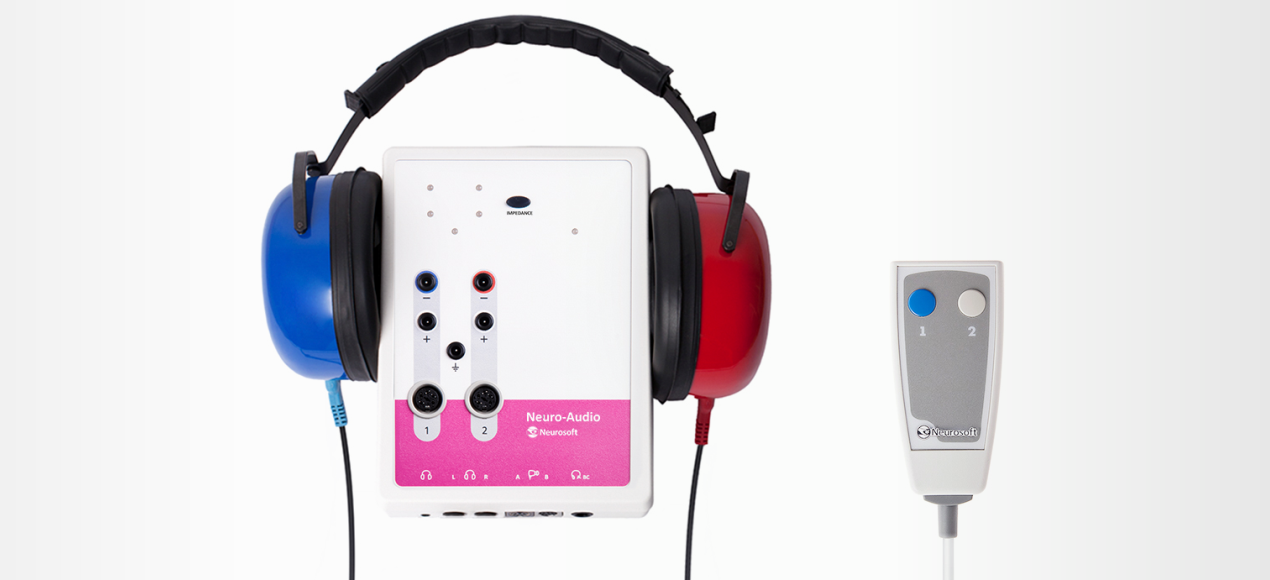 Description
Complete Solution for Pure Tone Audiometry
Neuro-Audio/PTA allows to measure air and bone conduction hearing threshold manually or automatically (Hughson-Westlake test). You can select any stimulation frequency from 125 up to 8000 Hz (and up to 16000 Hz with high-frequency headphones).
Compact Size and Low Weight
The electronic unit is connected to PC with one USB cable which powers the device and supports data transmission. While visiting your patients, take Neuro-Audio/PTA with you just putting it in the laptop bag.
Configurable Masking Noise
Pure tone testing without the contralateral ear masking is used successfully to identify hearing threshold levels in individuals with normal hearing or bilateral hearing loss. But it cannot be used in patients with unilateral hearing loss or bilateral asymmetric hearing loss. While testing a worse-hearing ear the tone intensity is so high that it can spread through the skull to the contralateral (normal or better-hearing) ear. The masking of non-test ear by broad band or narrow band noise helps to avoid misleading results. Neuro-Audio/PTA allows the configuration of masking noise both in absolute and relative values (regarding the stimulus).
Ultimate Set of Transducers
Neuro-Audio/PTA delivery set includes TDH-39 headphones, the most popular headphones model for PTA testing in the world.
We can optionally supply Ear Tone 3A insert earphones, B-71 bone vibrator (which is applied to estimate air-bone gap to determine type of hearing loss), sound field speakers, TDH-39 acoustically shielded headphones, HDA-280 headphones.
New Standard in Clinical Routine
Modern interface, powerful database, Hughson-Westlake automatic test, sound field recording and reproducible results allow user to solve a wide range of daily audiological problems with highest accuracy. Easy-to-learn interface and flexible settings streamline the workflow and productivity. Neuro-Audio/PTA audiometer can be used both in clinics and research facilities.
The support of HL7 standard allows integrating all diagnostic Neurosoft systems into the information system of a healthcare facility.
00:00
Delivery Set
The delivery set can differ from country to country. Request the actual delivery set for your country from your local representative.
| | |
| --- | --- |
| User manual «Neuro-Audio.NET» | 1 pcs. |
| User manual "OAE-02, OAE-04, OAE-05 OAE probes" | 1 pcs. |
| Guidelines "EABR Test" | 1 pcs. |
| Guidelines "VEMP: Vestibular Evoked Myogenic Potential" | 1 pcs. |
| Guidelines "How to get quality ABR and ASSR recordings" | 1 pcs. |
| Calibration Guidelines "Neuro-Audio" | 1 pcs. |
| Package set | 1 pcs. |
| Warranty certificate | 1 pcs. |
| License for the use of software "Neuro-Audio.NET" with additional software module "Neuro-Audio.NET/PTA" | 1 pcs. |
Buy with this
Options
summary 510(k)141524_USA

211,44 KB

Registration Сertificate_Taiwan

866,51 KB

Registration Сertificate_Australia

93,4 KB

Нейро-Аудио_Регистрационное удостоверение_RF_13.12.2010

4 MB

Нейро-Аудио_Декларация о соответствии_EUU_01.02.2019

574,55 KB

Сертификат о признании утверждения типа СИ в Республике Казахстан

522,52 KB

Нейро-МВП, Нейро-ЭРГ, Нейро-Аудио_Регистрационное удостоверение_KZ_25.02.2021

627,92 KB

Certificate of Compliance for Neuro-MEP family

2,68 MB

EC certificate

700,66 KB

Свидетельство о регистрации ПО Нейро-Аудио.NET

1,23 MB