Neuro-Audio/ABR
2-channel Device for ABR Testing
---
complete solution for ABR testing
high quality of recording
сhirp stimulus
ultimate set of transducers
new standard in clinical routine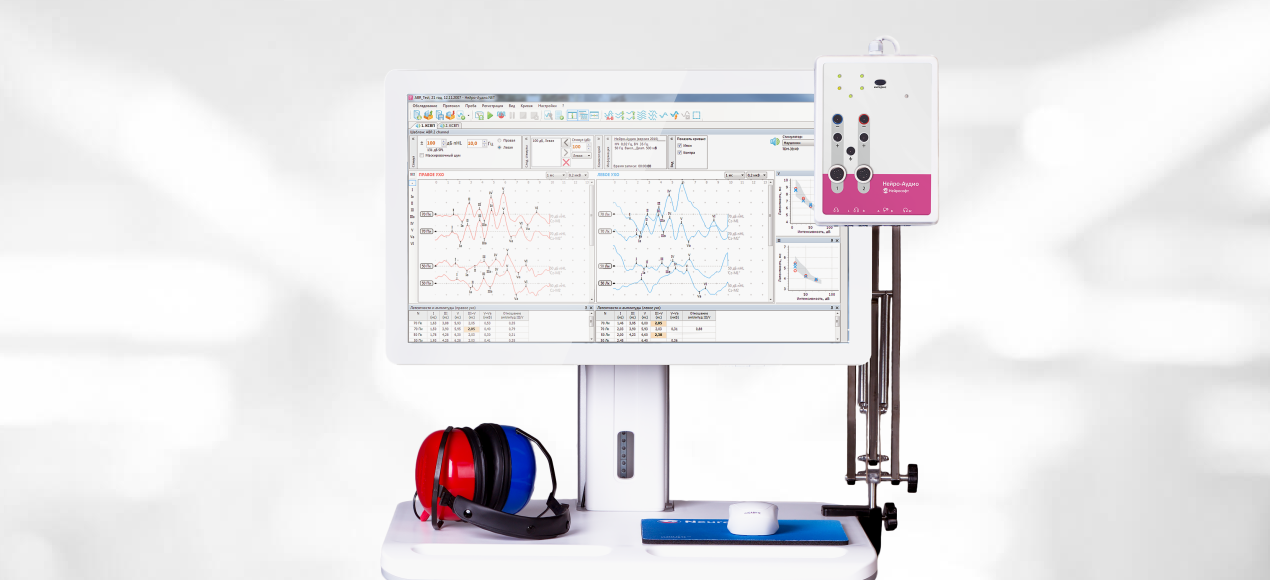 Description
Complete Solution for ABR Testing
Neuro-Audio/ABR is designed specifically for ABR testing and combines years of amplifier design and manufacturing experience to provide a flexible system. The recording is made with 1 or 2 channels for air or bone conduction.
High Quality of Recording
Well-considered system characteristics (low level of amplifier noise) and software features (adaptive notch filter, weighted averaging, statistical measures of signal and noise, up-to-date algorithms for automatic response detection) help a device user to obtain a high-quality record quickly. All tests can be performed when patient is awake (non-sedated).
Chirp Stimulus
Chirp stimulus is a new stimulus that allows to obtain the response of higher amplitude compared to traditional stimuli. Chirp stimulus takes into account the cochlear anatomy and uses different time shift for different frequencies. Thus, the low frequencies reach the cochlea before the high frequencies. But in the cochlea itself the high-frequency receptors are located prior to the low-frequency receptors. Due to such stimulus waveform, hair cell responses along the whole length of the cochlea (or in one octave range) occur at the same time (synchronized). This leads to the increase of combined neural response that comes to the auditory nerve.
Ultimate Set of Transducers
Neuro-Audio/ABR delivery set includes TDH-39 headphones, the most popular headphones model for ABR testing in the world .
We can optionally supply Ear Tone 3A insert earphones, B-71 bone vibrator (which is applied to estimate air-bone gap to determine type of hearing loss), sound field speakers, TDH-39 acoustically shielded headphones, HDA-280 headphones.
New Standard in Clinical Routine
Modern interface, powerful database, configurable, normative data, high quality of recording and reproducible results allow a specialist to solve a wide range of daily audiological problems with highest accuracy. A battery of pre-defined test templates and features streamline the workflow and productivity. Neuro-Audio/ABR can be used both in clinics and research facilities.
The support of HL7 standard allows integrating all diagnostic Neurosoft systems into the information system of a healthcare facility.
Delivery Set
The delivery set can differ from country to country. Request the actual delivery set for your country from your local representative.
| | |
| --- | --- |
| Ten20 сonductive paste | 1 pcs. |
| Сonductive and abrasive paste, G999 (EVERI) | 1 pcs. |
| Transpore medical tape | 1 pcs. |
| Technical Manual «Neuro-Audio» | 1 pcs. |
| Warranty certificate | 1 pcs. |
| User manual «Neuro-Audio.NET» | 1 pcs. |
| Calibration Guidelines "Neuro-Audio" | 1 pcs. |
| Guidelines "EABR Test" | 1 pcs. |
| Guidelines "VEMP: Vestibular Evoked Myogenic Potential" | 1 pcs. |
| Guidelines "How to get quality ABR and ASSR recordings" | 1 pcs. |
| Package set | 1 pcs. |
| License for the use of software "Neuro-Audio.NET" with additional software module "Neuro-Audio.NET/ABR" | 1 pcs. |
Buy with this
Options
Registration Сertificate_Taiwan

866,51 KB

Нейро-Аудио_Регистрационное удостоверение_RF_13.12.2010

4 MB

Нейро-Аудио_Декларация о соответствии_EUU_01.02.2019

574,55 KB

Сертификат о признании утверждения типа СИ в Республике Казахстан

522,52 KB

Нейро-МВП, Нейро-ЭРГ, Нейро-Аудио_Регистрационное удостоверение_KZ_25.02.2021

627,92 KB

EC certificate

700,66 KB

Свидетельство о регистрации ПО Нейро-Аудио.NET

1,23 MB