Auditory Electrophysiology Lab
Neuro-Audio
---
all-in-one solution for auditory EP and OAE acquisition
automatic multi-ASSR test
VEMP with biofeedback
diagnosis of Meniere's disease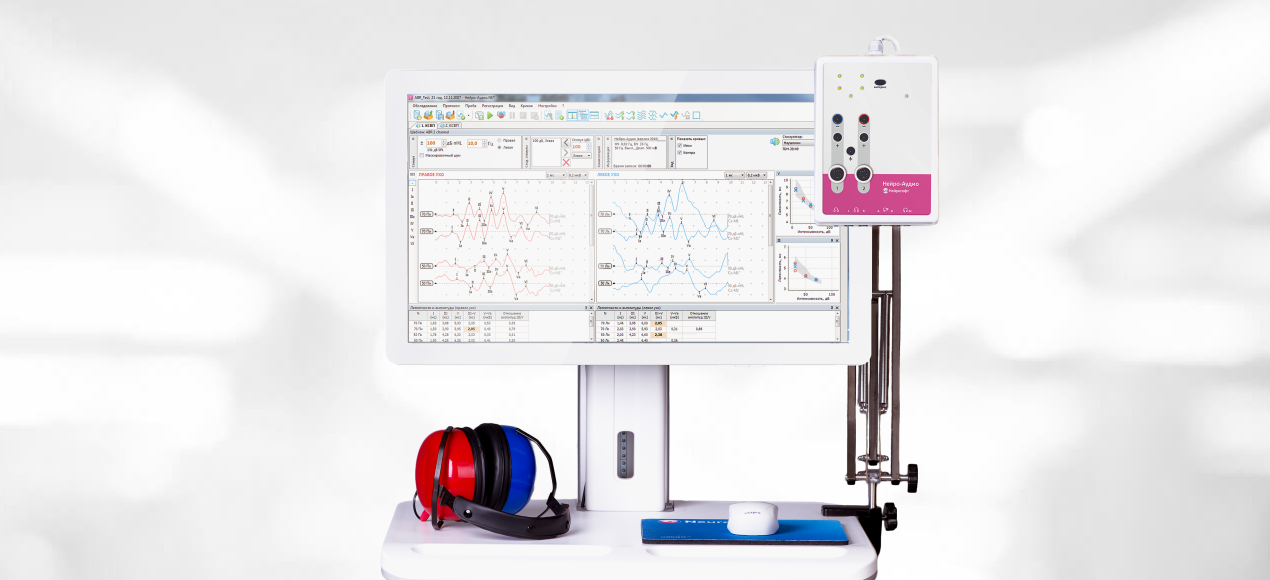 Description
All-in-One Solution for Auditory EP and OAE Acquisition
A full range of objective and subjective techniques for the diagnostics of hearing and balance is in the one compact-sized device now! Using this device, you can perform ABR, ASSR, multi-ASSR, MLR, LLR/CAEP, TEOAE, DPOAE, SOAE, ECochG, VEMP, P300, MMN, pure tone audiometry techniques easily.
Automatic Multi-ASSR Test
Multi-ASSR test implemented in the Neuro-Audio system reduces the test duration due to the automatic intensity switching for hearing threshold search, stimulation of both ears simultaneously by 8 frequencies (4 in each ear, from 500 Hz to 4000 Hz), and frequency-specific Chirp stimulus which takes the cochlear anatomy into account to increase the response amplitude. The test result is represented as the estimated pure tone audiogram used further for hearing aid fitting.
VEMP with Biofeedback
Dizziness is one of the main reasons for visiting a doctor (up to 30–40% of all visits according to Neuhauser 2005, Geser & Straumann 2012). Neuro-Audio can also be used successfully in the diagnosis of vestibular disorders.
The system ensures full state-of-the-art support of VEMP tests, including VEMP with biofeedback, VEMP amplitude scaling by mean EMG activity level, and also a unique function of EMG histogram with post-hoc analysis (important for children). Supported techniques: cervical and ocular VEMP tests (cVEMP and oVEMP).
Diagnosis of Meniere's Disease
Electrocochleography (ECochG) is used to diagnose Meniere's disease and endolymphatic hydrops. In addition to the traditional SP/AP amplitude ratio calculation (which has a low sensitivity to this pathology), the Neuro-Audio software calculates SP/AP area ratio. That's why the system is one among the few devices in the world that can significantly increase the sensitivity of the technique in the diagnosis of Meniere's disease.
The support of HL7 standard allows integrating all diagnostic Neurosoft systems into the information system of a healthcare facility.
00:00
Delivery Set
The delivery set can differ from country to country. Request the actual delivery set for your country from your local representative.
| | |
| --- | --- |
| Guidelines "VEMP: Vestibular Evoked Myogenic Potential" | 1 pcs. |
| Guidelines "How to get quality ABR and ASSR recordings" | 1 pcs. |
| Package set | 1 pcs. |
| License for the use of software "Neuro-Audio.NET" with additional software module "Neuro-Audio.NET/VEMP" | 1 pcs. |
| License for the use of software "Neuro-Audio.NET" with additional software module "Neuro-Audio.NET/OAE" | 1 pcs. |
| License for the use of software "Neuro-Audio.NET" with additional software module "Neuro-Audio.NET/ABR" | 1 pcs. |
| License for the use of software "Neuro-Audio.NET" with additional software module "Neuro-Audio.NET/ASSR" | 1 pcs. |
| License for the use of software "Neuro-Audio.NET" with additional software module "Neuro-Audio.NET/Multi-ASSR" | 1 pcs. |
| Equipment for Cognitive EP Study Using P300 Technique | 1 pcs. |
| License for the use of software "Neuro-Audio.NET" with additional software module "Neuro-Audio.NET/CEP" | 1 pcs. |
| License for the use of software «Neuro-Audio.NET» with additional software module «Neuro-Audio.NET/ECochG» | 1 pcs. |
| ER-3С-10 insert audiometric earphones | 1 pcs. |
| Ear tip ER3-14A (13 mm) | 10 pcs. |
| Ear tip ER3-14B (10 mm) | 10 pcs. |
| | 1 pcs. |
| Cable for ECochG electrode | 1 pcs. |
| ECochG electrode, adult | 20 pcs. |
| ECochG electrode, pediatric | 20 pcs. |
| Electrode gel Unimax (250 g) | 1 pcs. |
| Bone vibrator | 1 pcs. |
| KM-7-2 USB hub with cable | 1 pcs. |
| KM-7-2 USB-hub | 1 pcs. |
| USB cable (A-B) | 1 pcs. |
| SCZ-1 mains supply cable | 1 pcs. |
| Technical Manual | 1 pcs. |
| Elite System unit | 1 pcs. |
| Monitor 21.5" | 1 pcs. |
| Printer | 1 pcs. |
Options
summary 510(k)141524_USA

211,44 KB

GMP Certificate_Korea

515,79 KB

Registration Сertificate_Taiwan

866,51 KB

Registration Сertificate_Australia

93,4 KB

Нейро_МВП_Нейро_ЭРГ_Регистрационное удостоверение_UZ_21.01.2020

12,65 MB

Нейро-Аудио_Регистрационное удостоверение_RF_13.12.2010

4 MB

Нейро-Аудио_Декларация о соответствии_EUU_01.02.2019

574,55 KB

Сертификат о признании утверждения типа СИ в Республике Казахстан

522,52 KB

Нейро-МВП, Нейро-ЭРГ, Нейро-Аудио_Регистрационное удостоверение_KZ_25.02.2021

627,92 KB

Certificate of Compliance for Neuro-MEP family

2,68 MB

Нейро-Аудио_Регистрационное удостоверение_KZ_23.02.2022

700,21 KB

EC certificate

700,66 KB

Свидетельство о регистрации ПО Нейро-Аудио.NET

1,23 MB