Neuro-MSX Advanced Therapeutic
Transcranial Magnetic Stimulator of a new generation
---
application: psychiatry, neurology, pediatry
up to 100 Hz stimulation frequency
new generation of cooled coils
flexible software for smooth performance
configuration options to fit you best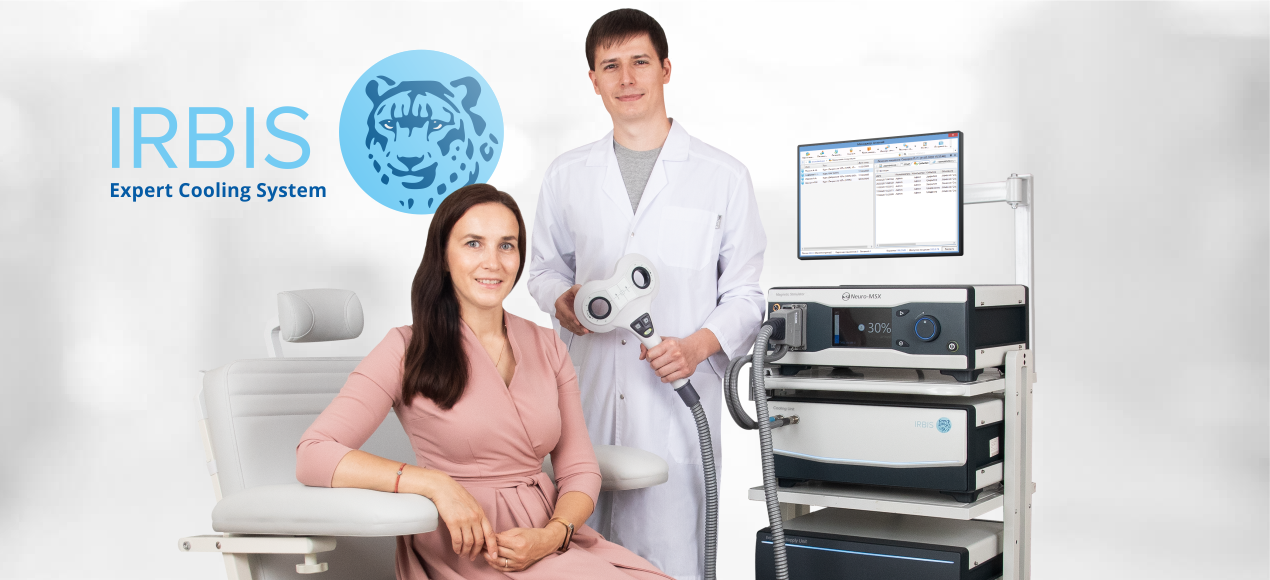 Description
Application: psychiatry, neurology, pediatry
The principle of therapeutic magnetic stimulation is based on the use of short-duration magnetic pulses. The induced high-intensity electromagnetic field easily penetrates through clothes, cranium bones, and soft tissues. It impacts on the deep nerves, peripheral nerves, brain, and spinal cord inaccessible for other kinds of stimulation.
If compared to electrical stimulation, magnetic stimulation does not cause painful sensations that usually occur due to activation of skin receptors under the electrode and does not require additional preparation time. Today, TMS is successfully used in:
psychiatry: depression, post-traumatic stress disorder, schizophrenia, obsessive-compulsive disorder, anxiety, addiction;
neurology: motor stroke rehabilitation, spasticity, pain, migraine, Parkinson's disease, tinnitus, dystonia, essential tremor, Tourette's syndrome, amyotrophic lateral sclerosis, multiple sclerosis, epilepsy, Alzheimer's disease;
pediatry: autism spectrum disorders, functional neurological disorders, Tourette's syndrome, attention deficit hyperactivity disorder, mental retardation (including speech delay).
Up to 100 Hz stimulation frequency
The main unit of Neuro-MSX magnetic stimulator allows performing stimulation at up to 100 Hz frequency while peak induction is ensured at the frequency of 13-15 Hz. Extra power supply unit allows increasing stimulation frequency, up to 25-30 Hz, at which peak induction is reached, and the system assures 60% intensity at just 50 Hz frequency. This is clinically important because when using our stimulators motor threshold in most patients is 45% MSO and less even for lower extremities. It means that these patients can be stimulated with up to 50Hz frequency and with TBS protocols without any stimulus decay.
New generation of cooled coils
Repetitive magnetic stimulation usually performed during TMS therapy implies that thousands of pulses are delivered within the treatment session. This may result in coil overheating and explains the need to use cooled coils. Thanks to the breakthrough cooling system implemented in our coils, you can forget about overheating during any treatment and a variety of coil shapes shall enable you to achieve positive outcomes in each individual case.
Flexible software for smooth performance
The supplied Neuro-MS.NET software allows keeping the patient database, managing treatment sessions, and detecting motor threshold. You can perform stimulation using the preset protocols as well as customize those available or create your own.
The advanced therapeutic configuration of Neuro-MSX features high-frequency protocol – up to 100 Hz frequency and theta-burst stimulation protocol – up to 2000 Hz!
The implemented algorithms allow for treatment of depression, Parkinson's disease, stroke, tinnitus, and other conditions as well.
Configuration options to fit you best
We have designed two options of Neuro-MSX advanced therapeutic configuration that include:
a conventional cooling unit for robust everyday operation or
high-performance Irbis cooling unit for operation in rooms with higher ambient temperature, at higher intensity, and higher frequency.
Besides, for clinics with low patient flow and that do not use maximum intensity and frequency stimulation protocols, we created cost-effective Slim configuration. It includes all 3 units, but uses a conventional cooling system, second generation coils and does not include computer and software.
00:00
Delivery Set
The delivery set can differ from country to country. Request the actual delivery set for your country from your local representative.
| | |
| --- | --- |
| K-3 flexible arm for coil positioning | 1 pcs. |
| K-8 coil holder (trolley/wall mounted) | 1 pcs. |
| T-4/А trolley | 1 pcs. |
| Funnel | 1 pcs. |
| Key for hex drive | 1 pcs. |
| Measuring reel | 1 pcs. |
| Marker pen | 1 pcs. |
| Patient button (USB-3) | 1 pcs. |
| Technical Manual «Neuro-MSX» | 1 pcs. |
| Warranty certificate | 1 pcs. |
| Technical Manual «Coils for Magnetic Stimulators» | 1 pcs. |
| User manual «Neuro-MS.NET » (ver.2) | 1 pcs. |
| Unit package | 1 pcs. |
| Package set for Neuro-MSX main unit and cooling unit | 2 pcs. |
| ''Transcranial Magnetic Stimulation'' handbook by Moacyr Alexandro Rosa and Marina Odebrecht Rosa | 1 pcs. |
| Screwdriver | 1 pcs. |
| License for Neuro-MS.NET software | 1 pcs. |
| Neurosoft equipment cover | 1 pcs. |
Options
Регистрационное удостоверение Neuro-MSХ

8,71 MB

Registration certificate_Indonesia

3,74 MB

Neuro-MS, MS/D, MSX_Certificate of compliance_Brazil_22.10.2021

2,56 MB

Australia certificate TMS MSD_MSX 30Mar2020

145,4 KB

EC certificate

700,66 KB

Декларация о соответствия Neuro-MSX_EEU_07.06.2022

112,33 KB

Neuro-MSХ_Регистрационное удостоверение_KZ_25.01.2023

677,59 KB

Neuro-MSХ_регистрационное удостоверение_UZ_10.02.2023

4,62 MB

Свидетельство о государственной регистрации ПО Neuro-MSX

1,24 MB

Выписка из реестра РЭП_Neuro-MSX

43,29 KB