Neuro-MSX Therapeutic
Transcranial Magnetic Stimulator of a new generation
---
effective treatment of psychiatric and neurological disorders
transcranial and peripheral stimulation
advanced liquid cooling technology
flexible software for smooth performance
wireless Wi-Fi interface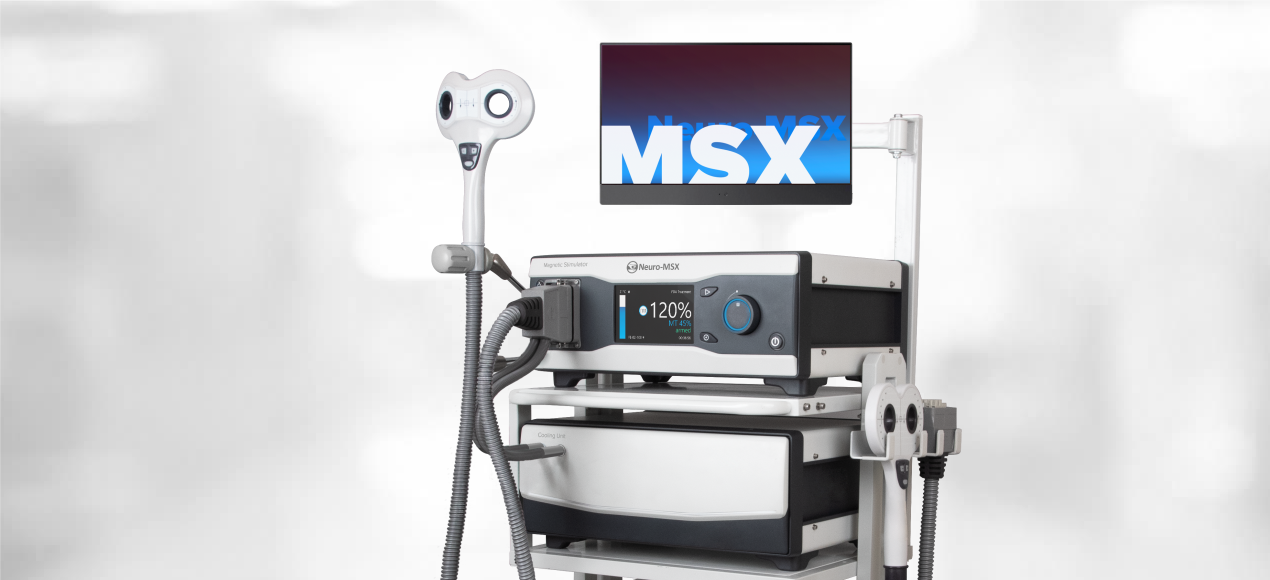 Description
Effective treatment of psychiatric and neurological disorders
Transcranial magnetic stimulation (TMS) is a reliable non-pharmacological technique for depression treatment. As shown by the clinical trials, the number of responders to TMS therapy in antidepressant drug-resistant patients is about 50%. At that, depending on the depression type the remission is reached in every second* patient.
Magnetic stimulation is also successfully used for rehabilitation of stroke patients and for treatment of patients with other neurological and psychiatric disorders.
Psychiatry: depression, post-traumatic stress disorder, schizophrenia, obsessive-compulsive disorder, anxiety, addiction.
Neurology: motor stroke rehabilitation, spasticity, pain, migraine, Parkinson's disease, tinnitus, dystonia, essential tremor, Tourette's syndrome, amyotrophic lateral sclerosis, multiple sclerosis, epilepsy, Alzheimer's disease.
Transcranial and peripheral magnetic stimulation
Today, magnetic stimulators are more often used not only for brain stimulation (transcranial magnetic stimulation, TMS) but also for spinal root, nerve, or muscle stimulation (peripheral magnetic stimulation, PMS).
PMS helps treating pain, spasticity and movement disorders, facial and trigeminal neuropathies, and chronic pelvic pain. This technique is as well successfully used in urology, proctology, gynecology, for post-workout muscle recovery and exercising.
Advanced liquid cooling system
The cooling system is designed to avoid the coil overheating during long-term rTMS sessions. The advanced method of active coil cooling is implemented in Neurosoft magnetic stimulators. Besides, the less liquid is inside the coil, the easier and more comfortable it is to use it. The cooling unit allows increasing continuous operation of up to 10 000 pulses without overheating. Practically, it means that the stimulator can operate for hours without overheating.
Flexible software for smooth performance
The supplied Neuro-MS.NET software designed to control the magnetic stimulator via the computer is capable of keeping the patient database, managing the treatment sessions, performing the stimulation using the preset protocols as well as customizing the available stimulation protocols or creating the new ones. The software stores the treatment history and treatment protocols for all patients so that you can find the desired record any time afterwards, review it or print the data you are interested in. The software offers a variety of pre-defined treatment/rehabilitation protocols. However, you can create protocols that meet your needs.
Wireless Wi-Fi interface
Providing enhanced usability, Neuro-MSX features built-in Wi-Fi interface. Now you can monitor stimulation progress and adjust stimulation parameters if you don't have a computer with installed Neuro-MS.NET software at hand. Just take your phone or tab, connect to the stimulator over Wi-Fi and adjust stimulation intensity or another desired parameter. You will see that it has changed on the stimulator as well.
* Carpenter L et al. Transcranial magnetic stimulation (TMS) for major depression: a multisite, naturalistic, observational study of acute treatment outcomes in clinical practice. Depression and Anxiety 2012; 29: 587-596.
00:00
Delivery Set
The delivery set can differ from country to country. Request the actual delivery set for your country from your local representative.
Options
Регистрационное удостоверение Neuro-MSХ

8,71 MB

Registration certificate_Indonesia

3,74 MB

Neuro-MS, MS/D, MSX_Certificate of compliance_Brazil_22.10.2021

2,56 MB

Australia certificate TMS MSD_MSX 30Mar2020

145,4 KB

EC certificate

700,66 KB

Декларация о соответствия Neuro-MSX_EEU_07.06.2022

112,33 KB

Neuro-MSХ_Регистрационное удостоверение_KZ_25.01.2023

677,59 KB

Neuro-MSХ_регистрационное удостоверение_UZ_10.02.2023

4,62 MB

Свидетельство о государственной регистрации ПО Neuro-MSX

1,24 MB

Выписка из реестра РЭП_Neuro-MSX

43,29 KB