Major Depressive Disorder Treatment
Neuro-MS/D Transcranial Magnetic Stimulator
Effective treatment of Major Depressive Disorder
High-performance machine for intensive use
Advanced liquid cooling technology
Angulated figure-of-eight coil for precise stimulation of dorsolateral prefrontal cortex
3-minute depression treatment protocol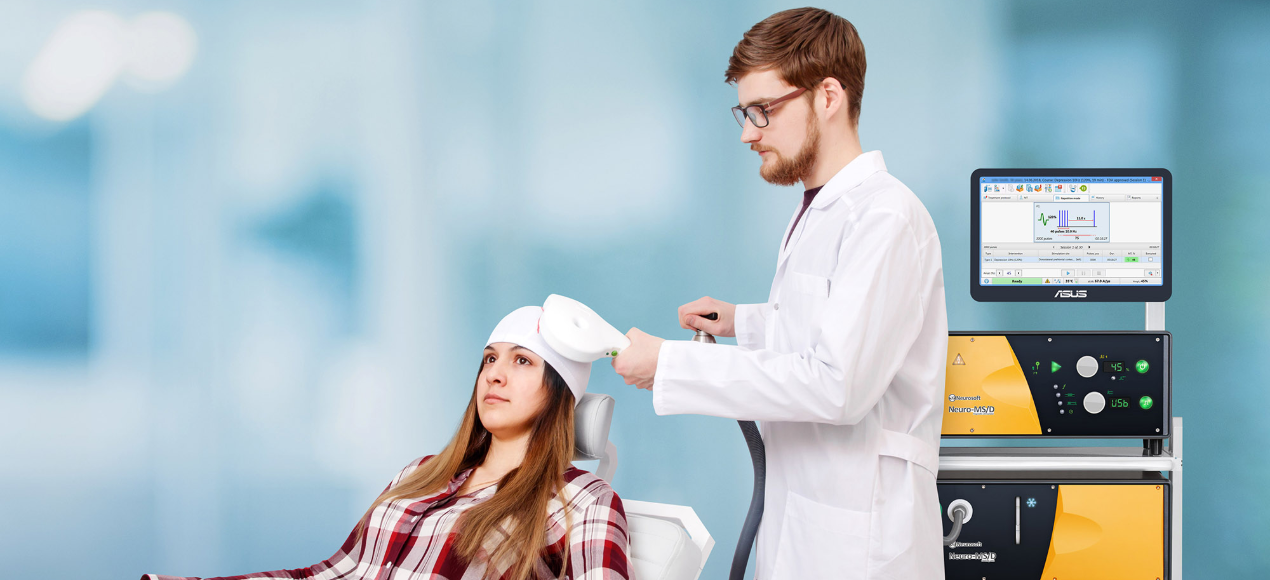 Description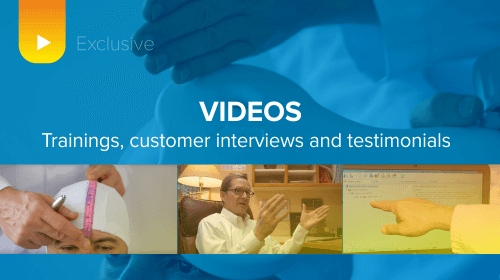 Effective treatment of Major Depressive Disorder
Nowadays, both pharmacological and non-pharmacological options are used to treat the depression. Most often a patient is offered either pharmacological or the combined treatment consisting of antidepressant medication and psychotherapy, which really works, but, unfortunately, not for everyone. If the patient does not respond to medication or can not tolerate the side effects of medication, rTMS therapy becomes an alternative. Magnetic stimulators can perform stimulation of dorsal prefrontal cortex (DLPFC). It impacts the mood stabilizers, thus, the long-lasting therapeutic effect, non-invasive, with no pain and minimum contraindications is achieved. According to the results of the clinical trials, the number of responders to rTMS therapy in antidepressant treatment-resistant patients is about 50%. At that, depending on the depression type the remission is reached in every second* patient. The Neuro-MS/D configurations are not only highly effective but also thoughtfully-designed. Neurosoft magnetic stimulators are the obvious choice of TMS specialists all over the world. The choice of those, who values reliability, safety and time.
Advanced liquid cooling technology
The cooling system is designed to avoid the coil overheating during long-term rTMS sessions. The advanced method of active coil component cooling is implemented in Neurosoft magnetic stimulators. The cooling liquid does not fill the whole coil, is runs inside the winding. This liquid does not increase the weight of coil and neutralizes the heat on-site.
Angulated figure-of-eight coil for precise stimulation of dorsolateral prefrontal cortex
The accurate focused stimulation of dorsal prefrontal cortex is ensured with angulated figure-of-eight coil. The anatomic coil shape that is congruent to head shape allows achieving the precision in positioning TMS coil and avoiding coil dislocation
from stimulation point.
3-minute depression treatment protocol
Now the Neuro-MS.NET is equipped by new short depression treatment protocol.
In accordance with the clinical tests performed by leading research hospitals in Canada*, in patients with treatment-resistant depression, iTBS was non-inferior to 10 Hz rTMS for the treatment of depression. Both treatments had low numbers of dropouts and similar side-effects, safety, and tolerability profiles. By use of iTBS, the number of patients treated per day with current rTMS devices can be increased several times without compromising clinical effectiveness.
So the 3-minute treatment is as safe and effective for the depression treatment as the conventional TMS.
Advanced software with automatic tools and preset treatment protocols
When you purchase Neuro-MS/D magnetic stimulator, you get the advanced software with the set of predefined protocols implemented in accordance with IFCN** recommendations. These protocols can be used to treat psychiatric and neurological diseases. The well-laid-out software features streamline TMS workflow and save considerably the time.
*Carpenter L et al. Transcranial magnetic stimulation (TMS) for major depression: a multisite, naturalistic, observational study of acute treatment outcomes in clinical practice. Depression and Anxiety 2012; 29: 587-596.
** Lefaucheur J-P et al. Evidence-based guidelines on the therapeutic use of repetitive transcranial magnetic stimulation (rTMS). Clin Neurophysiol (2014). Depending on local regulations in different countries some protocols can be disabled.
*** Blumberger D. M. et al. Effectiveness of theta burst versus high-frequency repetitive transcranial magnetic stimulation in patients with depression (THREE-D): a randomised non-inferiority trial //The Lancet. – 2018. – Т. 391. – №. 10131. – С. 1683-1692.
For North America USA customers please visit this page.
The delivery set can differ from country to country. Request the actual delivery set for your country from your local representative.
| | |
| --- | --- |
| USB cable , A-B | 1 pcs. |
| K-3 flexible arm for coil positioning | 1 pcs. |
| К-8 coil holder , trolley/wall mounted | 1 pcs. |
| T-4/A trolley | 1 pcs. |
| NS4D 42006 3/8" quick connect coupling | 1 pcs. |
| Technical Manual "Neuro-MS/D" | 1 pcs. |
| Warranty certificate | 1 pcs. |
| Technical Manual «Coils for Magnetic Stimulators» | 1 pcs. |
| User manual «Neuro-MS.NET », ver.2 | 1 pcs. |
| ''Transcranial Magnetic Stimulation'' handbook by Moacyr Alexandro Rosa and Marina Odebrecht Rosa | 1 pcs. |
| Package | 2 pcs. |
| Package | 1 pcs. |
| Screwdriver | 1 pcs. |
| License for Neuro-MS.NET software | 1 pcs. |
Свидетельство о регистрации ПО Нейро-МС.NET

384,41 KB

Нейро-МСД_Декларация о соответствии_EUU_20.11.2018

643,28 KB

Нейро-МСД_Регистрационное удостоверение_RF_23.08.2017

3,18 MB

Нейро-МСД_Декларация о соответствии_RF_30.03.2018

1,04 MB

Declaration of Conformity_Argentina

1,91 MB

Registration Сertificate _Costa Rica

63,98 KB

Registration Сertificate_Peru

3,3 MB

Registration Сertificate _Costa Rica

64,05 KB

Registration certificate _Japan

55,51 KB

Нейро-МСД_Регистрационное удостоверние_UZ_20.10.2020

3,05 MB

Neuro-MS, MS/D, MSX_Certificate of compliance_Brazil_22.10.2021

244,68 KB

Australia certificate TMS MSD_MSX 30Mar2020

145,4 KB

EC certificate

700,66 KB
Leo Chen, Elizabeth H.X. Thomas, Pakin Kaewpijit et al. Accelerated theta burst stimulation for the treatment of depression: A randomised controlled trial. Brain Stimulation 14 (2021) 1095-1105

Andrew Giam et al. Comparing theta burst stimulation with standard left high frequency transcranial magnetic stimulation in the treatment of depression in a randomized controlled study: A preliminary comparison study.