Ambulatory Polysomnography with Video
Neuron-Spectrum-AM/PSG (type II sleep monitor)
---
out of center sleep testing
full range of PSG sensors and electrodes
data recording to the built-in memory card
synchronous video recording
portability
automatic tools for PSG analysis
cloud storage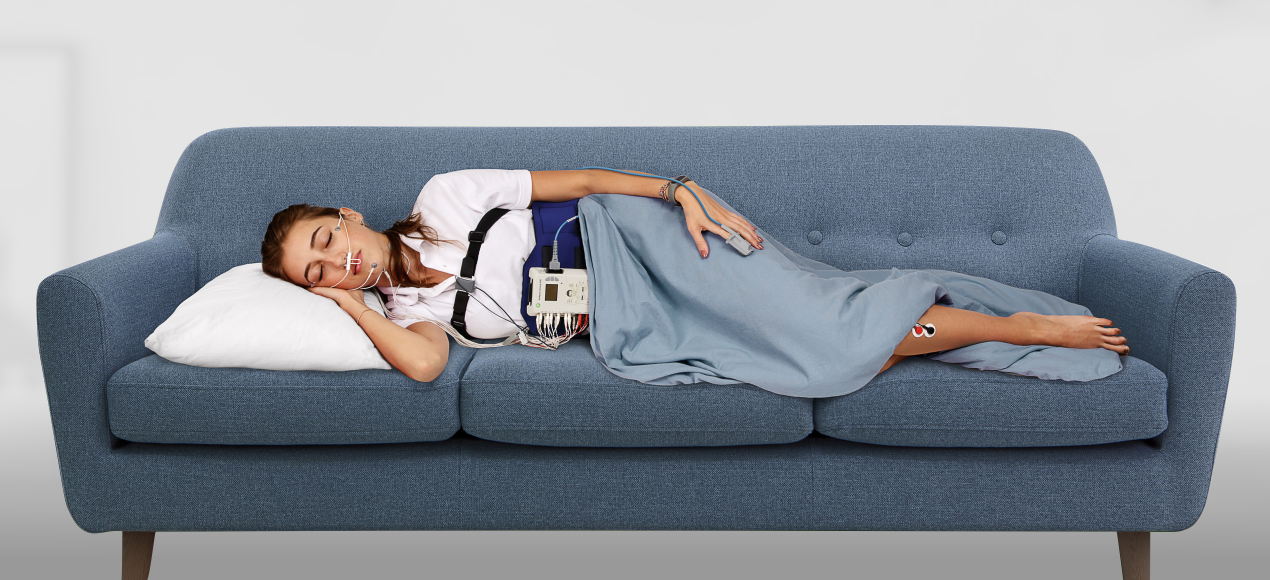 Description
Out of center sleep testing
A portable PSG recorder, Neuron-Spectrum-AM/PSG can be used to perform a comprehensive overnight PSG study at a patient's home and in an ordinary hospital room. There is no need to arrange a sleep lab and the medical personnel continuously monitoring the exam progress is no longer required. Ambulatory PSG is not less effective than clinical PSG, but in addition, is more comfortable and cost-benefit for a medical facility.
Full range of PSG channels according to AASM* recommendations
The system is provided with the full range of channels required to perform PSG studies.
Channels for sleep staging
6 EEG channels (expandable up to 21 channels)
2 EOG channels
3 EMG channels
Channels for analysis of sleep-related respiratory events
Channels to connect:
oronasal thermal airflow sensor
nasal pressure airflow sensor (cannula)
thorax respiratory effort sensor
abdominal respiratory effort sensor
snoring sensor
body position sensor
Built-in channels:
SpO2 and PPG (photoplethysmography)
ECG
1 DC channel
Channels for limb movement recording
2 EMG channels
Full range of PSG sensors and electrodes
Particularly designed sensors are easily and securely fixed on the patient's body allowing him/her to move freely and do the daily routine about the house.
Data recording to the built-in memory card
During the ambulatory PSG, the data can be recorded to the built-in memory card of the device (without synchronous video recording). Thus, you don't need to bring the system with a notebook to the patient's place. Just fix the required sensors, electrodes, and the recorder itself on the patient and that's it – the patient can go home. After the study is completed the next morning, it will be saved to the built-in memory card and can be later uploaded to the software for analysis.
Synchronous video monitoring
According to ASSM recommendations, video monitoring is required during routine PSG. The PSG data is recorded over a Wi-Fi connection to the notebook memory (can be also duplicated to the device memory card). A lightweight wireless camera included in the system allows high-quality video recording with Full HD resolution. The video is transferred via Wi-Fi to the notebook memory in real-time mode with simultaneous data recording to the built-in memory card.
Portability
Neuron-Spectrum-AM/PSG system, including the electronic unit and sensors, fits in a small bag that allows taking it to an ordinary clinic ward or to the patient's place. The equipment is arranged within just 15 min (without time for sensors placement) and after the exam it can be removed and packed back as easily.
Automatic tools for PSG analysis
Neuron-Spectrum.NET/PSG software speeds up the interpretation of the obtained data by several times thanks to automatic analysis tools. The software features all necessary algorithms: sleep staging, hypnogram creation, automatic search and classification of apnea/hypopnea, desaturation, snoring and limb movement events, creation of HR, body position, SpO2, and other trends. After the analysis is completed, a detailed editable report will be automatically generated according to the user template.
Cloud storage
If the notebook is connected to the Internet, all recorded data can be transferred to cloud storage where it can be viewed and analyzed by a physician distantly.
Delivery Set
The delivery set can differ from country to country. Request the actual delivery set for your country from your local representative.
| | |
| --- | --- |
| Neuron-Spectrum-AM electronic unit | 1 pcs. |
| Neoprene belt (1150 mm) | 1 pcs. |
| Neoprene belt (1400 mm) | 1 pcs. |
| Set of mounting bracket for disposable sensor | 1 pcs. |
| Harness (1100 mm) | 1 pcs. |
| Harness (2000 mm) | 1 pcs. |
| Cup EP electrode with cable (white, 1 m) | 9 pcs. |
| Cup EP electrode with cable (white, 1 m) | 3 pcs. |
| Cup EP electrode with cable (white, 1 m) | 2 pcs. |
| Disposable ECG electrode PG10S, PG10S/RU26 | 30 pcs. |
| Cable for disposable electrode: button clip – touch-proof (red, 1.5 m) | 2 pcs. |
| Cable for disposable electrode: button clip – touch-proof (black, 1.5 m) | 2 pcs. |
| Cable for disposable electrode: button clip – touch-proof (red, 1 m) | 2 pcs. |
| Cable for disposable electrode: button clip – touch-proof (black, 1 m) | 2 pcs. |
| AS-8/A-10 airflow sensor (for «Neuron-Spectrum-AM», 1 m, adult) | 1 pcs. |
| AS-8/P-10 airflow sensor (for Neuron-Spectrum-AM, 1 m, children) | 1 pcs. |
| SS-1-08 snoring sensor (0.8m for Neuron-Spectrum-AM) | 1 pcs. |
| IES-1-05 inductive thoracic and abdominal respiratory effort sensor (for Neuron-Spectrum-AM, 0.8 m) | 1 pcs. |
| SDHC memory card, 16 Gb | 1 pcs. |
| Pouch for electronic unit | 1 pcs. |
| Wireless router | 1 pcs. |
| Battery charger GP | 1 pcs. |
Options
Свидетельство об утверждении типа СИ в РФ

2,47 MB

Нейрон-Спектр-СМ_Декларация о соответствии_EUU_26.02.2019

596,1 KB

Свидетельство о регистрации ПО Нейрон-Спектр.NET

1,03 MB

Нейрон-Спектр-СМ_Регистрационное удостоверение_RF_21.12.2017

11,27 MB

Сертификат о признании утверждения типа СИ

175,37 KB

Registration certifcate_Taiwan

464,62 KB

Registration certificate_Argentina

136,13 KB

Registration certificate_Australia_class IIa

143,64 KB

Нейрон-Спектр-СМ_Регистрационное удостоверение_KZ_10.02.2022

688,39 KB

EC certificate

700,66 KB

FDA_USA_K220254_USA_NS-AM

239,91 KB

Приказ Росстандарта №591 «Об организации работ по внесению изменений в сведения об утвержденных типах средств измерений и стандартных образцов»

39,27 KB

Выписка из реестра РЭП_Нейрон-Спектр-СМ

42,76 KB