Cardiorespiratory Monitoring
Neuron-Spectrum-AM/CRM (type III sleep monitor)
---
cardiorespiratory monitor (Type III) expandable to a full-featured sleep diagnostic system (Type I or Type II)
detection and analysis of respiratory events, heart rate, SpO2, body position
software with automatic tools for PSG analysis
built-in memory for exam data storage
up to three days of continuous operation in the stand-alone mode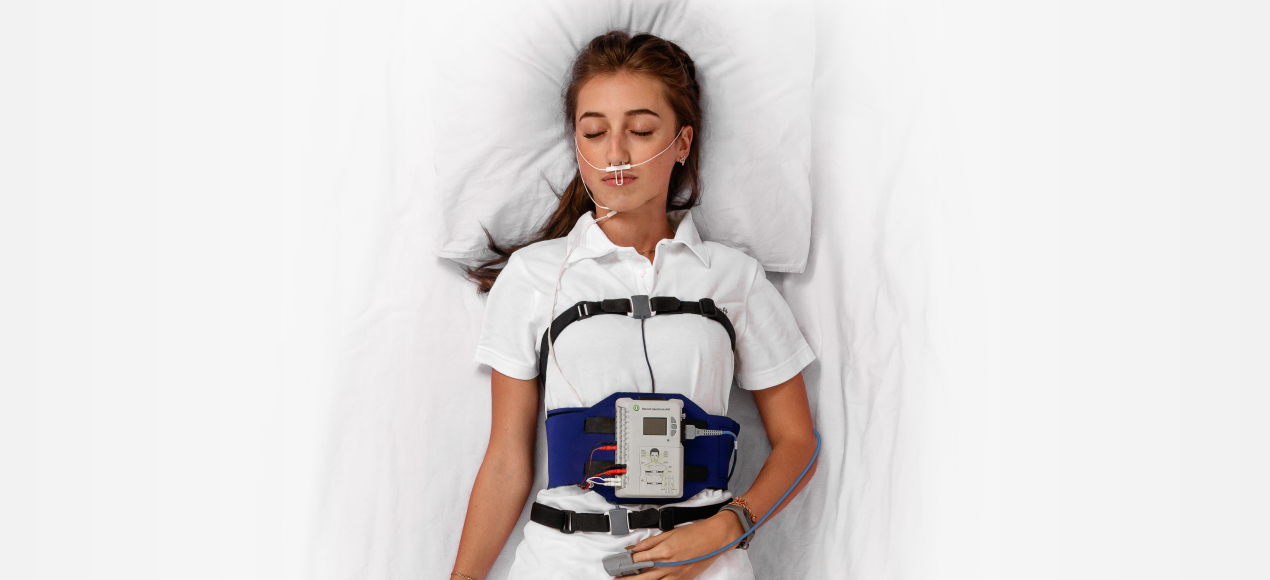 Description
Cardiorespiratory monitor (Type III) expandable to a full-featured sleep diagnostic system (Type I or Type II)
Neuron-Spectrum-AM/CRM system can be used as Type III device for diagnostics of sleep disorders. Upon customer request, the system can be any time expanded to a full-featured sleep diagnostic system (Type I or Type II) that allows for a more detailed analysis of sleep-related disorders.
Detection and analysis of respiratory events, heart rate, SpO2 and body position
Neuron-Spectrum-AM/CRM is specially designed for cardiorespiratory monitoring at night and allows detecting and analyzing respiratory events, heart rate, and blood oxygen saturation during sleep. The electronic unit also features built-in body position sensors and a light sensor.
Sleep analysis is easy!
Thinking of a patient and a medical specialist, we strived to make the examination easy and comfortable for both of them.
The compact electronic unit is securely attached to the patient's body using straps. Then the thermistor airflow sensor, thorax and respiratory effort sensors, ECG, and SpO2 sensors are connected to the unit.
Thanks to the intuitive display and controls, the device can be used by the patient without any assistance. The examination will be recorded to the built-in memory card for further interpretation by the specialist.
Automatic software tools for data analysis
The supplied software features tools for quick search, manual and automatic detection of snoring, respiratory events, desaturation, tachycardia, bradycardia, asystole, and other events. At the end of the examination, the software will generate the report according to the selected template.
Built-in memory for exam data storage
The recorder may have a built-in memory card of up to 32 GB (depending on customer requirements) where the data of several exams can be stored. By connecting the memory card to a computer, you can transfer the results of your exams to a database for viewing and analysis using the special software.
Up to three days of continuous operation in the stand-alone mode
The recorder can operate for up to three days in the stand-alone mode which means that you can perform several examinations without charging the battery and replacing the memory card.
Wireless interface for data transfer
The wireless interface allows for real-time data monitoring and analysis without removing the memory card from the device and copying the recorded data to PC.
American Academy of Sleep Medicine (https://aasm.org/)
00:00
Delivery Set
The delivery set can differ from country to country. Request the actual delivery set for your country from your local representative.
Options
Свидетельство об утверждении типа СИ в РФ

2,47 MB

Нейрон-Спектр-СМ_Декларация о соответствии_EUU_26.02.2019

596,1 KB

Свидетельство о регистрации ПО Нейрон-Спектр.NET

1,03 MB

Нейрон-Спектр-СМ_Регистрационное удостоверение_RF_21.12.2017

11,27 MB

Registration certifcate_Taiwan

464,62 KB

Registration certificate_Argentina

136,13 KB

Registration certificate_Australia_class IIa

143,64 KB

Нейрон-Спектр-СМ_Регистрационное удостоверение_KZ_10.02.2022

688,39 KB

EC certificate

700,66 KB

FDA_USA_K220254_USA_NS-AM

239,91 KB

Приказ Росстандарта №591 «Об организации работ по внесению изменений в сведения об утвержденных типах средств измерений и стандартных образцов»

39,27 KB

Выписка из реестра РЭП_Нейрон-Спектр-СМ

42,76 KB