Neuron-Spectrum-AM/CRM
Cardiorespiratory monitor (type III sleep monitor)
Type III sleep monitor expandable to stand-alone PSG recorder (Type I or II sleep monitor)
detection and analysis of respiratory events, heart rate, SpO2, body position
software with automatic tools for PSG analysis
internal memory card to store PSG studies
three days of continuous operation in standalone mode
wireless interface to transfer data to PC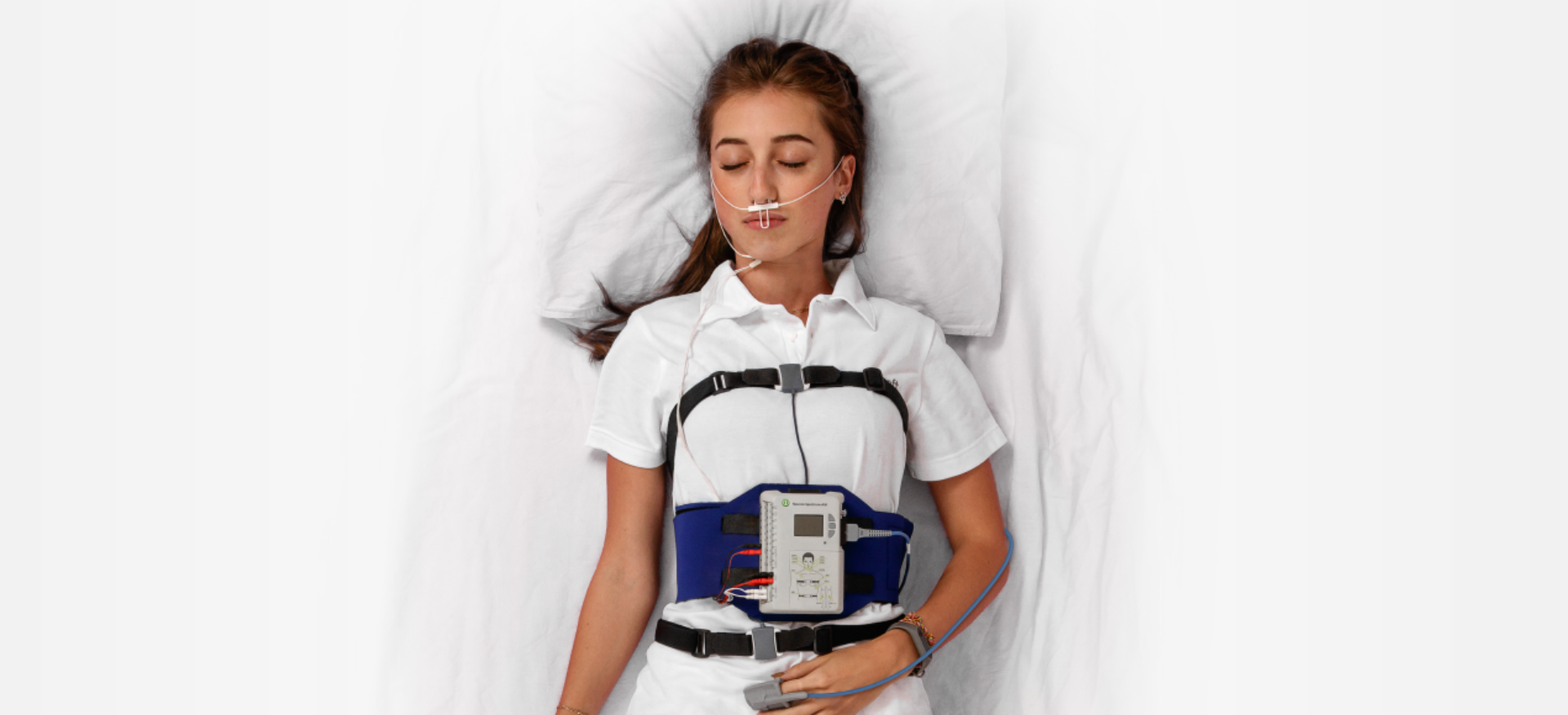 Description
Type III Sleep Monitor Expandable to Stand-Alone PSG Recorder (Type I or II Sleep Monitor)
Neuron-Spectrum-AM/CRM is a Type III sleep monitor according to AASM classification and is expandable to a stand-alone PSG recorder (Type I or II sleep monitor) at the customer's request. In this case, the device allows performing a more careful analysis of any sleep disorders.
Detection and Analysis of Respiratory Events, Heart Rate, SpO2, Body Position
Neuron-Spectrum-AM/CRM is specially designed for cardiorespiratory monitoring at night and performs the detection and analysis of respiratory events (apnea and hypopnea), heart rate and blood oxygen saturation during sleep. The electronic unit also has built-in body position sensors and light sensors.
Make Your PSG Study Quick, Easy and Effective
We tried to make the PSG study easy and convenient for both a patient and a specialist.
The lightweight compact unit is fixed easily on the patient's body using belts. PSG sensors and electrodes (airflow sensors, effort sensors, EMG electrodes, SpO2 sensor) are connected to the unit.
Thanks to the display and control buttons, the device can be used in the standalone mode, and the completed PSG study is recorded on the memory card for further interpretation by a specialist.
Software with Automatic Tools for PSG Analysis
The software supplied with the device includes the tools for quick search and automatic/manual selection of snore, respiratory events (apnea, hypopnea), desaturation, cardiac events (tachycardia, bradycardia, asystole), etc. At the end of the study, the software generates the report according to the selected template.
Internal Memory Card to Store PSG Studies
The device has 32 GB memory card on which the data from several PSG studies can be stored. The examination results are transferred to PC via Wi-Fi for further viewing and analysis.
Up to Three Days of Continuous Operation in Standalone Mode
The system can operate for up to three days in the standalone mode. So, you can perform several PSG studies without recharging the battery and replacing the memory card.
Wireless Interface to Transfer Data to PC
The wireless interface allows a specialist to view the data in real time, analyze it during the examination or immediately after. Besides, there is no need to remove the memory card from the PSG recorder and copy the information to your PC.
| | |
| --- | --- |
| Neuron-Spectrum-AM electronic unit | 1 pcs. |
| SDHC memory card, 16 Gb | 1 pcs. |
| Neoprene belt , 1150 mm | 1 pcs. |
| Neoprene belt , 1400 mm | 1 pcs. |
| Case for Neuron-Spectrum-AM | 1 pcs. |
| Harness , 1100 mm | 1 pcs. |
| Harness , 2000 mm | 1 pcs. |
| Set of mounting bracket for disposable sensor | 1 pcs. |
| Wireless router | 1 pcs. |
| Battery charger GP | 1 pcs. |
| Cable for disposable electrode with button connector, touch-proof, red, 1 m | 2 pcs. |
| Cable for disposable electrode with button connector, touch-proof, black, 1 m | 2 pcs. |
| Disposable ECG electrode pediatric PG10S | 30 pcs. |
| Set of chest belts | 1 pcs. |
| | |
| --- | --- |
| Airflow sensor AS-8/A-10 , for Neuron-Spectrum-AM, 1 m, adult | 1 pcs. |
| Airflow sensor AS-8/P-10 , for Neuron-Spectrum-AM, 1 m, pediatric | 1 pcs. |
| Snoring sensor SS-1-08 , 0,8 m, for Neuron-Spectrum-AM | 1 pcs. |
| Inductive thorax and abdominal effort sensor "IES-1-05" , for Neuron-Spectrum-AM, 0.5 m | 1 pcs. |
| Adult Nasal Cannula, 37 in | 9 pcs. |
| Adapter for nasal cannula MTLL230-9 | 1 pcs. |
| Medical tape Transpore , 5 sm х 9.1 m | 1 pcs. |
| Package | 1 pcs. |
| Technical Manual "Neuron-Spectrum-AM" | 1 pcs. |
| Technical manual "Airflow Sensors AS-7, AS-8, AS-9, AS-10" | 1 pcs. |
| Technical Manual "Snoring Sensor SS-1" | 1 pcs. |
| Technical Manual "Neuron-Spectrum-AM" | 1 pcs. |
| User manual "Neuron-Spectrum.NET" | 1 pcs. |
| Annex to User Manual "Exams Manager" | 1 pcs. |
| License for the use of software "Neuron-Spectrum.NET" with additional software module "Neuron-Spectrum.NET/CRM" | 1 pcs. |
Свидетельство об утверждении типа СИ в РФ

2,47 MB

Декларация о соответствии

1,07 MB

Декларация о соответствии ТР ТС

596,1 KB

Свидетельство о регистрации ПО Нейрон-Спектр.NET

1,03 MB

Регистрационное удостоверение

11,27 MB

Регистрационное удостоверение Республики Казахстан

675,83 KB

Сертификат о признании утверждения типа СИ

175,37 KB

Сертификат об утверждении типа СИ

56,76 KB