Poly-Spectrum-AM
Holter monitoring solution
2 or 3-channel Holter monitoring solution
wireless connection with clinician's workstation
one button acquisition start
fast data downloading to computer
software package for long-term ECG monitoring with PQ, QT, HRV, ABP, ST, HRT modules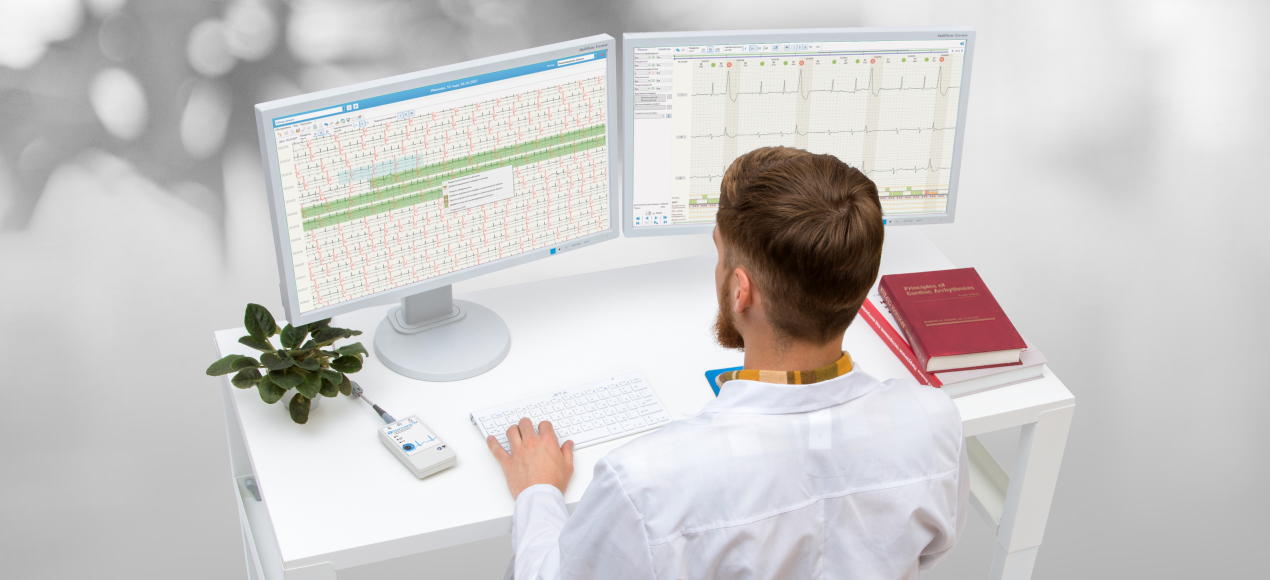 Description
Poly-Spectrum-AM is intended for Holter monitoring and allows for long-term 24- up to 72-hour ECG recording. The system also records respiratory rate, movement activity, body position, and detects pacemaker pulses that assures a more informative analysis and facilitates result interpretation. User comfort, the accuracy of automatic algorithms, a wide range of tools for result control and editing were our main target when designing the system. Poly-Spectrum-AM is intended for obtaining the most complete relative information and providing it in the summary form so that a specialist could easily find all significant events within the recording.
Customizable parameters and additional channels
The supplied software allows customizing test parameters including sampling rate that can be set at 250, 500 or 1000 Hz. The system can also record other data such as respiratory rate, movement activity, body position from other channels as well as detect pacemaker pulses simultaneously with ECG. This enhances system functionality for providing additional information about a patient.
State indication on the front panel
For user convenience, the recorder state is shown on its front panel by 3 indicators: "Operation" (the device is powered and operates properly), "Break" (indicates a break of one or several leads), "Low Battery" (battery replacement is required).
Wireless connection
The test can be controlled via Bluetooth using a computer. The patient can move freely while the specialist can check signal quality and monitor test progress in real time.
Audio comments
Using the headset, the patient can record audio comments during the test which provides additional possibilities of the patient diary.
On-the-fly battery replacement
The recorder features sound notification if the battery is discharged during the test. Replace the batteries on-the-fly and continue the recording.
One button acquisition start
The recording can be started without computer assistance, simply by pressing the button on the front panel.
2 or 3 ECG channel monitoring
The ECG can be obtained from 2 or 3 channels depending on the cable type.
Fast data downloading to computer
The data is downloaded to a computer for less than 2 minutes (at 250 Hz frequency for 24-hour recording) using USB interface and data compression without compromise on its quality.
Свидетельство о регистрации ПО Поли-Спектр-СМ.NET

333,67 KB

Свидетельство об утверждении типа средств измерений

5,63 MB

Поли-Спектр-СМ_Декларация о соответствии_RF_06.04.2018

5,16 MB

Поли-Спектр-СМ_Регистрационное удостоверение_RF_26.03.2018

1,41 MB

Поли-Спектр_СМ_Регистрационное удостоверение_KG_27.11.2018

646,27 KB

Поли-Спектр_СМ_Декларация о соответствии_EUU_28.09.2018

534,02 KB

Поли-Спектр-СМ_Регистрационное удостоверение_UZ_30.11.2020

3,08 MB

Поли-Спектр-СМ_Регистрационное удостоверение_KZ_25.03.2021

1,04 MB

Сертификат о признании утверждения типа СИ в Республике Казахстан

241,01 KB