System For Routine EEG
---
reliable device for daily routine
electrode impedance indication at the lead inputs
electrodes and caps of various manufacturers
operation in unshielded environments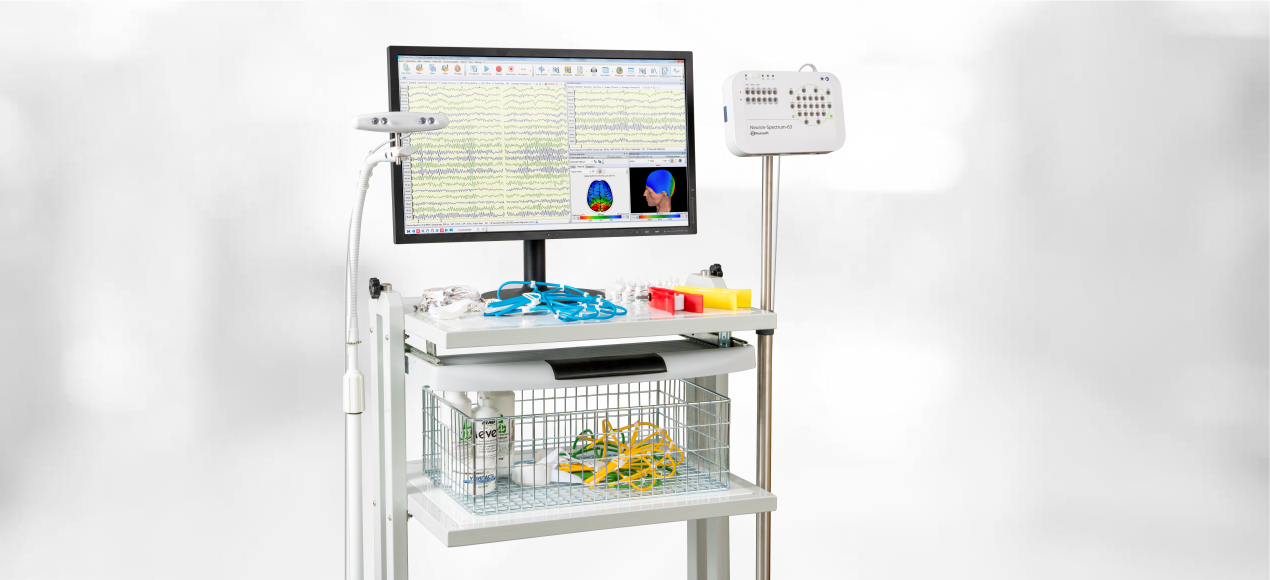 Description
Reliable device for daily routine
For 27 years, Neurosoft has been designing and producing various equipment for neurophysiology. EEG systems were one of our first developments. Time passed, and new devices replaced the previous ones. We improved our systems to make them more functional and reliable. A distinctive feature of each our EEG system is high signal quality and flexible software with a lot of functions. Now, we present you Neuron-Spectrum-63, a new system for routine EEG. It is specially developed for routine EEG and records signals quickly and efficiently in many patients during the day. Working with the device is simple, because we thought through each operation step and equipped the system with new useful functions.
If you are looking for a reliable EEG system for many years, we recommend you Neuron-Spectrum-63.
Flexible software
The advantage of the Neuron-Spectrum.NET software is its wide functionality. You can use the simple interface, or you can customize the software using the special settings.
Before the study, you may choose the pre-defined electrode montage or create your own one depending on the type of test you perform. Using the convenient navigation tools, you can quickly view the recorded EEG curves, highlight artifacts, and arrange epochs. For the advanced analysis of recorded data, the contemporary tools for mathematical analysis of EEG are used. The automatic report is generated using the preset report templates and integrated glossary. The report is easily edited, saved to PDF, printed or sent automatically.
Electrode impedance indication at the lead inputs
The impedance indicators on the amplifier ensure the continuous impedance monitoring during the acquisition, timely correction of electrode placement and good quality of EEG recording.
Operation mode can be switched with just one button on the front panel. The LED indicator next to the button shows the mode: acquisition, EEG monitoring or impedance measurement. It makes the EEG study much easier.
Electrodes and caps of various manufacturers
During the study, the disk, cup and bridge electrodes as well as the electrode caps of different sizes can be applied. They are connected to the amplifier unit via touch-proof connectors and standard plug.
Operation in unshielded environments
The EEG systems of Neuron-Spectrum line can be used in any suitable room, which is convenient for staff and comfortable for patients. The costs for preparing a specialist's workplace are also reduced significantly. The device is small and USB powered, so you can establish your EEG lab anywhere.
00:00
Delivery Set
The delivery set can differ from country to country. Request the actual delivery set for your country from your local representative.
| | |
| --- | --- |
| Cable for bridge or ear EEG electrode, white, 1 m (white, 1 m) | 20 pcs. |
| Cable for bridge or ear EEG electrode, red 1 m (red, 1 m) | 2 pcs. |
| Cable for bridge or ear EEG electrode, black, 1 m (black, 1 m) | 1 pcs. |
| Technical manual «Neuron-Spectrum 61, 62, 63, 64, 65, Neuromonitor» | 1 pcs. |
| Warranty certificate | 1 pcs. |
| User manual «Neuron-Spectrum.NET» | 1 pcs. |
| Annex to user manual «Exam Manager» | 1 pcs. |
| Package set | 1 pcs. |
| Neuron-Spectrum.NET software license without additional modules | 1 pcs. |
Options
Нейрон-Спектр-61,62,63,64,65, Нейромонитор_Декларация о соответствии_RF_05.03.2019

928,41 KB

Нейрон-Спектр-61,62,63,64,65, Нейромонитор_Регистрационное удостоверение_RF_12.02.2019

5,42 MB

Registration certificate_Argentina

136,13 KB

Registration certificate_Australia_class IIb

142,33 KB

Registration certificate_Indonesia

6,06 MB

Нейрон-Спектр-61,62,63,64,65_Регистрационное удостоверение_KZ_21.05.2021

640,18 KB

Registration certificate_Serbia

2,01 MB

Нейрон-Спектр-61,62,63,64,65_Сертификат утверждения типа СИ_KZ_25.02.2022

607,96 KB

EC certificate

700,66 KB

Neuron-Spectrum_Brazil

2,51 MB

Нейрон-Спектр-65_Декларация соответствия_EAC_05.08.2024

128,75 KB

Neuron-Spectrum-63-65_Registration certificate_Korea

928,5 KB