All-In-One EEG, EMG and PSG Laboratory
---
21 or 32 EEG channels
12 options to expand the device functions
full range of PSG channels
impedance/acquisition button on the front panel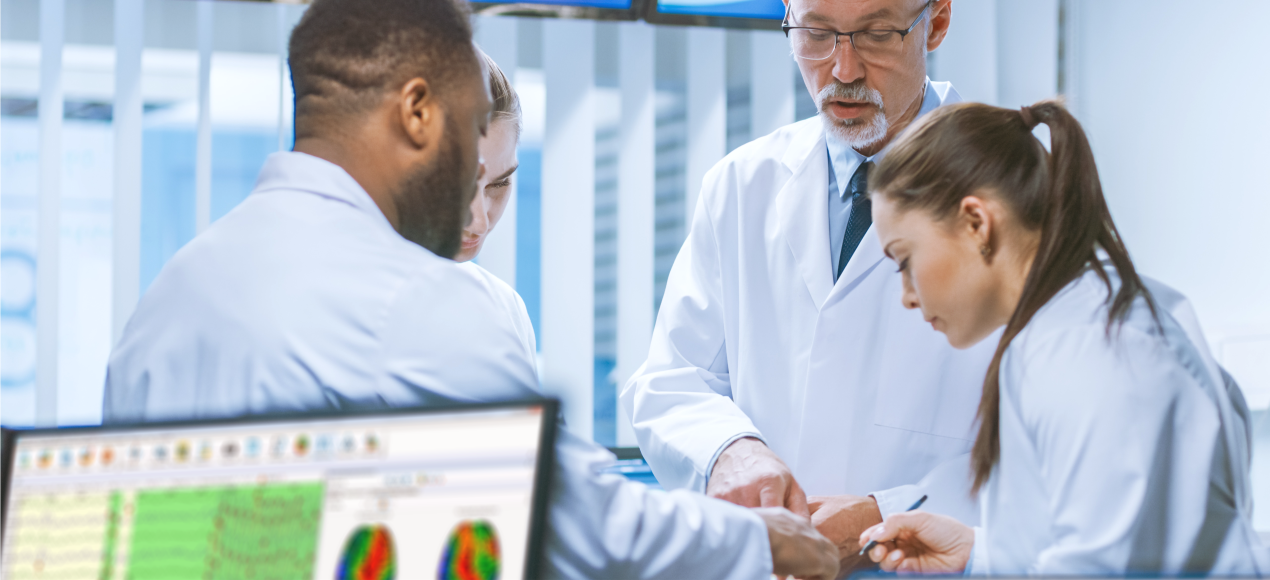 Description
21 or 32 EEG channels
Depending on specifics of your work, choose 21 or 32-channel EEG system for high-quality signal acquisition in any environment. You can also select the necessary accessories and equipment to complete your EEG system.
12 options to expand the device functions
Due to four high-speed broadband channels, you can use the device as a reliable EMG, PSG and ERG system. Special Neuron-Spectrum-LEP software and equipment for short- and long-latency evoked potentials allow you to record:
pattern and flash visual evoked potentials;
short-, middle- and long-latency auditory evoked potentials;
short- and long-latency somatosensory evoked potentials;
cognitive evoked potentials by P300, MMN, CNV.
Using the related software modules and equipment, you can also perform the following studies:
EMG;
EOG;
ERG;
PSG;
long-term video EEG monitoring;
cerebral function monitoring (aEEG).
Full range of PSG channels
Using the Neuron-Spectrum system, you can perform PSG studies in a medical facility. The sensors can be connected to a special portable patient unit that allows quick disconnection from the recorder and reconnection to it (for example, when a patient leaves the examination room for a while).
Impedance/acquisition button on the front panel
For better usability, the impedance/acquisition button is located on the front panel of the unit. It allows a specialist to check electrode placement quality shown by LED indicators just at the patient's spot without computer assistance which is much timesaving. You can also start EEG signal acquisition using the same button.
00:00
Delivery Set
The delivery set can differ from country to country. Request the actual delivery set for your country from your local representative.
| | |
| --- | --- |
| Neuron-Spectrum-5 electronic unit | 1 pcs. |
| Equipment for short- and long-latency EP study using 4 polygraphic channels «Neuron-Spectrum-EP» | 1 pcs. |
| Cup EP electrode with cable EEP (8 pcs, 1 m (FIAB Cup)) | 1 pcs. |
| Y-adapter | 2 pcs. |
| Visual stimulator (LED goggles) | 1 pcs. |
| TDH-39 auditory stimulator (3.5 stereo) | 1 pcs. |
| Stimulating bar electrode SBE-2 (adult) | 1 pcs. |
| Adapter for pattern-stimulator (16:9) | 1 pcs. |
| Patient button (USB connector) | 1 pcs. |
| Ten20 сonductive paste | 1 pcs. |
| Сonductive and abrasive paste, G999 (EVERI) | 1 pcs. |
| Transpore medical tape | 1 pcs. |
| Equipment for polysomnography studies "Neuron-Spectrum-PSG" | 1 pcs. |
| Cup EP electrode with cable (white, 1.5 m) | 14 pcs. |
| Cable for disposable electrode: button clip – touch-proof (red, 1.5 m) | 2 pcs. |
| Cable for disposable electrode: button clip – touch-proof (black, 1.5 m) | 2 pcs. |
| Cable for disposable electrode: button clip – touch-proof (red, 2.5 m) | 2 pcs. |
| Cable for disposable electrode: button clip – touch-proof (black, 2.5 m) | 2 pcs. |
| Disposable ECG electrode PG10S, PG10S/RU26 | 30 pcs. |
| PS-2-22 body position sensor | 1 pcs. |
| LS-1 light sensor | 1 pcs. |
| 3017LP Xpod oximeter | 1 pcs. |
| 8000SS-3 soft sensor, reusable, small | 1 pcs. |
| 8000SM-3 soft sensor, reusable, medium | 1 pcs. |
| 8000SL-3 soft sensor, reusable, large | 1 pcs. |
| AS-8/A-20 airflow sensor (adult) | 1 pcs. |
| AS-8/P-20 airflow sensor (pediatric) | 1 pcs. |
| SS-1 snoring sensor | 1 pcs. |
| IES-1-22 inductive thoracic and abdominal respiratory effort sensor (for stationary polysomnographs, 2.2 m) | 1 pcs. |
| PTZ IP 4x zoom dome camera Dahua | 1 pcs. |
| Hanging Mount Adapter Dahua PFA103 | 1 pcs. |
| Wall Mount Bracket Dahua DH-PFB3025 | 1 pcs. |
| Video camera tripod HAMA Star61, 600-1530 mm | 1 pcs. |
| GST25E12-P1J Industrial adaptor (Mean Well) | 1 pcs. |
| Camera tripod mount plate | 1 pcs. |
| Patch cord UTP | 3 pcs. |
| Wireless router | 1 pcs. |
| USB-LAN hub КМ-52Е | 1 pcs. |
| KM-52Е USB/LAN hub | 1 pcs. |
| SCZ-1 mains supply cable | 1 pcs. |
| Technical manual «KМ-52Е USB-LAN Hub» | 1 pcs. |
| Power extension cable | 1 pcs. |
| Neuron-Spectrum-PU/PSG patient unit | 1 pcs. |
| C-5 cable PU/PSG | 1 pcs. |
| Shoulder strap | 1 pcs. |
| Technical manual «Neuron-Spectrum-PU/PSG patient unit» | 1 pcs. |
| | |
| --- | --- |
| Transpore medical tape | 1 pcs. |
| Ten20 сonductive paste | 1 pcs. |
| Technical manual «AS-7, AS-8, AS-9, AS-10 Airflow Sensors» | 1 pcs. |
| Technical manual «SS-1, SS-1-08 Snoring Sensors» | 1 pcs. |
| Technical manual «ES-4-05, ES-4-22 Chest and Abdominal Res-piratory Effort Sensors» | 1 pcs. |
| Technical manual «PS-1-20, PS-2-05, PS-2-22 Body Position Sensors» | 1 pcs. |
| Technical manual «Neuron-Spectrum-PU5, Neuron-Spectrum-PU6 patient units» | 1 pcs. |
| Guidelines "Xpod® Model 3017LP External-wired Pulse Oximeter connection to devices manufactured by Neurosoft LLC" | 1 pcs. |
| Technical manual "Electrodes for EMG and EP Studies" | 1 pcs. |
| Guidelines "Dahua DH-SD29204T-GN Video Camera" | 1 pcs. |
| Package set | 1 pcs. |
| License for Neuron-Spectrum.NET software with additional Neuron-Spectrum.NET/PSG software module | 1 pcs. |
| Equipment for EMG, NCS and SSEP study ''Neuron-Spectrum-EMG'' | 1 pcs. |
| Dedicated keyboard DK-01 | 1 pcs. |
| DK-01 dedicated keyboard | 1 pcs. |
| USB cable A-B | 1 pcs. |
| Technical manual «DK-01 Dedicated Keyboard» | 1 pcs. |
| Footswitch (USB) | 1 pcs. |
| Skate adjustable electro stimulating probe | 1 pcs. |
| KM-7-2 USB hub with cable | 1 pcs. |
| USB-hub KM-7-2 electronic unit | 1 pcs. |
| USB cable (A-B) | 1 pcs. |
| SCZ-1 mains supply cable | 1 pcs. |
| Technical manual «KM-7-2 USB Hub» | 1 pcs. |
| Surface electrode with cable SE-1 | 2 pcs. |
| Bar electrode BE-2 (adult) | 1 pcs. |
| Bar electrode BE-1 (pediatric) | 1 pcs. |
| Ring electrode with cable RE-2 (wide) | 1 pcs. |
| Ground electrode with cable GE-1 (pediatric, 250 mm) | 1 pcs. |
| Ground electrode with cable GE-2 (adult, 400 mm) | 1 pcs. |
| Cup EP electrode with cable EEP (5 pcs. 1 m) | 1 pcs. |
| Disposable concentric EMG needle electrode B50600 (l=37 mm, d=0,45 mm) | 2 pcs. |
| Adapter for needle electrode connection D60451 | 1 pcs. |
| F9049 disposable ECG electrode | 100 pcs. |
| Cable for disposable electrode with alligator clip and touch-proof connector (red, 0.2 m) | 1 pcs. |
| Cable for disposable electrode with alligator clip and touch-proof connector (black, 0.2 m) | 1 pcs. |
| Stimulating bar electrode SBE-2 (adult) | 1 pcs. |
| Measuring reel | 1 pcs. |
| Marker pen | 1 pcs. |
| Ten20 сonductive paste | 1 pcs. |
| Сonductive and abrasive paste, G999 (EVERI) | 1 pcs. |
| Transpore medical tape | 1 pcs. |
| Package set | 1 pcs. |
| Workbook "EMG Studies Using Neurosoft Digital EMG and EP Systems" | 1 pcs. |
| Neuro-MEP.NET software license with Neuro-MEP.NET/EMG module | 1 pcs. |
Options
Сертификат о признании утверждения типа СИ в Республике Казахстан

241,97 KB

Registration Сertificate _Costa Rica

64,41 KB

Свидетельство об утверждении типа СИ

5,76 MB

Нейрон-Спектр-5_Декларация о соответствии_RF_15.10.2019

1,02 MB

Свидетельство о регистрации ПО Нейрон-Спектр.NET

1,03 MB

Нейрон-Спектр-5_Декларация о соответствии_EEU_13.11.2019

473,29 KB

Нейрон-Спектр-5_Регистрационное удостоверение_RF_24.09.2019

8,68 MB

Registration Сertificate _Indonesia

4,04 MB

Registration certificate_Taiwan

5,91 MB

Registration certificate _China

282,79 KB

Registration certificate_Argentina

136,13 KB

Нейрон-Спектр-5S, 4ВПМS_Декларация о соответствии_RF_16.05.2019

1,27 MB

Нейрон-Спектр-5S, 4ВПМS_Регистрационное удостоверение_RF_01.04.2019

4,59 MB

Registration certificate_Australia_class IIb

142,33 KB

Нейрон-Спектр-5, 5S, 4ВПМ_Регистрационное удостоверение_BY

6,74 MB

Neuron-Spectrum-5,5/S,4/EPM, 4/EPM/S_Registration certificate_Serbia

2,03 MB

EC certificate

700,66 KB

Neuron-Spectrum_Brazil

2,51 MB

Registration certificate_El Salvador

712,79 KB

Приказ Росстандарта №591 «Об организации работ по внесению изменений в сведения об утвержденных типах средств измерений и стандартных образцов»

39,27 KB