Video EEG Monitoring System
long-term video EEG monitoring
EEG workstation and mobile system
up to 3 Full HD video cameras
special electrode caps
EEG analysis during acquisition
pre-surgical monitoring to localize pathologic activity in the brain
data storage on removable media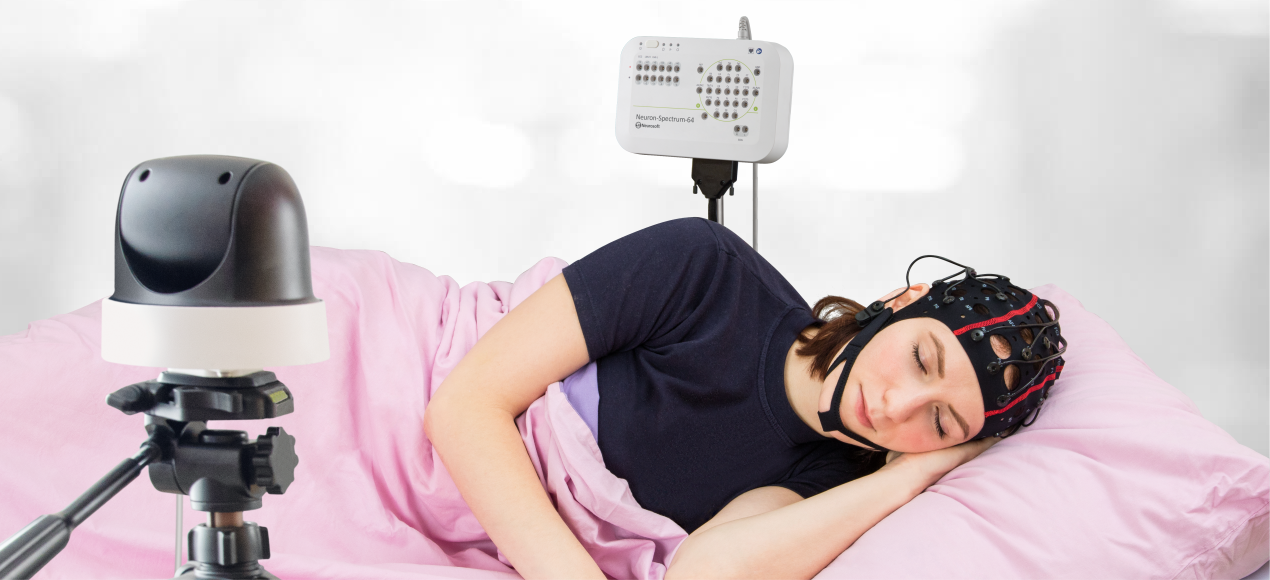 Description
Long-term video EEG monitoring
Neuron-Spectrum-64 provides synchronous long-term video and EEG monitoring even for several days. The high-quality EEG signal and frame-accurate video synchronization are guaranteed. You can also connect the recording unit to a local area network (LAN) to place the patient in one room, and the analysis and data processing unit to another one.
EEG workstation and mobile system
Depending on your needs, we can offer you stationary or mobile system for video EEG monitoring.
If you have a special room, you can place EEG workstation here. In this case, the patient's room and the room for EEG review and analysis can be removed from each other at any distance.
If there is no such room, the mobile system for video EEG monitoring is a perfect choice that allows you to perform examinations in any suitable room of your medical facility.
Up to 3 Full HD video cameras
In your EEG lab, you can perform continuous synchronous video EEG recording using up to 3 network cameras with maximum resolution of 1920*1080 (Full HD), automatic day and night video recording with infrared lighting, and a built-in microphone. With such functionality, you will never miss a single detail. The storage and review of recorded video is ensured by modern video compression algorithms and editing tools.
Special electrode caps
The special electrode caps with built-in electrodes are a perfect choice for long-term EEG monitoring. There is no need to use adapters or other devices, just connect the cap to the standard connector on the EEG system. Our systems are delivered with special extension cables for electrode caps for the patients to feel comfortable and move freely within the place they are examined.
The quality of electrode placement is very important during the whole acquisition process. The function of continuous impedance monitoring is implemented in Neuron-Spectrum-64. If the impedance of any electrode increases, the software informs the operator immediately. Throughout the examination, the impedance of each electrode is saved and displayed as a trend. So, you can always see the impedance value at the required time moment.
EEG analysis during acquisition
To save your time on routine operations, EEG search and analysis algorithms are built into Neuron-Spectrum.NET. And you can focus on really important things. During the acquisition, the software is already recording suspicious phenomena and making calculations and analysis of EEG signal. So, you can view the recorded video and EEG traces directly during the acquisition. By the time the examination is finished, you can create a report generated automatically according to a preset template.
Pre-surgical monitoring to localize pathologic activity in the brain
Before surgical therapy of pharmacoresistant epilepsy, it is important to localize the pathological activity in the brain. Using Neuron-Spectrum-64, you can perform the pre-surgical monitoring with both scalp and invasive (cortical or subcutaneous deep) EEG electrodes and calculate the location of pathological areas with a special 3D localization software.
During the acquisition, the monopolar, bipolar or mixed montages can be used in the 10-20 or 10-10 systems. You can change the montage at any moment: before or during the acquisition or during the review and analysis of EEG record. You can also change the channel settings. For example, if you cannot remove the EEG baseline in frontal leads, specify the higher values for high-pass filter only for them. Change the parameters of any channel directly during the acquisition.
Data storage on removable media
When the exam is finished, you can record it on a removable media and give it to the patient or send to another medical facility. Using Neuron-Spectrum.NET, you can save the study to DVD or a flash card with a special viewer program and view the examination on any computer without installation.
| | |
| --- | --- |
| | 1 pcs. |
| Neuron-Spectrum-64 electronic unit | 1 pcs. |
| SU-3 stand for electronic unit | 1 pcs. |
| Stand mount | 1 pcs. |
| PhS-1 LED photic stimulator | 1 pcs. |
| SU-14 stand for LED photic stimulator | 1 pcs. |
| Set of EEG electrodes , 25 bridge electrodes NS015106.007, 3 ear electrodes NS015106.015 | 1 pcs. |
| EEG helmet, blue , size 54-62 | 1 pcs. |
| EEG helmet, green , size 48-54 | 1 pcs. |
| EEG helmet, yellow , size 42-48 | 1 pcs. |
| Cable for bridge or ear EEG electrode, white, 1 m | 22 pcs. |
| Cable for bridge or ear EEG electrode, red, 1 m | 2 pcs. |
| Cable for bridge or ear EEG electrode | 1 pcs. |
| Reusable limb clamp ECG electrode F9024SSC , adult | 4 pcs. |
| Cable for ECG channel | 1 pcs. |
| Technical manual "Neuron-Spectrum 61, 62, 63, 64, 65, Neuromonitor" | 1 pcs. |
| User manual "Neuron-Spectrum.NET" | 1 pcs. |
| Annex to user manual "Exam Manager" | 1 pcs. |
| Package set | 1 pcs. |
| Package set | 1 pcs. |
| License for Neuron-Spectrum.NET software | 1 pcs. |
| Equipment for long-term video EEG monitoring "Neuron-Spectrum-Video" | 1 pcs. |
The delivery set can differ from country to country. Request the actual delivery set for your country from your local representative.
Нейрон-Спектр-61,62,63,64,65, Нейромонитор_Декларация о соответствии_RF_05.03.2019

928,41 KB

Нейрон-Спектр-61,62,63,64,65, Нейромонитор_Регистрационное удостоверение_RF_12.02.2019

5,42 MB

Registration certificate_Argentina

136,13 KB

Registration certificate_Australia_class IIb

142,33 KB

EC Certificate

410,62 KB

Registration certificate_Indonesia

6,06 MB

Нейрон-Спектр-61,62,63,64,65_Регистрационное удостоверение_KZ_21.05.2021

5,34 MB

Declaration of Сonformity

263,9 KB

Registration certificate_Serbia

2,01 MB

Neuron-Spectrum-61-65_Registration certificate_Canada

152,01 KB
Guideline Twelve: Guidelines for Long-Term Monitoring for Epilepsy // Journal of Clinical Neurophysiology, 2008, no.3, pp. 170-180.

316,31 KB

Neuron-Spectrum.NETω

1,97 MB

Beniczky S., Schomer D. L. Electroencephalography: basic biophysical and technological aspects important for clinical applications // Epileptic Disorders, 2020, vol. 22, i.6, pp. 697–715.

5,15 MB