Electrical stimulator for treatment of anogenital organs and pelvic floor disorders
---
effective post-operative rehabilitation
treatment in a medical facility and at home
handheld
up to 10 hours of continuous operation
intuitive interface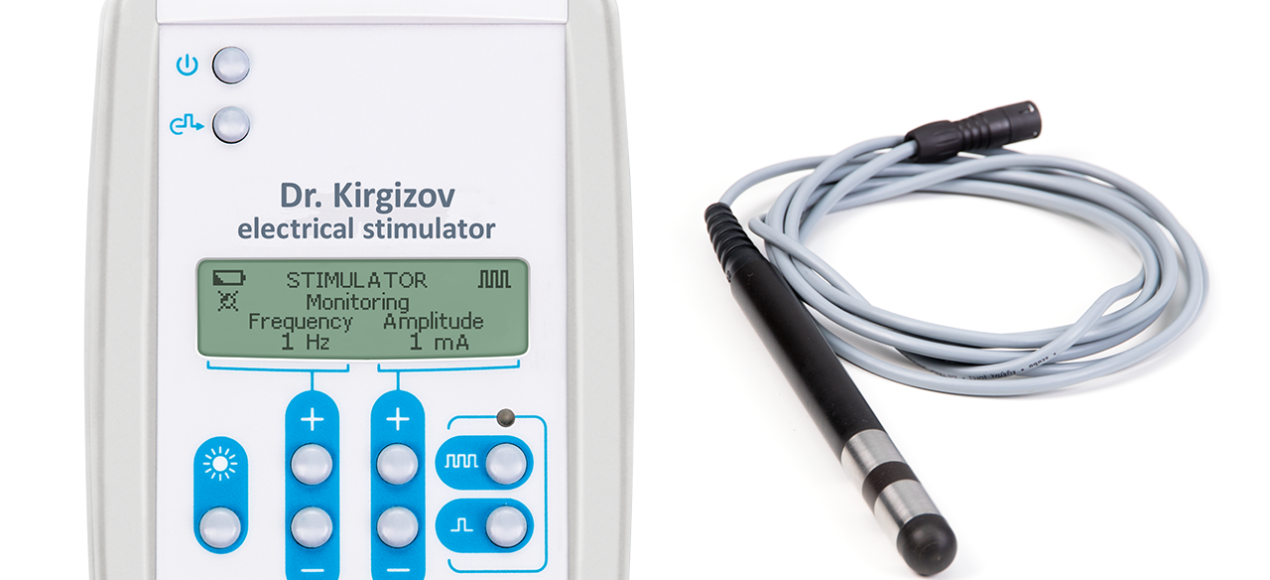 Description
Effective post-operative rehabilitation
The "Dr. Kirgizov" electrical stimulator is successfully used in the rehabilitation of patients after a wide range of reconstructive and plastic surgery on the perineum, abdominal cavity, and pelvic organs.
The stimulator allows for timely implementation of rehabilitation measures in early and late post-operative periods providing good clinical results. Thus, the effectiveness of this technology in surgical treatment and rehabilitation with high anorectal anomalies is 93,6%.
To enhance the functioning of the sphincter apparatus and muscles during post-operative rehabilitation as well as for nonoperative treatment, you can perform electrical stimulation using the rectal probe (included in the base delivery set). The shape and surface of the probe ensure easy and painless insertion, as well as ease of cleaning after each procedure.
Treatment in a medical facility and at home
The stimulator is easy to operate, so you can use it both in a medical facility and at home. Now, there is no need to go to the clinic for rehabilitation. Just switch on the device, adjust the stimulation parameters according to the recommendations of your doctor and start the rehabilitation procedure.
Intuitive interface
The electrical stimulator is handy and easy-to-use. On the front panel of the stimulator, there are all control buttons you need – on/off button, stimulator mode button, and stimulation frequency increase/decrease button. There is also the LCD display with selected stimulation parameters and battery charge level.
The battery allows 8-10 hours of continuous operation without recharging, so don't worry that the stimulator stops working at a wrong time.
Delivery Set
The delivery set can differ from country to country. Request the actual delivery set for your country from your local representative.
| | |
| --- | --- |
| Technical Manual «Dr. Kirgizov electrical stimulator » (rehabilitation configuration) | 1 pcs. |
| Package set | 1 pcs. |
Options
Нейро-Токс, Миостимулятор доктора Киргизова_Регистрационное удостоверение_RF_18.08.2017

8,82 MB

Нейро-Токс_Декларация_о_соответствии_EAC_19.08.2019

995,27 KB

Neuro-IOM_K190703_US_22.05.2021

216,02 KB