System for Cardiac Rehabilitation with ECG Control
Cardiac Rehabilitation with ECG Control
---
cardiac rehabilitation in up to 16* patients simultaneously
wireless ECG monitoring
dynamic control of all rehabilitation parameters in dual monitor mode
individual training protocols, complex rehabilitation programs
6 different models of ergometers and treadmills are supported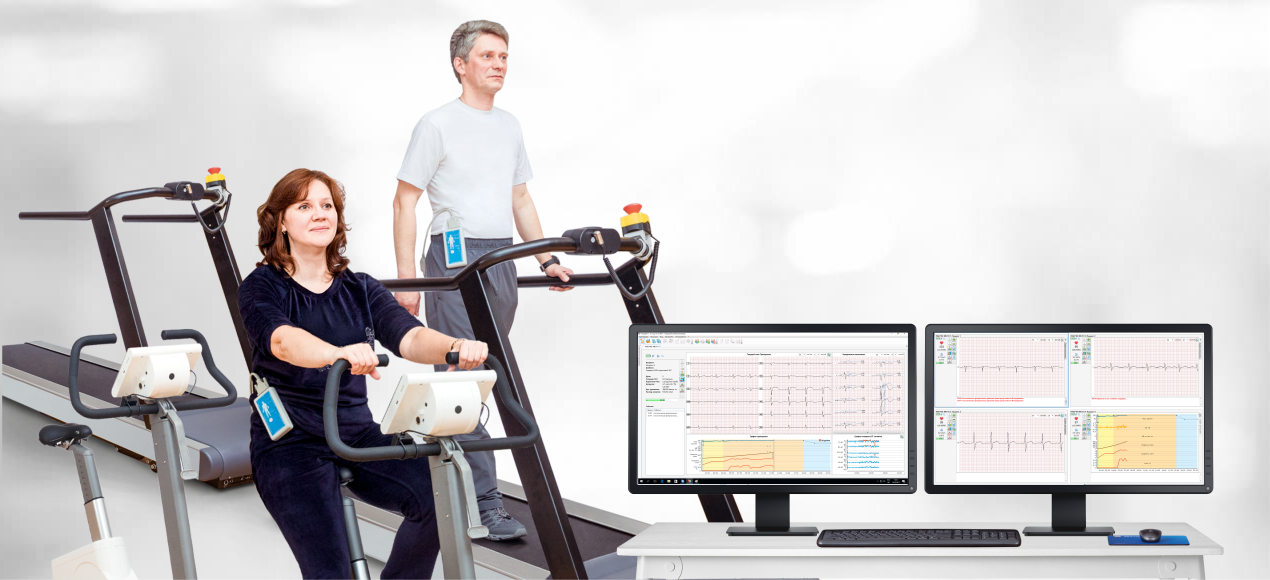 Description
Cardiac Rehabilitation in up to 16* Patients Simultaneously
The exercise room can be equipped with up to 16 training devices. This allows performing 80 training sessions per day, 400 training sessions per week and 1600 training sessions per month.
Wireless ECG Monitoring
Before the training start, the wireless Poly-Spectrum-8/EX digital system is fixed on the patient to record high-quality 12-lead ECG which is transferred to the physiotherapist's workstation via Bluetooth. Thus the obtained ECG is free from artifacts and noises caused by cable vibrations.
Dynamic Control of all Rehabilitation Parameters in Dual Monitor Mode
This mode implies using two monitors to view and assess different patient's data during the training. The first monitor shows current and target heart rate, load, blood pressure, ECG recorder battery status, graphical data for one ECG lead or summary plot of the training session for all the patients. The second monitor is intended to review detailed data including 12-channel ECG of just one patient.
Individual Training Protocols, Complex Rehabilitation Programs
The software allows customizing different training protocols and specifying different load: constant, interval, automatically adapted (according to HR or ST level). The physiotherapist can adjust the load manually at any time during the training.
Notifications
Smart software notifies the specialist when the specified parameter is exceeded using the color-coded warning messages, audio beeps, and related icon blinking. Adjust the related parameters to respond automatically to obtained notifications with a decrease of load, switch to cool-down phase or training stop and the software shall execute them precisely.
Different Ergometers and Treadmills are Supported
Cycle ergometers:
Lode Corival
Kettler E-series
E-bike
Treadmills:
Lode Valiant
GE Healthcare
TrackMaster
Options
Свидетельство о регистрации ПО Мультитренер

114,05 KB

Регистрационное удостоверение Аккордикс

12,44 MB

Декларация о соответствии Аккордикс

639,48 KB

Регистрационное удостоверение Мультитренер и Эргопойнт

1,27 MB

Декларация о соответствии Мультитренер и Эргопойнт

91,68 KB