Transcranial Electrical Stimulator
---
DC output current – up to 2mA
continuous monitoring of electrode impedance
two modes of use: inpatient and outpatient
storage – up to 250 sessions
USB connection for advanced control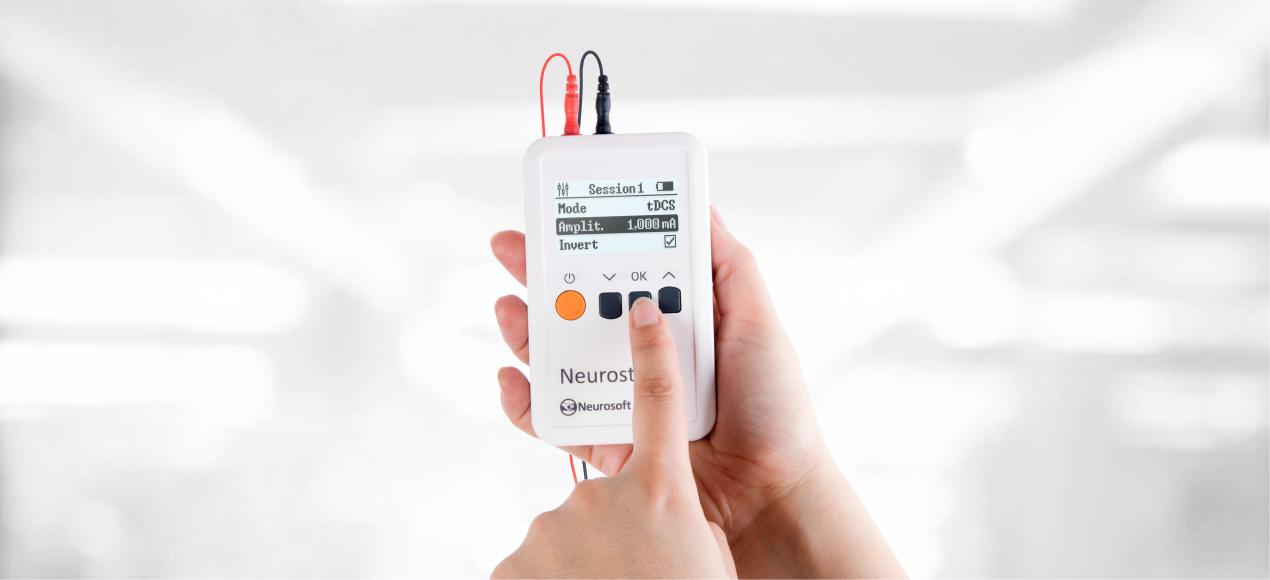 Description
DC output current – up to 2mA
Neurostim is intended for the transcranial noninvasive stimulation with direct low current (up to 2 mA).
The current generates the electrical field changing the brain cortex excitability. Such brain impact has therapeutic effect in the treatment of different disorders including fibromyalgia, major depressive episode, addiction/craving, lower limb neuropathic pain and recovery of motor functions after stroke and brain injuries.
Continuous monitoring of electrode impedance
It is very important to keep the reliable skin-electrode contact during the whole stimulation procedure. Poor electrode contact due to improper electrode placement or dry-out can result in decreased therapeutic effect. Neurostim ensures continuous impedance monitoring. If the electrode impedance is too high, a notification will sound and the stimulation will be terminated (paused).
Two modes of use: inpatient and outpatient
For inpatient treatment Neurostim is supplied with pre-defined treatment protocols for most commonly used therapy. Just select the protocol for the particular patient from the list.
For outpatient treatment you should create a treatment course (up to 250 stimulation sessions). A patient will start the treatment sessions one by one. The completed session will be locked and cannot be used for the treatment.
USB connection for advanced control
The software can be used to control and adjust stimulator through USB. In this mode the stimulator is also powered through USB. The software is a simple way to manage the session list. You can add, remove, edit, import and export session, download user-defined waveform.
Delivery Set
The delivery set can differ from country to country. Request the actual delivery set for your country from your local representative.
| | |
| --- | --- |
| Rubber tape fixator | 2 pcs. |
| Technical Manual «Neurostim» | 1 pcs. |
| Warranty certificate | 1 pcs. |
| Package for Neurostim electronic unit | 1 pcs. |
| Rechargeable battery GP 20R8H 200 mAh, 9 V, NiMH | 2 pcs. |
| BC-1001A Ni-MH /Camelion сharger | 1 pcs. |
| License for the use of software "Neurostim" | 1 pcs. |