Poly-Spectrum-12/E
Portable 15-channel Digital ECG System with Possibility of Transesophageal ECG Leads Recording and Pacemaker Pulses Detection
Propriétés générales:
12 high-quality standard ECG leads
2 additional ECG channels compatible with transesophageal ECG leads
1 breath channel
sampling rate — 10000 Hz, A/D converter — 24 bits
pacemaker detection
Poly-Spectrum-Analysis ECG measurement and interpretation software
Poly-Spectrum-Express software
*Nous ferons une proposition commerciale ou vous aiderons avec le choix du matériel
Ecrive au service commercial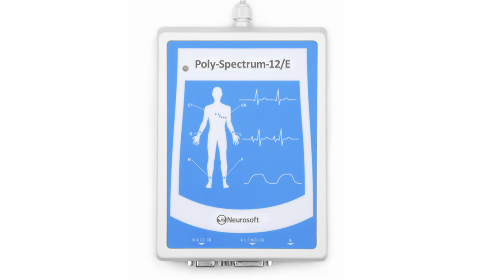 Additional Channels for Transesophageal ECG Leads Registration

If you use Poly-Spectrum-12/E, the transesophageal ECG leads recording is performed parallel to the recording of all 12 leads of surface ECG. The additional channels are developed so that transesophageal electrodes polarization in the process of stimulation does not cause ECG recording blockage.

The additional channels can also be used for surface chest leads (V7 and V8) recording.

Computer Connection via High-speed USB

The connection via high-speed USB port provides the quick data transfer, the facility of the initial equipment setup, the compatibility with the wide range of the personal computers, the lack of the necessity in separate power supply unit, which guarantee the operation stability.

Sampling Rate is 10000 Hz

The sampling rate which is increased up to 10000 Hz allows to receive the incredibly clear and detailed ECG signals.

High-quality Accessories

Poly-Spectrum-12/E is supplied with the cables and the electrodes manufactured by the leading world-wide manufacturers.

Built-in Pacemaker Pulses Detector

Poly-Spectrum-12/E detects and marks pacemaker pulses automatically by flashing indicator in the upper-right corner of the screen during ECG recording and by blue dashed line on recorded ECG (see the picture to the right).

High-power hardware and software filters reject the isoline displacement of ECG leads both during the stimulation and at the moment of its termination.
Le support de l'interface H7 permet d'intégrer tous les systèmes de diagnostic Neurosoft au système d'information des cliniques.
Attention! La livraison définie ci-dessus est recommandée par Neurosoft. Cependant, cela peut différer d'un pays à l'autre. Demandez la livraison standard définie pour votre pays à votre représentant local.
Poly-Spectrum-12/E electronic unit – 1 pcs.
2 Lead ECG cable with banana connector, 2.5 M – 1 pcs.
Technical Manual "Poly-Spectrum-12/Е" – 1 pcs.
Transportation bag – 1 pcs.
License for the use of software "Poly-Spectrum.NET" with additional software module "Poly-Spectrum.NET/Analysis" – 1 pcs.