Neuron-Spectrum-Video
Long-term Video EEG Monitoring System
Main Features:
compatible with any Neurosoft EEG system
synchronous video recording from up to 3 cameras
day and night video recording with infrared hightlighting
LAN connection to ensure free moving of a patient
*Get a quote, online demo or more information
Write to sales department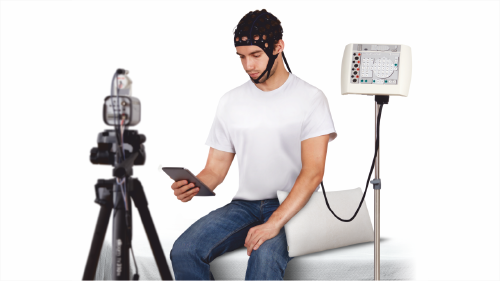 Synchronous long-term recording of EEG, video from up to 3 cameras, audio information from up to 3 microphones. The synchronization accuracy is 1 frame
Control of camera position ("tracking") and zoom from computer, programming of up to 6 preliminary presets of camera position
Night video monitoring with the use of special video camera or infrared highlighting
Instantaneous compresion of video image and audio information
Marking the arbitrary events during the recording
Synchronous review of the recorded EEG and video information on one (PiP) or two monitors with the normal or increased speeds, by frames
Instantaneous positioning of video image by EEG temporal slice, electroencephalogram by video frame, instantaneous positioning to the selected event marker, video fragment or time slice
Compressed (on one screen) representation of the recorded EEG (as trends of EEG parameters or pseudo-3D spectrum), instantaneous positioning on electroencephalogram with one mouse click on trend graph
Wide capabilities to edit video record and both video record and EEG. The review program is distributed freely. Automatic review of recorded disks on any computer
* Neuron-Spectrum-Video software is included in delivery set of Neuron-Spectrum-PSG program for polysomnography study
Neuron-Spectrum-Video software module allows performing the synchronous long-term recording of EEG, polygraphic channels, video from up to 3 cameras with position and zoom control from computer, and audio information from up to 3 microphones. The spheres of application are epileptology and polysomnography.
Neuron-Spectrum-Video software also include the digital zoom (in/out) of the image fragments and editing of both EEG and video fragments. The module allows creating a disk with different fragments that are "cut" out of the long record, burning- them on CD or DVD together with the built-in review software. Such disk can be reviewed on any computer.
Attention! The delivery set below is recomended by Neurosoft. However, it can differ from country to country. Request the actual delivery set for your country from your local representative.
— Video camera with IR-projector, microphone and remote zoom control
— Video capture card
— Electrode system for long-term EEG recording (MCScap-EC21) (sizes: 36-42, 42-48, 48-54, 54-60, 60-66) – 3 pcs.
— Elastic bandage for electrode cap fixation
— Electrode cap extension cable
— USB extension cable
— USB hub KM-7
— Holder for IR projector or highly sensitive patient's microphone
— Video camera tripod
— Neuron-Spectrum.NET software with Video module for synchronous EEG and video recording, review, analysis, storage and editing
— User manual