BRAINBOX® EEG-1166
up to 256-channel configurable EEG System
Main Features:
from 64 up to 256 EEG channels
network Interface
Neuron-Spectrum.NET support
multiple options for electrode connections
smallest of the world EEG amplifier
*Get a quote, online demo or more information
Write to sales department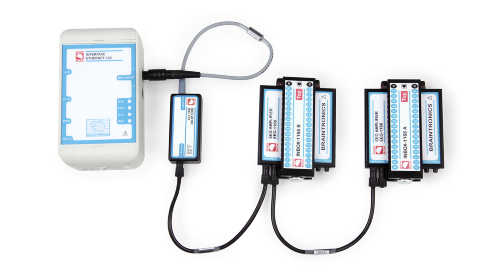 From 64 up to 256 EEG channels
The BRAINBOX® system is a very flexible instrumentation setup for Neurophysiology. It will continuously be expanded with new developments. With currently available amplifiers it can be configured from 64 up to 256 EEG channels.
Network Interface
The BRAINBOX® ETHERNET SYSTEM communicates with the PC by means of the ETHERNET-102 (V2) INTERFACE that connects to a standard 10/100 network port on a PC. The BRAINBOX® system even has the flexibility to record several patients over one Interface on a single PC.
Neuron-Spectrum.NET support
Neuron-Spectrum.NET software provides the EEG recording on any BRAINBOX® EEG system (up to 256 digital derivations).
Multiple options for electrode connections
For quick and easy connection of Electrode Caps, all amplifiers are equipped with multipin connectors.
For the connection of electrodes with standard Touchproof Plugs, the EEG-1166 amplifiers can be connected via a clip-on INBOX-1166. The INBOX-1166 is placed over the EEG-1166 amplifier as a clip and connects the multi pin connector to 64 Touch Proof inputs for EEG, G1/G2 and Ground Reference.
Smallest of the world EEG amplifier
This "smallest of the world" EEG amplifier measures only 9 x 10 x 1 cm and weighs less than 100 gram. Indeed very small, but with excellent performance! The Digital FIR filters have a linear phase response and attenuate -40dB (!)at ½ Sample Rate for very low aliasing errors in your analysis results.
Attention! The delivery set below is recomended by Neurosoft. However, it can differ from country to country. Request the actual delivery set for your country from your local representative.
EEG-1166 Amplifier
INBOX-1166
ETHERNET-102 Interface
ISO-101 Isolator