Neuro-MS/D
Therapeutic
Transcranial Magnetic Stimulator
Main Features:
application: psychiatry, neurology
solution for therapeutic repetitive transcranial magnetic stimulation (rTMS)
number of pulses generated during one session – up to 10 000
Neuro-MS.NET software to control magnetic stimulator
For North America USA customers please visit this page.
*Get a quote, online demo or more information
Write to sales department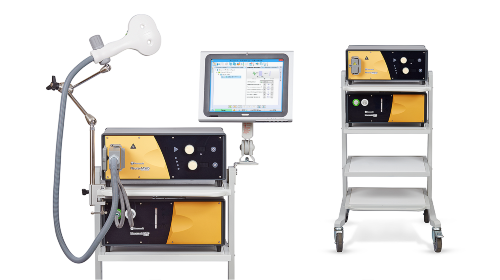 Application: psychiatry, neurology
The principle of therapeutic magnetic stimulation is based on the following. The magnetic stimulator uses the magnetic pulses of short duration. The emerging high-intensity electromagnetic field easily penetrates through clothes, cranium bones and soft tissues. They exert influence upon deep nerve centers, peripheral nerves, cerebral and spinal cord, which are inaccessible for other kinds of stimulation.
This stimulation is commonly used to treat depressions (including severe and drug-resistant), tinnitus. Besides, there are positive and encouraging results obtained at rehabilitation of post-stroke patients and extensive list of other neurological and psychiatric diseases.
Psychiatry:
Treatment of depressions, schizophrenia, obsessive-compulsive disorders, post-traumatic stress, manias and other psychiatric disorders.
Neurology:
Treatment of central and peripheral nervous system disorders: neuropathic pain, stroke, migraine, Parkinson's disease, epilepsy, tinnitus etc.
Solution for therapeutic repetitive transcranial magnetic stimulation (rTMS)
Main unit with cooling system and cooled coil with a convenient holder that facilitates fast and easy coil fixation in any position by rotating one screw. All mounted on an easy running trolley. The computer to control the stimulation can be also included in the delivery. In this configuration system allows to perform long sessions of biphasic rTMS with working range of frequencies up to 30 Hz and reaches maximum intensity on about 5 Hz.
Select any EMG recorder from a wide list of neurophysiological systems made by Neurosoft to record motor evoked potentials (MEPs).
Number of pulses generated during one session – up to 10 000
The cooling unit and cooled coils are included in the delivery set of Neuro-MS/D to avoid overheating of coils during the long treatment session. The cooling unit itself is a tank with the cooling liquid, the pump running the cooling liquid through the coil and the fridge. The unit allows increasing continuous operation up to 10 000 pulses without overheating. Practically, it means that stimulator can operate for hours without overheating.
Neuro-MS.NET software to control magnetic stimulator
This delivery set includes the special Neuro-MS.NET software that allows to customize any stimulation templates. This software keeps patient database, detects motor response threshold and controls the stimulation courses and sessions. You can perform the stimulation according to already specified templates and also create own ones or edit the preset stimulation programs.
Preset templates for: depression, Parkinson's disease, stroke, tinnitus etc.
The support of H7 interface allows integrating all diagnostic Neurosoft systems to information system of clinics.
As a psychiatrist who does a lot of TMS treatments, I was interested when I found out that the NeuroSoft TMS system was FDA cleared. When I looked into it I found that it was the NeuroSoft TMS system which I was first introduced to in Singapore in 2015. I saw it demonstrated at every conference since that time but I did not appreciate it until I considered purchasing the system. The price is the most obvious attractive feature. It is not only about $10,000 less then the nearest competitor, but its performance matches and even exceeds some of the other TMS systems currently on the market. When my unit arrived and Fred showed me how it worked I was amazed at how simple it was. We can train our technicians on this machine in about a minute. The movement of the coil holder is smooth and fluid. This system runs very cool even when treatments are back to back for several hours. We have had no problem overheating. This NeuroSoft TMS system is a superb choice. We have seen equal results with it and have no complaints from patients or technicians. I can recommend this system highly

We bought a NeuroSoft system few months ago and this is our first TMS machine. We are very pleased with it so far. It gives us flexibility to perform wide range of treatments. No complaints from patients or technicians. Very easy to learn. We especially appreciate the smoothness of its work and the integration with the Neuro-MS.NET software. Many important treatment protocols for wide variety diagnoses are preconfigured in the software. As soon as you do a measurement the right algorithm takes place. You can do back to back treatments without machine being overheated. Synthetic oil cooling is a great solution! The machine is very quiet. The placement of a coil is very flexible, you have the freedom to choose the location very precise and perform focused and localized treatment. The price of the system is also very attractive compare to all other machines on the market. I would recommend this system to any TMS provider. We think this is the best TMS package out there as of yet

Neurosoft beats the competition in many ways, including ease of use, great interface, and equipped with software containing automated protocols. The team is outstanding with personalized service!

The NeuroSoft rTMS system is well built, easy to maneuver around the exam room, and is quieter than a formally used rTMS system. The software interface is very user friendly with nice nearly-automated patient treatment reports. We find it be a good value
Attention! The delivery set below is recomended by Neurosoft. However, it can differ from country to country. Request the actual delivery set for your country from your local representative.
Magnetic stimulator "Neuro-MS/D" – 1 pcs.

Neuro-MS/D main unit 1pcs.
Neuro-MS/D cooling unit 1pcs.
Technical Manual "Neuro-MS/D" 1pcs.
Technical Manual «Coils for Magnetic Stimulatorr» 1pcs.
User manual «Neuro-MS.NET (ver.2)» 1pcs.
''Transcranial Magnetic Stimulation'' handbook by Moacyr Alexandro Rosa and Marina Odebrecht Rosa 1pcs.
Package 2pcs.
License for the use of software «Neuro-MS.NET» 1pcs.