Visor2
TMS Neuronavigation System
Main Features:
Transcranial magnetic stimulation allows performing painless focused stimulation of various brain regions. Specialist performing TMS can consider what brain region is stimulated only having sufficient knowledge of brain anatomy and the shape of magnetic field induced by a coil. Nevertheless, the stimulation remains "blind". Visor2™ TMS navigation system provides the opportunity to see the stimulated brain region.
*Get a quote, online demo or more information
Write to sales department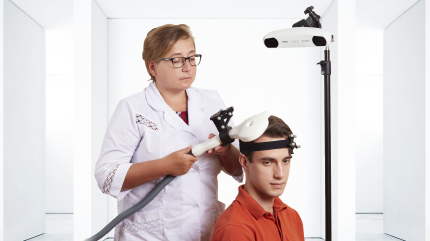 Practical Application of TMS Navigation System
For research:
in studies of magnetic stimulation influence on various brain areas;
in studies of brain's plasticity.
In a lab:
for the performing of rTMS treatment with high accuracy localization of stimulation area;
for the mapping of motor brain areas at tumors (tumor can displace
the motor area by a distance of up to several centimeters; TMS with navigation allows to define the location of new motor area);
for the research of brain plasticity after strokes.
Attention! The delivery set below is recomended by Neurosoft. However, it can differ from country to country. Request the actual delivery set for your country from your local representative.
Set of IR Cameras
Infrared cameras connected to PC track positions of special fiducial markers with up to 0.25 mm accuracy.
Coil Tracker
Tracker is attached to the coil and allows camera to define the coil position and orientation at any moment.
Head Bandage with Special Tracker
The tracker lets the system to know current position and orientation of patient's head.
EMG Amplifier
EMG amplifier allows system to acquire muscle evoked response to magnetic stimulus.
Specialized Software
The software performs all necessary calculations and displays on the screen the real-time composite image of 3D brain map combined with depth, location, and shape of the magnetic field in relation to the subject's brain.
Personal Computer
Neuro-MS/D magnetic stimulator
Visor2 navigation system works with Neuro-MS/D magnetic stimulator. Stimulator is connected to the system through trigger input, so it can "inform" the system when a user send stimulus to coil. At that moment the system starts EMG acquisition (if EMG system is connected) and marks the stimulated point on 3D brain map on the screen.
Stands and Trolleys for System Positioning in Laboratory