Neuro-EMG
4-channel EMG and NCS System
Main Features:
Electroneuromyography: motor and sensory nerve conduction study (NCS), F-wave, H-reflex (also including paired stimulation), motor and sensory inching
Electromyography: spontaneous activity, interference curve, motor unit potentials (MUP)
Neuromuscular junction: repetitive stimulation, jitter (single fiber EMG)
Motor unit number estimation (MUNE)
Additional EMG techniques: blink reflex, sacral reflex, bulbocavernous reflex, T-reflex*, galvanic skin responses
Somatosensory evoked potentials (SEP)
Transcranial magnetic stimulation (TCMS)**
Intraoperative monitoring
Heart rate variability (HRV)***
* if tendon hammer is available
** if Neuro-MS magnetic stimulator is available
*** if corresponding accessories and software are available
*Get a quote, online demo or more information
Write to sales department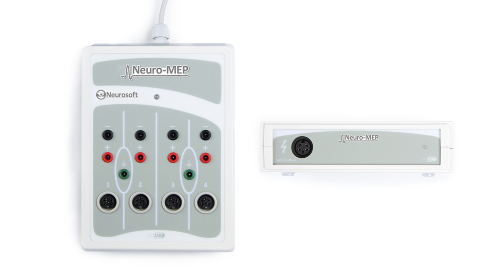 Modular Architecture with the Use of USB Technology

All the electronic units included in the device delivery set are connected to computer with the use of USB interface. It allows combining them flexibly to arrange a configuration corresponding to your own requirements.

For example, if you connect auditory-visual stimulator to Neuro-EMG digital EMG system and add corresponding software module, you will get a possibility to make auditory and visual EP.

It is possible to connect up to 10 (!) different USB units.

Set of EMG Electrodes

EMG electrodes are developed by our company and supplied with digital EMG and EP systems. They correspond to modern requirements.

Software on .NET Platform

Neuro-MEP.NET omega software is developed on .NET platform. It is the most modern technology for program development.

The use of .NET allows increasing the time of creation and the level of program reliability considerably, using the modern and convenient interfaces, and also enhances the device capacities to the maximum.
New EMG Techniques
The list of EMG techniques is enlarged by:
motor and sensory inching
jitter (single fiber EMG)
sacral reflex
bulbocavernous reflex
T-reflex*
vestibular myogenic EP
automatic detection of MUP
conduction velocity combined test (motor/sensory response)
registration and analysis of spontaneous activity and interference EMG in one test
The support of H7 interface allows integrating all diagnostic Neurosoft systems to information system of clinics.
Attention! The delivery set below is recomended by Neurosoft. However, it can differ from country to country. Request the actual delivery set for your country from your local representative.
Neuro-MEP amplifier unit
Electrode holder
Holder
Neuro-MEP electrical stimulator control unit
Dedicated keyboard (dedicated keyboard for quick access to main commands of Neuro-MEP.NET software menu items)

Dedicated keyboard unit
Bluetooth adapter

Clamp for dedicated keyboard
Footswitch (3 pedals)
USB hub KM-7
Set of EMG electrodes

Surface electrode SE-1 – 2 pcs.
Bar electrode (adult) BE-2
Bar electrode (pediatric) BE-1
Ring electrode (wide) with cable RE-2
Ground electrode with cable (adult) (400 mm) GE-2
Ground electrode with cable (pediatric) (250 mm) GE-1
Reusable concentric needle electrode (2 pcs.)
Disposable concentric needle electrode (25 pcs.)
Adapter for needle electrode connection – 2 pcs.
Disposable surface electrode (100 pcs.)
Adapter for disposable electrodes connection with "Alligator" clip (20 cm) – 2 pcs. (red and black)

Cup electrode with cable – 8 pcs.
Pup-jack linker – 2 pcs.
Stimulating bar electrode with replaceable steel and felt stimulation pads (adult) SBE-2
Adjustable electro stimulating probe
Loudspeaker – 2 pcs.
Measuring reel and marker pen
Abrasive paste for skin preparation (160 g)
Electrode adhesive paste Ten20 (114 g)
Electrode gel (bottle with dispenser 250 g)
Medical tape
Neuro-MEP.NET software with EMG, NCS, SEP and Test guide modules

Neuro-MEP.NET software with Test guide module
Neuro-MEP.NET software with EMG module for EMG, NCS and SSEP acquisition, analysis and storage

Workbook "EMG Studies Performing on Digital EMG and EP Systems Manufactured by Neurosoft Ltd."
Technical manual
User manual