Poly-Spectrum-12/E
15-channel Digital ECG System with Transesophageal ECG Lead Recording and Pacemaker Pulse Detection
Main Features:
12 standard ECG leads, 2 transesophageal ECG leads, 1 respiratory channel
the best recording quality among this class devices
pacemaker pulse detection
ECG automatic measurement and interpretation
automatic report generation
*Get a quote, online demo or more information
Write to sales department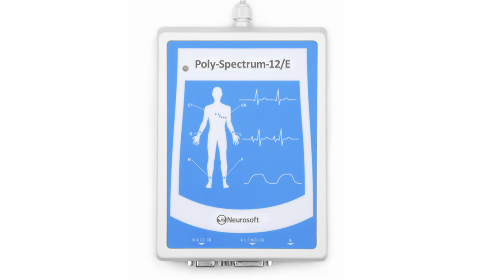 12 standard ECG leads, 2 transesophageal ECG leads, 1 respiratory channel
If you use Poly-Spectrum-12/E, the transesophageal ECG lead recording may be performed simultaneously with the recording of all 12 leads of surface ECG. The additional channels are developed so that transesophageal electrode polarization in the process of stimulation does not cause ECG recording blockage.
The additional channels can also be used to record V7 and V8 chest leads.
The best recording quality among this class devices
The sampling rate which is increased up to 10000 Hz allows to receive clear and detailed ECG records under any conditions. Due to high-quality hardware and software filters as well as advantages of 24 bits A/D converters there is no baseline displacement of ECG leads both during the cardiac stimulation and exercise testing.
Pacemaker pulse detection
The software detects pacemaker (implanted or transesophageal) pulses automatically. It allows to specify the QRS complexes precisely by excluding the pacemaker pulses from the analysis. During the record review the pacemaker pulses are represented by the special markers.
ECG automatic measurement and interpretation
In ECG measurement mode a physician can see the selected QRS complex or the one averaged by all the entire record. In the reference points of QRS complex the program sets the markers automatically. If the physician clicks the QRS complex in any lead with the mouse, it can be zoomed in, measured with the software ruler and markers can be corrected manually if it is necessary.
Automatic report generation
After test termination the report is generated automatically. It includes QRS complex images in all leads, tables of measurements and automatic interpretation. The physician can add any changes to the report. It is possible to generate and print the report automatically.
The support of H7 interface allows integrating all diagnostic Neurosoft systems to information system of clinics.
Attention! The delivery set below is recomended by Neurosoft. However, it can differ from country to country. Request the actual delivery set for your country from your local representative.
Poly-Spectrum-12/E electronic unit – 1 pcs.
2 Lead ECG cable with banana connector, 2.5 M – 1 pcs.
Technical Manual "Poly-Spectrum-12/Е" – 1 pcs.
Transportation bag – 1 pcs.
License for the use of software "Poly-Spectrum.NET" with additional software module "Poly-Spectrum.NET/Analysis" – 1 pcs.