Poly-Spectrum-8/EX
12-channel Miniature Wireless Digital ECG System
Main Features:
12-channel ECG recording with automatic measurement and interpretation
wireless and portable
advanced solution for exercise ECG and resting ECG
Windows and Android-based software applications
optional modules for HRV, stress ECG, PWV, VLP, QT
*Get a quote, online demo or more information
Write to sales department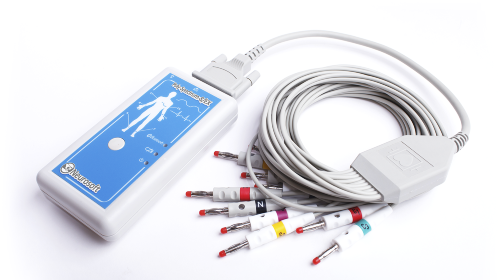 12-channel ECG recording with automatic measurement and interpretation
Our Poly-Spectrum-8/EX digital ECG system is a winning combination for clinical ECG testing. It is specially designed to offer the maximum ECG performance, streamline the workflow and maximize patient throughput. The device provides 12-lead ECG and incorporates the extra channel to record respiratory rate and rythm. Besides, the device can be equipped with optional software modules to ensure the advanced clinical ECG testing.
Wireless and portable
Poly-Spectrum-8/EX fuses the advanced technologies with robust hardware to provide you with unmatched signal qualityduring exercise testing. The obtained ECG is free from movement artifacts and noises due to short high-quality lead wires. The ECG data is sent via Bluetooth. At that the communication range within the direct visibility is not less than 8 meters.
Windows and Android-based software application​​​​​​​
Poly-Spectrum-8/EX digital ECG system differs from other Neurosoft ECG systems as it can operate on Windows PC as well as on the mobile phone using the special application. The application can be installed on any Android smartphone or tablet PC. You can download it right now!
The best choice for exercise stress testing
Cycle ergometry, test on treadmill, orthostatic test and test on Bárány chair reveal the best features of Poly-Spectrum-8/EX. Just under conditions of patient's intensive movements you can really feel the advantages of wireless ECG. As far as the digital ECG system is placed on the patient's body, you can use short ECG cable, and this cable movements will not impact the electrocardiogram quality any more!
Stores raw ECG
If you forgot to set the high pass filter during ECG recording you can do it during review as the record is stored raw.
The support of H7 interface allows integrating all diagnostic Neurosoft systems to information system of clinics.
Attention! The delivery set below is recomended by Neurosoft. However, it can differ from country to country. Request the actual delivery set for your country from your local representative.
Poly-Spectrum-8/EX electronic unit – 1 pcs.
Technical Manual "Poly-Spectrum-8/ЕХ" – 1 pcs.
Transportation bag – 1 pcs.
Lodgement – 1 pcs.
License for the use of software "Poly-Spectrum.NET" with additional software module "Poly-Spectrum.NET/Analysis" – 1 pcs.