Poly-Spectrum-8/E
Miniature 12-channel Digital ECG System with Measurement and Interpretation
Main Features:
12 high-quality standard ECG cable with lead wires
reliable 12-lead ECG recording under any conditions
detection of pacemaker pulses
ECG automatic measurement and interpretation
automatic report generation
SAECG, QT, dispersion, pulse wave velocity
*Get a quote, online demo or more information
Write to sales department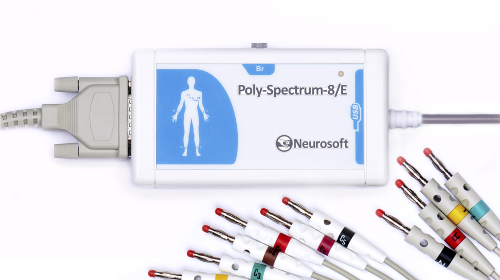 12 high-quality standard ECG leads
Poly-Spectrum-8/E is the ECG system which is a mobile phone in size. It enables a simultaneous recording from 1 to 12 ECG leads. You just have to connect it to USB port of your PC.
High-quality ECG recording under any conditions
Poly-Spectrum-8/E digitizes ECG with high sampling rate. It has the system of hardware compensation of patient cable capacitance change, caused by its movements, and a set of high-capacity digital filters. All these features enable to record high-quality ECG under any conditions.
Detection of pacemaker pulses
Built-in pacemaker pulse detector enables to perform examinations of patients with implanted pacemakers and to carry out exercise and electrophysiological testing using transesophageal cardiac stimulation.
ECG automatic measurement and interpretation
Poly-Spectrum-8/E system (base delivery set) includes Poly-Spectrum.NET/Analysis software for ECG measurement and interpretation.
In ECG measurement and interpretation mode a physician can see the selected QRS complex or the one averaged by the selected epoch. In the reference points of QRS complex the program sets the markers automatically. The automatically generated interpretation is shown in the same window. If the physician clicks the QRS complex in any lead with the mouse, it can be zoomed in, measured with the software ruler and markers can be corrected manually if necessary.
Automatic report generation
When the analysis is completed the report can be generated and printed automatically. It includes QRS complex images in all leads, tables of measurements and automatic interpretation. The physician can add any changes to the report.
The support of H7 interface allows integrating all diagnostic Neurosoft systems to information system of clinics.
Attention! The delivery set below is recomended by Neurosoft. However, it can differ from country to country. Request the actual delivery set for your country from your local representative.
Poly-Spectrum-8/E electronic unit – 1 pcs.
Technical Manual "Poly-Spectrum-8, 8/E" – 1 pcs.
User manual "Poly-Spectrum.NET" – 1 pcs.
Annex to User Manual "Exams Manager" – 1 pcs.
Transportation bag – 1 pcs.
License for the use of software "Poly-Spectrum.NET" with additional software module "Poly-Spectrum.NET/Analysis" – 1 pcs.