Dedicated Keyboard
Wireless multifunctional keyboard
Main Features:
Instant EMG acquisition
Compact and ergonomic
USB powered
Numeric keypad
Bluetooth wireless connection
Keys easy to press down
*Get a quote, online demo or more information
Write to sales department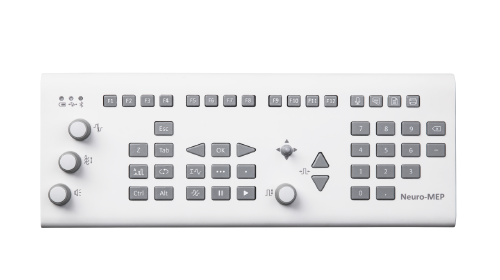 A new multifunctional keyboard is developed for quick and easy EMG recording. You do not need to change the position of your hand on the keyboard to perform all necessary actions (entering numerical data, changing stimulus parameters, stimulation, analysis, etc.). All you need for EMG recording is already on hand!
This compact and ergonomic keyboard is half as big as a standard PC keyboard. However, it allows you to control the acquisition process more effectively as there is no need to connect any additional data input devices. All necessary data can be entered from this keyboard.
Use the multifunctional keyboard
to select the required parameters and open the examination window
to start impedance measurement
to control EMG recording and change the scale of curves and markers
to change stimulus duration and intensity
to enter numerical data
to switch to related tests in a moment
to create and print test report in two clicks
Moreover, the functions of the keyboard do not end here! Try it and see for yourself that EMG recording becomes much better, faster and more convenient.
The multifunctional keyboard is connected to a computer with a USB cable or it is capable of wireless functioning via Bluetooth interface. The reliable and stable functioning of the keyboard in this mode is provided by the built-in rechargeable battery with the possibility of its charging via USB-port of the computer.