Poly-Spectrum-Mobile
Software for ECG Recording and Analysis on Communicator or Pocket PC
Main Features:
Full-scale 12-channel ECG recording on the communicator or Pocket PC
High quality of recording
ECG measurement and interpretation
Heart rate variability analysis
Bluetooth interface to connect digital ECG system to communicator or Pocket PC
Recording duration limited only by communicator or Pocket PC memory capacity
Transfer of recorded ECG to any computer connected to Internet with the use of GPRS technology for GSM networks and other technologies for 3G networks
*Get a quote, online demo or more information
Write to sales department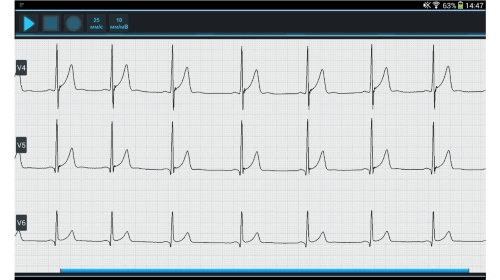 Applications
Organization of medical consultations for the remote first-aid stations or the mobile medical teams
Ambulatory ECG recording and analysis
Equipping of doctors from tourist and expedition groups
Poly-Spectrum-Mobile Features
Full-scale 12-Channel ECG Recording on Communicator or Pocket PC
At the use of Poly-Spectrum-8/EX wireless digital ECG system Poly-Spectrum-Mobile software allows performing ECG studies on the communicator or Pocket PC with the same quality as on the desktop PC-based computers. Simultaneously one can record all 12 standard ECG leads.
Attention! The delivery set below is recomended by Neurosoft. However, it can differ from country to country. Request the actual delivery set for your country from your local representative.
Recommended Delivery Set
for ECG Transmission:

Communicator with Bluetooth interface and Windows Mobile 5.0 and higher operating system
Poly-Spectrum-Mobile software
Poly-Spectrum-8/EX digital ECG system

for ECG Receiving:

Desktop or notebook PC-based system connected to Internet
Poly-Spectrum software with Poly-Spectrum-Analysis option for ECG measurement and interpretation