Ergospirometer
Cardiopulmonary Exercise Test (CPET) System with Gas Analysis
up to 12-lead ergospirometry test, airflow rate measurement and analysis of expired air (O2/CO2)
ECG data transmission via Bluetooth – artifact-free recording
real-time control of all test parameters on two monitors
Lode Corival bicycle ergometer with a blood pressure module
real time analysis of each respiratory cycle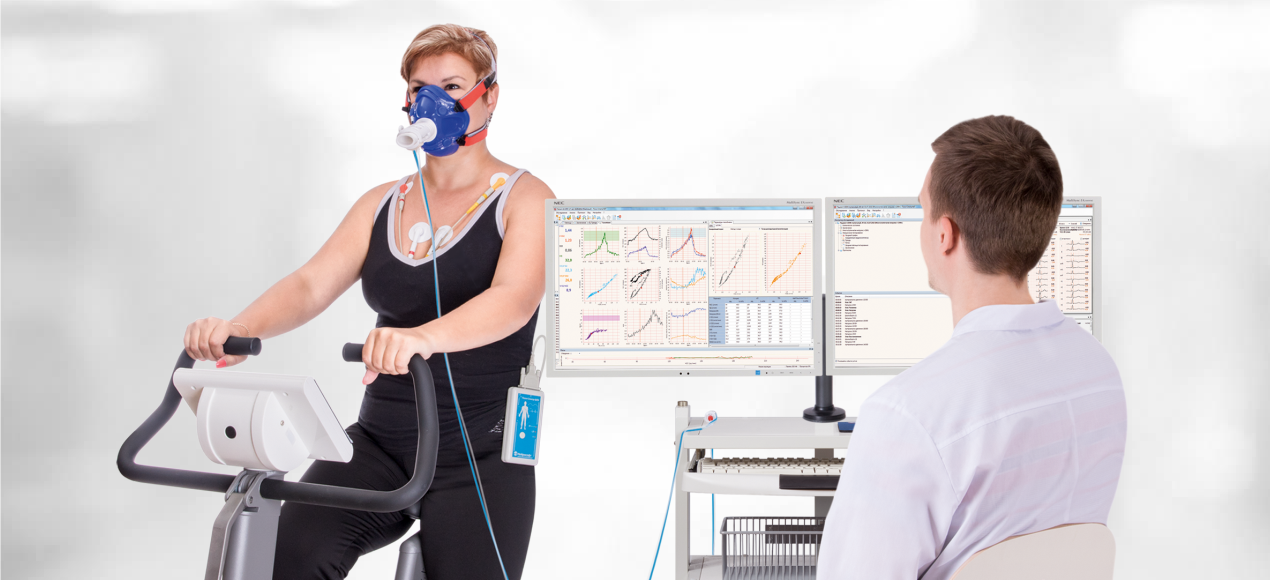 Description
Ergospirometry Test with Continuous Recording from 1 to 12 ECG Leads
The system allows to perform two tests: ergometry (stress test) and spirometry (vital and lung capacity measurements, analysis of expired air (O2/CO2)).
ECG Data Transmission via Bluetooth – Artifact-Free Recording
Poly-Spectrum-8/EX digital ECG system transfers signal via Bluetooth on up to 7 meters distance and is powered with two AA batteries. This is the gold standard of exercise testing! ECG data transmission via Bluetooth is free from noises caused by ordinary ECG system cable movements.
Real-time Control of All Test Parameters on Two Monitors
The first monitor is intended for:
displaying averaged QRS complex as superimposed with displacement on the averaged rest ECG
displaying of the graphs of heart rate (HR), workload, blood pressure (BP) and ST amplitude changing during the test.
The second monitor is intended completely for displaying CPET data: nine-panel graph by K. Wasserman and the most important ergospirometry values (current O2 consumption, CO2 expiration, RER (Respiratory Exchange Ratio), ventilatory equivalents, minute ventilation and O2 pulse).
Lode Corival Bicycle Ergometer with a Blood Pressure Module
Lode Corival bicycle ergometer with a blood pressure module and extended load range of 7-1000 W is one of the most popular cycle ergometers in the world.
Real Time Analysis of Each Respiratory Cycle
High-accuracy measurement of each respiratory cycle helps to establish correct diagnosis even in the most complicated cases.
The support of HL7 standard allows integrating all diagnostic Neurosoft systems into the information system of a healthcare facility.